If you have ever wondered what a Grammy looks like, search no further. 
Adele took the world and music industry by storm in 2011 with "21." An album that she describes as a break-up album, with many tracks like "Rolling In The Deep," "Rumor Has It" and "Someone Like You" pulling on the heartstrings of millions and finding great success in both American and European charts. Four years later, Adele is back with her third studio album, "25." It tries very hard to be different from "21."
Adele Laurie Blue Adkins, who is now 27, was born in Tottenham, London. She graduated from the BRIT School for Performing Arts & Technology in 2006. This is around the time she started her music career and recorded some of her earliest work. Adele quickly gained popularity in the British singer-songwriter community and was signed to XL Recordings. By the time she was 19, she had released her first studio album, "19."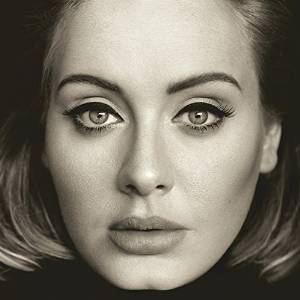 Adele's albums all share a common theme that they are named after the age she was when she wrote and recorded most tracks on each one. Another thing that her first two albums share are the style and genres. Adele is often compared to soul singers, most notably Amy Winehouse. She has many influences from all sorts of genres. From the Spice Girls to Destiny's Child, Celine Dion to Ella Fitzgerald, Adele draws from many powerful women the music industry, past or present, and her style reflects it.
Adele can be hard to label as one genre or another since her work covers soul, R&B, blues, folk, pop and the countless sub-genres included in those. She has vocal range and depth to add on top of her variety, allowing for her voice to really resonate with her audience. This is really rare to see in this modern age of singers. Every track she sings on has the ability to reach out to listeners and connect with them. She isn't overpowered by the piano or drums on most her tracks. Instead, she overpowers the musical beat presented to her.
That being said, "25" is fan service for the general public. Fundamentally, nothing is new for Adele on this album, but her sound feels new and refreshed. This album will still find massive success in the charts, and there will be quite a few tracks that will play on all the radio stations for months on end. When Grammy season rolls around, expect to see Adele up for every possible category. If any luck, she may even beat out Beyoncé like she has before. 
Video courtesy: Believe Media/Sons of Manual/Metafilms
Musically, "25" varies widely from Adele's previous work. There is still a common theme and feel throughout the album, but it doesn't have the somberness or heart-wrenching beats throughout the entire album. One of the standout tracks for that reason is "Send My Love (To Your New Lover)." This track uses a lot more electronic elements than usual Adele songs. Plus, it has more of an upbeat rhythm with less of a focus on the piano on the track, creating a fun and catchy track to listen through. Then there are tracks like "River Lea," which primarily focuses on the drum beat and piano melody, but there are enough backup vocals here to give the track a chorus-like effect and overall changes the tone of the song. What works well about this track is Adele doesn't have to use her vocal range to add additional layers to the song. It just feels like there is more to it from the start.
Lyrically, to reiterate, this is not a break-up album. Don't listen to it and expect your heart to get broken by each and every song. There are a lot of songs here that are about hope, moving on and making up for lost time here. With tracks like "Water Under the Bridge," the track is all about being let down by people but you can't get hung up on it. This track has more of happier tone than Adele's works before. Then there are tracks like "Love in the Dark" that focus on the subject of love and romance, but instead of someone else failing and breaking up with her, this track focuses on Adele not having enough and breaking someone else's heart.
Throughout the past few months, millions have heard the single "Hello," and that track can be a bit misleading. Throughout the album, no other track tries to be as heart-wrenching as that, or even touch on the same subject matter even. The thing is, "25" is Adele telling another story, a different story. Without a doubt, people should pick this album up, because you know it is Adele.
Final Score: 4.5/5
Collegian Music Critic Alec Erickson can be reached at entertainment@collegian.com or on Twitter @CTV_ACE.