Horoscopes Oct. 4-10
Hailee Stegall
October 3, 2021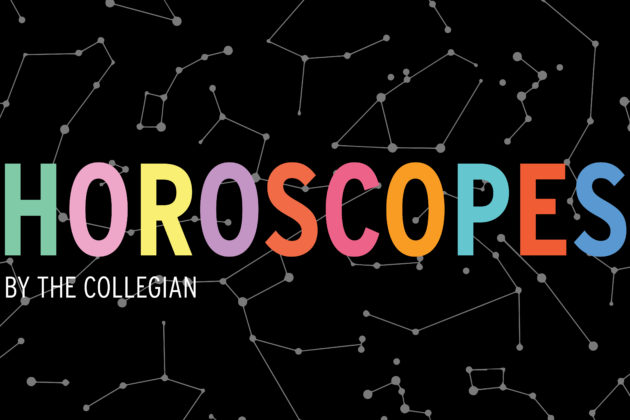 Horoscopes can be applied to your sun, moon and rising signs. 
LIBRA (Sept. 23 – Oct. 22)
Speak your intentions into existence this week, Libra. Manifest your deepest desires by speaking them aloud, and let the universe handle them for you!
SCORPIO (Oct. 23 – Nov. 21)
Scorpio, take the next step this week. Don't let the fear of being judged keep you from getting things off your chest; the real ones will love you just the same.
SAGITTARIUS (Nov. 22 – Dec. 21)
Be a people person this week, Sagittarius! Get brunch with your besties, go on that Tinder date, call your parents. Open yourself up to human interaction.
CAPRICORN (Dec. 22 – Jan. 19) 
Capricorn, be a smooth talker this week. Network your butt off, making connections with others that will further your professional success, and make some friends along the way.
AQUARIUS (Jan. 20 – Feb. 18) 
Get focused this week, Aquarius. Dust off that day planner and log your next few weeks so you can keep a steady schedule even if things get crazy.
PISCES (Feb. 19 – March 20)
Pisces, this week is all about honesty. Own up to what you want, professionally and romantically, or else you'll never attain it. Speak your desires into existence.
ARIES (March 21 – April 19)
You don't have to choose this week, Aries. Value yourself and your mental health the same as you value others, and realize that taking time for both you and those you hold dear is admirable.
TAURUS (April 20 – May 20)
Taurus, you're grinding this week! Stay focused on your work and school life. Stay organized in all things in order to reap the greatest reward.
GEMINI (May 21 – June 20)
You're worth it this week, Gemini. Own up to the fact that you deserve the space that you take up just as much as anyone else on this earth does.
CANCER (June 21 – July 22)
Cancer, this week may sting a little. Whatever happens, your friends and family are going to be your safe haven — give someone a call, even if you think you can take it alone.
LEO (July 23 – Aug. 22)
Reflect on your past this week, Leo. Learn from your past mistakes and successes and realize how those experiences can continue to shape your life's path.
VIRGO (Aug. 23 – Sep. 22)
Virgo, this week is about enlightenment for you. You're finding a home within yourself, regardless of how you've treated yourself in the past.
Hailee Stegall can be reached at entertainment@collegian.com or on Twitter @haileenstegall.