Horoscopes Sept. 7-12
Stevie Jones
September 6, 2021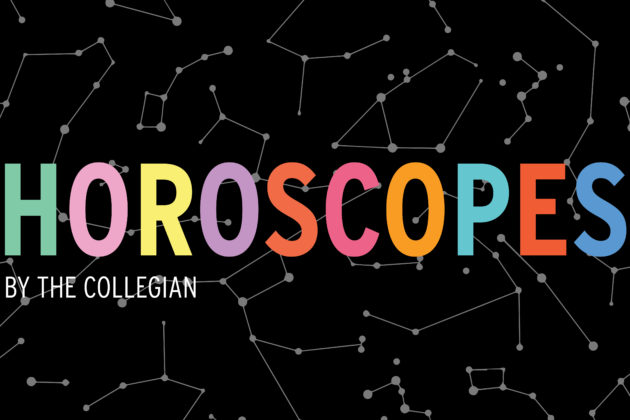 Horoscopes can be applied to your sun, moon and rising signs.
VIRGO (Aug. 23-Sept. 22) 
Virgo season's here, baby — now is your time to shine! This is the perfect time to try something new to spice up your life. Put yourself out there, and listen to your gut. Maybe it means you join a new club on campus — or perhaps you stop wearing deodorant. 
LIBRA (Sept. 23-Oct. 22) 
Sweet Libra, take a break from worrying and have a moment for your heart this week. Reach out to that person you've been thinking of but haven't chatted up yet. If you miss your family, call them. If you're waiting for a sign to talk to your new crush this semester, this is it, stud. 
SCORPIO (Oct. 23-Nov. 21)
It's time to open up, Scorpio. Don't be afraid to let people get to know the real you. Build your courage by telling a close friend a secret you've been sitting on. 
SAGITTARIUS (Nov. 22-Dec. 21)
You're a quick thinker, Sagittarius, but be careful not to overthink too. Your friend who hasn't texted back yet isn't mad, they're just busy. If you drop your negative assumptions, you will notice the shadows of your mind will part for a beautiful rainbow in your life. 
CAPRICORN (Dec. 22-Jan. 19)
Listen Capricorn, when was the last time you had a nap? Recharge your mental battery and turn that thing on "do not disturb." Finally buy that item in your online shopping cart because you deserve it, champ. 
AQUARIUS (Jan. 20-Feb. 18)
Come back to reality, Aquarius. Get out of your head and remain in the present. There is no need to compare yourself to others. It's not a competition, it's a collaboration. 
PISCES (Feb. 19-March 20)
Pisces, this is it. You've been saying you'll do it for weeks, so just do it already. Life is short, and you never know when you'll fall into a sinkhole. Say what you feel, and do what you want. 
ARIES (March 21-April 19)
Time to quiet the brain noise, Aries. Get into the mindset of feeling more grounded in your surroundings and new schedule. Breathe in the new, process it and release the discomfort. 
TAURUS (April 20-May 20) 
Taurus, looking to expand your social bubble isn't a bad idea. If you have the mental space, add to your friend group! There are tons of potential friends waiting to meet you on campus. 
GEMINI (May 21-June 20)
Keep your cool, Gemini. If things aren't turning out your way, deepen your breath and remember you are capable of handling all situations. Bonus points if you don't snap at innocent bystanders. 
CANCER (June 21-July 22)
Darling Cancer, do a quick check-in with yourself. Are you helping yourself as much as you are helping those around you? Self-care isn't selfish, it's healthy. 
LEO (July 23-Aug. 22)
Bold Leo, now is the time to drop the pizazz. Forgive yourself of whatever you're holding on to, and start fresh with this new semester. Life is just a series of learning experiences.
Stevie Jones can be reached at entertainment@collegian.com or on Twitter @CSUCollegian.