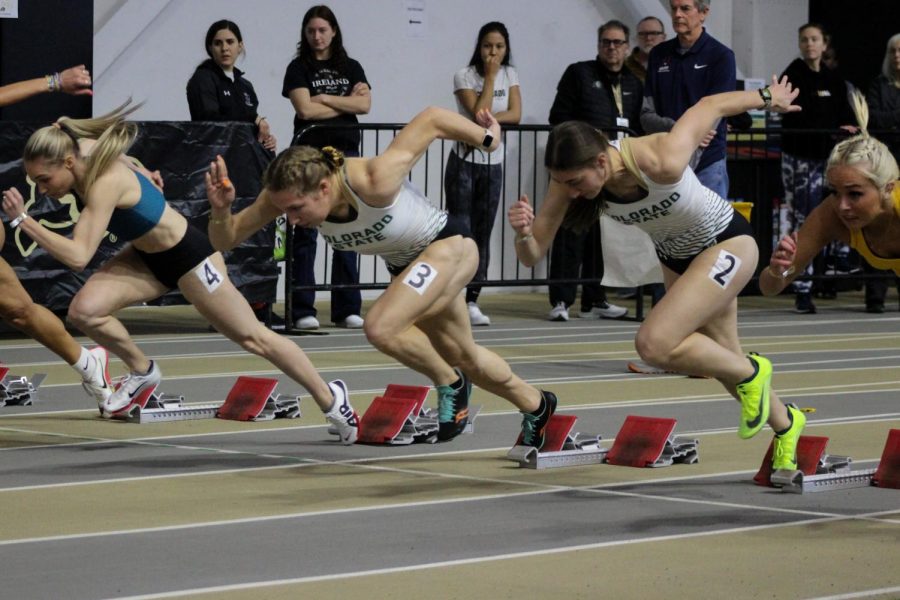 Collegian | Dylan Heinrich
Rams track and field impress at CU Potts Invitational
January 17, 2023
The Colorado State University track and field team took on the two-day University of Colorado Boulder Potts Invitational Jan. 13-14. Most athletes for the Rams competed in their first event of the season, making this invitational the first of many important events to come for CSU this season.
Rams track begins indoor campaign with multiple PRs
Rams track had an eventful weekend competing on the second day of competition. For the men, Tyler Colwell finished second with a time of 21.57 seconds in the 200-meter dash.
"I didn't really know what to expect since it was my second collegiate meet," Colwell said. "I love having people right next to me pushing me through the backstretch and on the curve. We were battling. I loved it."
Another second-place finisher for the Colorado State men was Ryan Birkmeier. He finished with a time of 1 minute, 52.13 seconds in the 800-meter run. The men had a solid start to kick off the season as this was the first event where the whole team traveled to compete.
Women's track also took the stage on the second day of the competition. Emily Chaston took first place in the 1-mile run with a time of 4:59.62, which is a personal record for her by over 5 seconds. This was her first event this season, but she didn't waste any time dominating the competition. 
"I didn't expect to win, kind of just wanted to work with my teammates. We are just trying to get that turnover back in our legs. I feel really good about it since it was my first time breaking 5 minutes." -Emily Chaston, CSU distance runner
Taye Raymond placed third in the 200-meter in 24.65 seconds and third in the 60-meter dash in 7.73 seconds. Raymond kept it constant in her first meet as a Ram, taking back-to-back third-place finishes.
Sarah Carter was another Ram to finish in the top three for CSU this weekend. Carter placed second in the women's 3,000-meter run in 9:38.40, her new collegiate best for this event.
CSU track and field takes on the Prairie Wolf Invitational Jan. 20-21 at the University of Nebraska-Lincoln.
Reach Tyler Azzaro at sports@collegian.com or on Twitter @TylerAzzaro.
Leave a Comment
CSU field jumpstarts 2023 with podium-filled performances
The first standout performance came from junior Celyn Stermer, whose 4.13 meter pole vault mark set both the CSU record and the facility record. 
On the men's side, Sam Mrky placed second with a distance of exactly five meters. Colorado State found more success in the shot put, winning both the men's and women's shot put. Senior Mariano Kis won the men's side with a mark of 18.29 meters, more than a meter farther than second place. 
For the women, Colorado State claimed all three podium spots for shot put. Mya Lesnar finished first with a mark of 16.27 meters, also finishing fifth in the weight throw. Junior Gabi McDonald's distance of 15.80 meters earned her second, while Michaela Hawkins' of 14.23 meters had her place third. Hawkins joined Lesnar in the top five of the weight throw, finishing second with a throw of 18.69 meters.
Graduate student Lexie Keller placed fifth in shot put for CSU, with a mark of 13.09 meters on her first throw. Keller, one of Colorado State's multi-athletes, also found the podium after winning the long jump with a distance of 5.73 meters. 
The Colorado State women racked up another event win as first-year Jo-Anna Pinnock placed first in the women's triple jump with a distance of 12.08 meters. Pinnock additionally finished fifth in the long jump. 
In both high jumps, the Rams had an athlete place in the top three. On the men's side, Ryan Blake tied for second with a mark of 2.01 meters, while Sharde Johnson took third with a 1.61 meter mark on the women's side.
After their first successful meet of 2023, the Colorado State track and field team will travel out of state for the first time this season for the Prairie Wolf Invitational and Mark Colligan Memorial Invitational at the University of Nebraska-Lincoln Jan. 20-21.
Reach Dylan Heinrich at sports@collegian.com or on Twitter @dylanrheinrich.
Leave a Comment