About us:
SVP trains student filmmakers in creating innovative and inspiring video content for our community. We provide a cost effective video solution for businesses and teams while giving our students hands on experience in all aspects of working for and managing a production team. The final product is highly professional and affordable videos custom made for you.
Video Gallery: 
Our rates: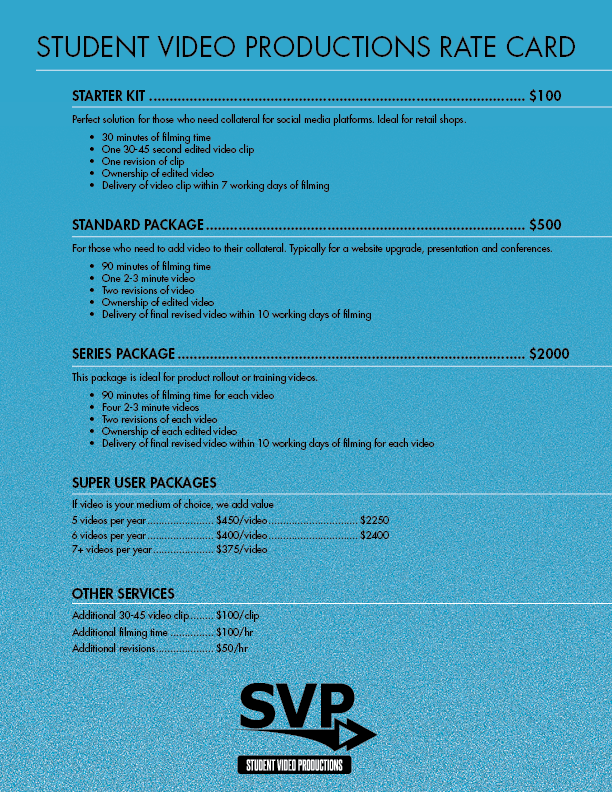 Student Video Productions Deliver useful, informative content while promoting your brand
Storyboards Full length commercials
Training videos
Video editing
Rates start at $500. Call us to set up a free, consultation to learn more. Bundle these services with our other RMSMC platforms and save up to 30%!
Testimonials: 
Working with the CSU video production team was a pleasure from start to finish! Team members assisted with videotaping at a professional workshop and worked with us to complete the editing process, providing guidance and recommendations during each phase. Casey was very patient and answered a great deal of questions! Casey and his team provided a very professional end product – thank you!"  Sarah Beetch, Occupational Therapist, Center for Community Partnerships, Department of Occupational Therapy, Colorado State University
SVP's professionalism is exceeded only by their talent. Through their hard work and patience, we were able to shoot a total of fifteen vignettes that will enrich the learning experience for thousands of appraisers throughout the country. It was an absolute pleasure working with SVP, and I hope we have the opportunity to work with them again."  Katie Evans, Lead Instructional Designer at Pearson North America