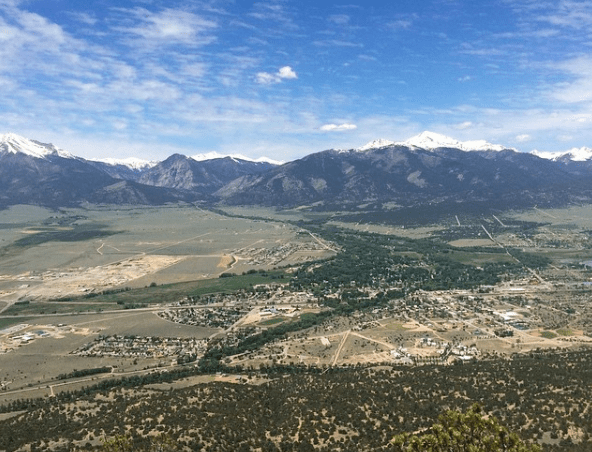 SPONSERED CONTENT
By Trigg Skoe
If you have a free weekend coming up, consider taking the time to explore the backyard of Colorado by getting west of the Rockies. Colorado's hidden gems span across the state from relaxing hot springs to extreme sport destinations. Leave the Front Range and discover the little mountain towns and friendly faces hidden amongst the backdrop of mountains and adventure.
The Black Canyon of the Gunnison is a 685 ft deep canyon with a burly section of the Gunnison River running through the bottom. Visitors of the Black Canyon come to rock climb, kayak, fish, hike and camp. The canyon provides some of the best of these activities in the state. The multi pitch climbing is phenomenal and the view is breathtaking, literally. The raging river raging gives white water enthusiasts a difficult challenge from long portages in poison ivy to Class V rapids. Underneath all of this chaos is phenomenal trout fishing. The Black Canyon of the Gunnison is a great weekend get away and you'll be left missing it when you leave.
The Arkansas Valley located in central Colorado offers an array of activities located in and near the towns of Buena Vista and Salida. This is a great area to visit during anytime of the year with both winter and summer activities offered. Near Buena Vista, two hot spring destinations can  be found at the base of 14er Mt. Princeton and the other at the base of Cottonwood Pass. The hot springs are nice to relax in after skiing at Monarch Resort only 40 minutes away or snowmobiling on Cottonwood Pass. In the summer, this is a popular whitewater destination with festivals held filling the Arkansas river with people in addition to the fish. This area is amazing because it offers something for all levels for whitewater, climbing and mountain biking, not to mention it has 14 fourteeners in the county. Plan for this trip early to avoid traffic on I-25 and highway 285.
The Million Dollar Highway is one of Colorado's most known roads. Officially highway 550, it's named for the unmistakable views available while driving through Ridgway, Ouray, Silverton and Durango. One of the more well-known sections on this road is Red Mountain pass where drivers find themselves dangerously near a cliff edge. If you're a nervous driver or uneasy around heights, this destination may not be for you. But otherwise, this trip is truly a must. Ridgway is a small town that provides access to funky mountain town Telluride. Further on highway 550, Ouray is defined as America's Switzerland with its enclosed community in a mountainous area. Ouray also hosts an ice climbing festival in the winter which is well worth attending. The next stop along this highway is Silverton,a tiny town that really fits the definition of a mountain town and takes some strong will to live in. If you're a fan of snow, though it's worth it. After leaving city life for awhile, a little piece of it can be found in Durango. With a nearby ski resort, amazing hiking and biking and great food and beer, Durango is sure to be a great way to finish the day.
A weekend at any one of these areas isn't enough, but that's why appreciation and respect go a long away so they can be preserved. Go and get outside, experience Colorado for what it is. Make sure to be knowledgeable of the area you are going, the gear needed, and any and all regulations though.Stay safe and enjoy!