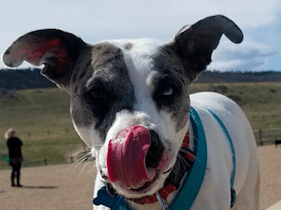 SPONSERED CONTENT
By Trigg Skoe
The City of Fort Collins has created great spaces for owners and their dogs to mingle and play. Around the city there are 18 areas designated as dog parks, ranging from flat and grassy to rolling hills with wood chips. One of my favorites is the Horsetooth Dog Park which includes a pond. Make sure to get there early in the summer though. After hundreds of dogs swimming, yours may not come out as clean as you would have hoped. Furry friends can become pretty muddy pretty quickly with the gravel lined shores. If you're looking to keep your dog out of the mud, check out Soft Gold Park north of Fort Collins or Fossil Creek Dog Park south of Fort Collins.Both have plenty of grass for your pup to roll around in. These are especially wonderful areas to bring your dogs if they are well-behaved and up to date with medical standards.  
If your dog likes to run more than socialize, there are a few options out of Fort Collins that can give your dog its fix. Within the Cache la Poudre is Hewlett's Gulch, a 7.9 mile trek up the northern side of the river. This trail is accessible all year round to all but motorized vehicles and has a creek running down the middle of the gulch allowing for a few water crossings. It is a personal favorite for mountain biking and hiking. It offers a challenging ride and gives my dog the freedom to roam and access water. Other areas that allow the hounds to go off the leash are further in the Cache la Poudre Canyon near the Pingree Park Road and Cameron Pass, but always beware of the regulations for pets to avoid being hit with a pretty big fine.
Looking for a quick outing with the furry friend? Head down to the Poudre River Trail located along the Poudre River in town. A nice area to park and began your walk is at Lee Martinez park. Within this area a few ponds can be found as well as off the beaten path trails that follow along the river. Another quick stop is the dog park directly located behind the College of Liberal Arts. It is a smaller grassy area, but is usually filled with dogs and is conveniently close to the college. No matter where you go, please remember to be courteous of fellow pet owners and visitors and pick up your pet's waste.