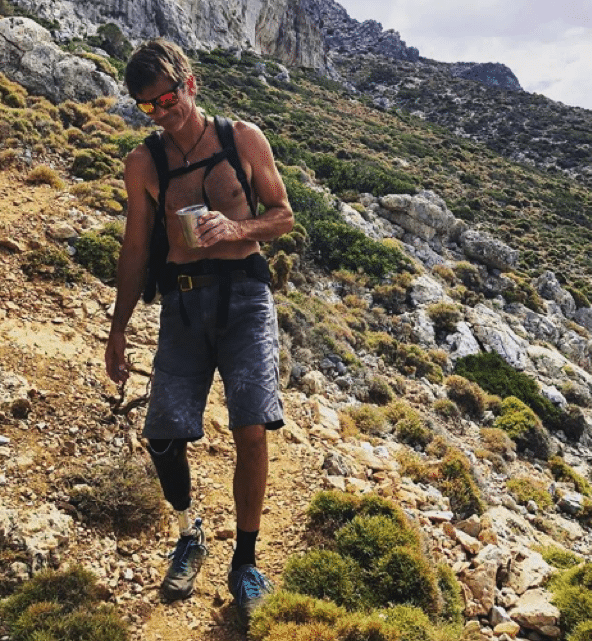 SPONSERED CONTENT
Interview with Craig DeMartino, Provided by Otter Shop
By Michael Berg
When life gives you lemons, well, we're told to make lemonade. Examples of "ordinary" people doing this are scattered throughout the internet; however, what distinguishes good examples from great examples? I would argue that Craig Demartino provides the world with a great illustration of what can be achieved when life gives you lemons. "In 2002 my life changed dramatically. I was accidentally dropped 100 feet while climbing in CO. That's the same height as a 10 story office building. I endured a three-month stay in the hospital and later a rehab facility where I began to rebuild my life and body. After 18 months, I decided to amputate my leg below the knee to return to climbing, and the quality of life I once enjoyed. Now, with 30 years of climbing experience under my belt, I have a new and exciting view of the world. I believe perspective is a great tool to motivate us, and the accident gave me such perspective. Once I returned to climbing I pushed my body to learn and re-learn the art of climbing. That journey continues on."- (craigdemartino.com) "Life is 10% circumstances and 90% my reaction."
OtterBox is one of his sponsors who gladly supports his active lifestyle. They got a chance to sit down with him and ask some questions whose answers we thought you might want to hear:
Craig Suggests: OtterBox Trooper LT30 Cooler:
Quickly convert from shoulder carry to backpack carry
Leakproof seal secures contents
Water resistant exterior pockets
Premium grade thermal insulation
Keeps ice up to 3+ days
Solid, heavy-duty base
Bottle Opener accessory included
OtterBox: Van?
Craig DeMartino: For 23 years (climbing for 30 years) we tent camped. Climbers call themselves dirt bags, so cheap is always better. But about three years ago, I came out of our tent in Moab and it was about 30 degrees. All of our water froze, a bunch of our food froze, the cooler broke. So I came out and this guy came out of his van with a cup of coffee and he waved. And I thought: we're done. We bought that van the next year. That has changed dramatically how we do things. It doesn't matter where we are, we have a bed, we have heat, a refrigerator, everything you need.
The four of us fit in it yet, but at the end of two weeks you are ready to throw someone out. For me and Cyndy it's perfect. A lot of our friends live in their vans full time. So we're very accustomed to that kind of life, it makes perfect sense to us.
They always tell their friends and joke that they know more people who live in their cars than most people do. That's true because climbers like to do that because it is easy. That van has made our life considerably more comfortable.
Craig Suggests: OtterBox Elevation 10 Tumbler:
OtterBox 10-ounce Elevation Tumbler keeps up with you from morning pick-me-up to daily hydration to nightcap. Stainless steel and colored tumbler comes with the Closed Lid and works with a collection of lids that adapt to any adventure.
OB: Coffee?
CD: I love coffee. We have always had a good way to make coffee, even when we would tent camp. We have always had French presses. That was always, no matter where we were or what we were doing – even in Europe I brought a French press.
The van is spacious, but not like your house. We have a French press that serves me, my wife and my daughter. We have coffee in the fridge, I will grind what I'm going to use wherever we are and take that with. So I just do the French press. I get up first, so I can sit with the dog and get the first cup.
OB: Dog?
CD: Dash, a blue heeler
He is amazing. They go everywhere, they don't care. He likes to go on a little walk about. He will leave for 20 minutes and comes back. He always knows where we are. I can walk to a cliff, take him off the leash and never tell him where I am going, but he just shows up. I don't know how he does that, I'm all over the place. When he lays with the packs, people won't go near him. He looks like he is mean, but truth be told, you could walk up and he would help you open them.
OB: Life?
CD: In the summer we are gone a lot, 2 weeks a month and then we ice climb in the winter months around Colorado.
Most of my friends are climbers, most of my family are not.
I got hurt climbing. I was accidentally dropped 100 feet. When I moved out to Colorado from Pennsylvania, my parents said stay safe, don't get hurt out there, those are really big mountains. I laughed. I lived here for 12 years before I got hurt. I climbed for 13 years before I got hurt and never even broke a fingernail. So, all of a sudden.
That's the thing with climbing, it's like base jumping. If something goes wrong, it is usually catastrophic. And that's what happened to me, it was catastrophic, but it was just an accident.
I had climbed for so long, I could climb with my eyes closed. So when I got hurt, I had to go back and re-figure it out. I liked that idea, it wasn't a new sport but it was a new application of the sport. That's what was so fascinating to me. Even now, it has been since 2003, I helped some guys design a climbing foot, so I could climb different areas and different types of rock. I have been able to partner with people and figure things out, like how does it happen for a climber to climb and what are the body mechanics like? How does it all work? It continues to be a process.
I have three different feet. One for ice. One for rock. One for walking. Those interchange with your socket, so the socket is what I connect to and the feet connect to the socket. You can change feet, it is just a wrench, it is super easy.
My wife says "your leg doesn't get tired, your foot doesn't get cold." All these things are cheating now.
I broke my back, so my back is fused at L1 through L4 and I broke my neck at C5 and C6, so those are fused as well. I broke my whole right side, all the ribs, punctured this lung, tore my shoulder up and my elbow, it just wrecked me. I landed standing. Which is good, that's the only way you can live. The shock wave has to go somewhere, so if you land on your back or your side or your face, everything breaks. This way, you break what you hit and it flies up through you and breaks everything as it's going, but it's not the blunt force. Your feet get the blunt force and everything else gets the shock.
My wife was at home. So when the kids were young we would switch days, so she had run this really long race in Leadville the day before and I went climbing that next day and that's when it happened.
People just know I'm going to bring my family. It's a cool way for us to spend time together. I tis uninterrupted time, so we can all hang out. They are all climbers, I use Cyndy as a rigger all the time. She is as talented as anyone I know. Her safety is off the charts, so I never have to worry about it. Climbing is very social. It's not that craziness all the time. People gravitate towards that, but that is such a small portion. If you climb without a rope 2% of the time, but 98% of the time you are using a rope, people only focus on the 2%. That's what they see.
We've always stressed to our kids – you do have to be outside.
Climbing is the vehicle we embrace, but it's not what our kids have to do.
First amputee to climb El Cap in less than 24 hours. Fastest disabled time as well.
OB: Technology?
CD: Guide books are on my phone. A lot of the climbing areas are on this thing called Mountain Project. So we can download Mountain Project for free and get areas for free.
Usually what happens is you walk up to a cliff and you are looking at the guide book and there might be three new routes after that guide book came out. So now you are looking at these routes and you don't know what's what. That's confusing. The phones are great, because the phone is usually very up to date. They update maybe once a month.
If you want to learn more about Craig DeMartino, you can find him on www.craigdemartino.com.