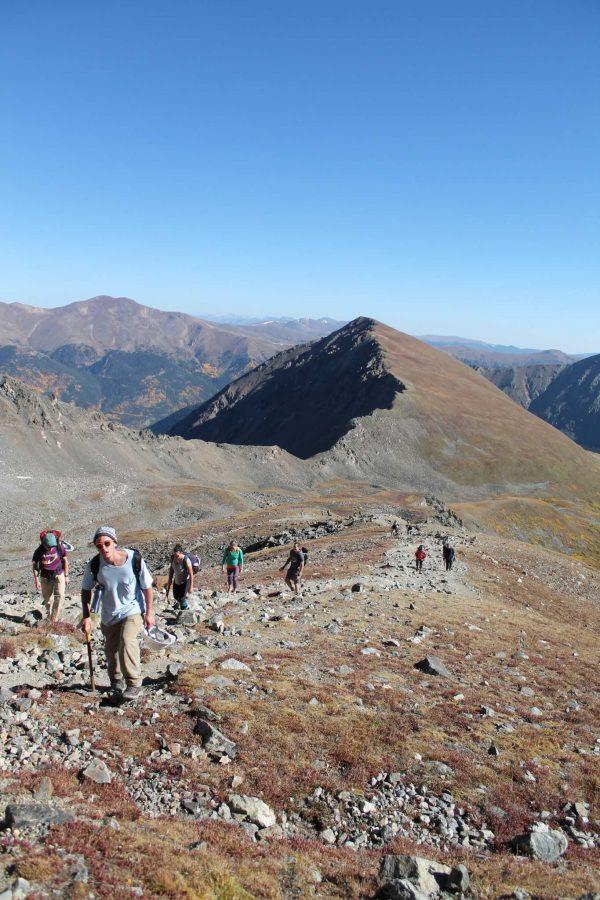 SPONSERED CONTENT
By Trigg Skoe
Living in Colorado you have to experience the high of being 14,000 feet above sea level. Climbing fourteeners is a fun challenge and activity that can be as difficult as you want. If you choose to participate in some gnarly mountain climbing it is important to be prepared and know your stuff. Always bring water, first aid, a whistle, and it's good to have proper footwear as well as appropriate clothing. Be prepared for the worst and hope for the best. Pre-trip checks are important to do to make sure the weather is clear, let someone know where you're going and when you expect to be back, and know that you'll have enough time for your summit.
Beginner: An easy start to these 54 fourteeners is Grays Peak. Found behind Arapahoe basin and Keystone ski resorts and about a three hour drive from Fort Collins. This hike is eight miles round trip with 3,000ft in elevation gain, the trailhead is located on Forest Road 189. This mountain is a cool hike with views of Mt Edwards at the summit. Getting up to the summit isn't terribly hard, but it does have switchbacks and a nice scramble near the top.  
Intermediate: Closer to Fort Collins is a little more difficult fourteener named Longs Peak. Only an hour and 20 minutes away this Peak offers a variety of route options from class three hiking to multi-pitch climbing.
The standard Keyhole route offers hikers exposed ledges and fun scrambling. This route is approximately 14 miles with an elevation gain of 5,100 feet. There are more difficult alpine climbing routes located on the Diamond, the East side of Longs. The Diamond is very difficult and should only be attempted by experienced alpinists.The variety in routes and the difficulty makes Longs a bucket list fourteener for many people. It is worth the training and the wait because the the summit of longs offers breathtaking views and a sense of accomplishment that is near impossible to match.
Difficult: The Maroon Bells Wilderness area offers amazing scenery and a crazy climb to the North Maroon Peak. The Maroon Bells Wilderness can be accessed through Aspen on Maroon Creek Road. This hike is 9.25 miles and 4,500ft in elevation change. The North Maroon Peak can be seen from the Maroon Lake trailhead. If you plan for this hike be sure to have enough time and make sure the weather is good to go because it is a strenuous one. After switchbacking up, a few gullies are found with loose rock. The second gully is steeper and a bit looser so make sure to be careful. The sensation of being at the top of a fourteener is something of its own, but when you add that extra boost to get up those insane hikes like this class 4 fourteener you go home feeling fulfilled.
 If you are nervous about getting out on a fourteener, there are always guided trips. Near Breckenridge in Summit County there are a few guide shops that give individual trips for singles or groups. Both Aspen Expeditions and Colorado Adventure Tours do mountain tours in Colorado. REI adventures is a very cool opportunity as well and can give a great guided trip elsewhere if you are looking to go outside Colorado.