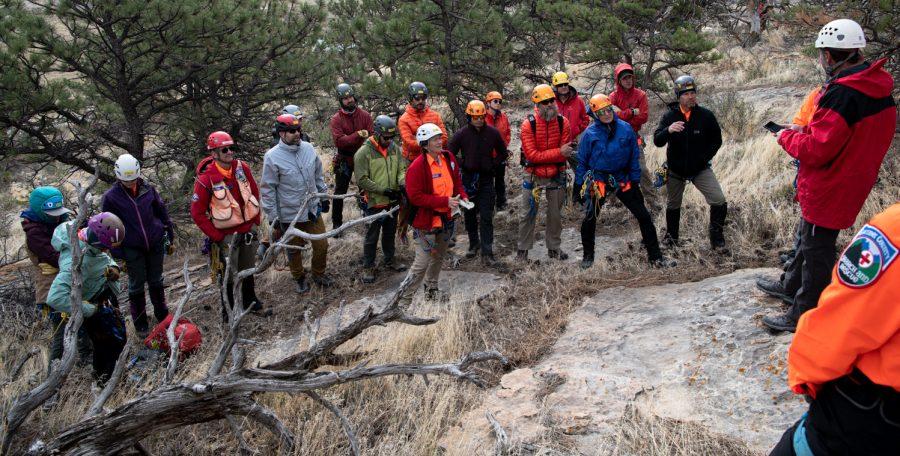 Garrett Mogel
In continuation of last week's gallery, this week's paper highlights members of Larimer County Search and Rescue.
The people who make up LCSAR joined the Basic Search and Rescue Training course for various reasons, though they all share a commonality of wanting to give back to the community.
To make a BASART a fully active member of LCSAR, it takes the people of LCSAR roughly 1,500 combined hours of planning and training. The coordinator of this year's BASART class is Ed Hildenbrand. Hildenbrand joined the LCSAR team in 2015 after working as an air traffic controller.
"When I retired in 2013, I knew a guy on the (LCSAR) team from being a bicycling friend," Hildenbrand said. "And so I asked him, 'Do you take old guys like me?' and he said, 'We take anybody.' So I decided to join, not knowing that I would be going over cliffs." 
To go with his image: Scott Evans has been with the team since 1996 after moving from California.
"I found out Larimer County (Search and Rescue) existed, found out before we got here actually, and made sure they were a (Mountain Rescue Association) team like I had come from in California, so I knew they were going to be a competent team," Evans said. "I got to go through their BASART class here and effectively start from square one, even though I had 15 years of previous experience. … They embraced me, and (it) was a really good experience to see how a different team was slightly different, and I really love this team."
Among the BASARTs, Evans is known as "Scott Knot" because he leads the team through the various knots they have to know. He does so with what he coined the "Scott Loop," a consistent way of starting nearly every knot. 
To go with her image: Abigail Enssle, LCSAR vice president, joined the team in 2020 as a senior at Colorado State University.
"It was something I had always wanted to do since I was really little," Enssle said. "I grew up in Boulder Canyon, and we would see the flight for life helicopters fly overhead, and my dad would always tell me, 'That's flight for life.' And I was like, 'That is the coolest job ever.' I saw an ad on Facebook in October of the previous year that they were taking interviews, and I was like, 'I am sure I won't get on the team,' but I sent in an application, came in for the interview, joined the team, and it was, like, the best decision I ever made. When I joined the team, I was going through a pretty rough time just in my personal life, and also, COVID started like a month after we started our BASART training. So basically, the team became kind of my family, and I have lived with different people on the team, I have borrowed their cars, I have gotten jobs through them, and where I am today is because of the team." 
To go with her Image: Katie Miller, one of the BASARTs, has attended several trainings with a sprained ankle and crutch, participating in any way she can.
"Unfortunately for me, it is a little bit of a sad reason (for joining LCSAR)," Miller said. "My cousin, who was kind of like an older brother to me, went missing a couple of years ago. Not in Larimer County — down in the San Juans. And unfortunately, he passed. But I was involved in that search, and it was just really incredible to see all the teams who came out and helped with that. I hadn't really had exposure to search and rescue before, but after that, I just wanted to be able to be more involved and be able to do that for other families because I was really appreciative for that." 
To go with her image: Rebecca Clark, one of the BASARTs, comes from a background in emergency services, starting as an EMT at 18 years old and becoming a firefighter at 19 years old.
"When I was a little girl, my family was very outdoorsy, and we were hiking up in Utah in one of the canyons, and I had to go to the bathroom and got distracted by the pretty flowers and birds and trees, and before I realized it, I had no idea where my family was," Clark said. "So my grandfather had taught me that if I got lost to stay where I was and wait to be found. So I found a rock to sit on. I sat there singing church songs until my family found me about an hour and a half later. That just translated into a whole life of service."