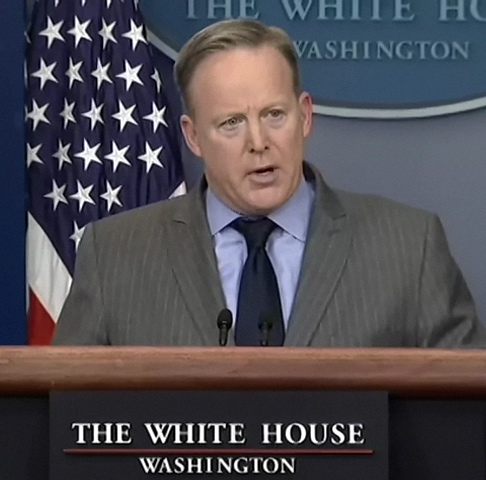 Let us skip the introductions and get right to the big news.
Federal Crackdowns on Legalization Coming?
The White House Spokesman, Sean Spicer, caused a little bit of alarm for the marijuana industry during Wednesday's press conference.
When asked about federal laws regarding recreational marijuana, Spicer said "I do believe we'll see greater enforcement of it." Ultimately though, Spicer said that it is a question for the Department of Justice to decide on.
This has provided new insight into what Trump's administration may try to do with legalization. Trump said in the past that the issue of marijuana will be left up to the states, but Spicer's comments seem to contradict that.
Spicer went on to make a distinction between medical and recreational use, citing that the Trump administration views medical marijuana differently than it does recreational marijuana. Part of this idea stems from the Rohrabacher-Farr Amendment, in which it states that the Department of Justice is prohibited from using its funds to crackdown on medical marijuana use.
Brookings Institute drug policy expert John Hudak criticized this distinction, and said that it "is not a death knell for recreational marijuana, nor is it clarification." Hudak pointed out in his blog post that marijuana is still federally illegal regardless of how it is used and the White House perhaps is not fully informed on its own policies.
Responding to Spicer, the newly formed congressional marijuana caucus released a statement as well.
"[We] hope to educate this administration on the need for more sensible marijuana policies and share the many experiences states have had with the legalization of cannabis." said the four representatives of the caucus. "Together, we will continue to work in a bipartisan manner to reform our failed marijuana policies and provide a voice for Americans who have overwhelmingly voted for a more sensible drug policy."
Jared Polis, a founding member of the caucus, released his own individual statement on the matter.
"The President has said time and again that the decision about marijuana needs to be left to the states," Polis said. "Now either the President is flip-flopping or his staff is, once again, speaking out of turn, either way these comments leave doubt and uncertainty for the marijuana industry, stifling job growth in my state. The public has spoken on recreational marijuana, we've seen it work in Colorado, and now is the time to lift the federal prohibition."
Like others, Polis seems to agree that Spicer's statement raises questions about the true intention of the Feds. Though, if a crackdown of some sort were to happen, it probably would not do much to help the current administration's popularity.
However, it is perhaps too early to get worked up over what may happen. Spicer did not reveal a lot of information, and the little information he did provide requires further questioning.
For now, the government adheres to the Cole Memo, which provides prosecutors and law enforcement officials a guideline on where to focus their marijuana efforts.