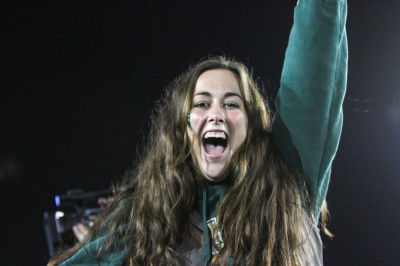 Football season has started up for every college campus and professional football team. We may not be in the PAC 12, but we still know how to win a game or two. The first game against Boulder was a rough one to watch, but that did not discourage us from winning against UTSA last weekend.
You may be thinking to yourself, "Why do I want to waste my money going to a football game at Colorado State University?" Well, what sets CSU apart from other college campuses are our student tickets to football games. The tickets are a price no one can beat.
Now you may be puzzled at this, but don't be. Home football games are completely FREE for students here at CSU. Yes, you heard me right, we students at CSU get free student tickets to the football home games. While other schools offer students a package to purchase for their football tickets, we don't have to pay for them.
Tickets are easy to acquire as well. They can be bought online through the Colorado State Rams website or you can walk to Moby Arena and ask for your home game tickets.
If you are still at odds about going to the games, don't be. We may not be in the best team, but we are number one at tailgating. Just look at our tailgates from the Rocky Mountain Showdown; I have never seen so many adults and college students wearing green and chanting the fight song. Even at home games, you can find endless tailgates with music, barbecues and "I am proud to be a CSU Ram," cheers yelled throughout the parking lot. If you have never been to a game at Hughes Stadium, go, because this will be the last semester we play there before our new on-campus stadium is ready for use.
If this still does not persuade you, maybe the alcohol will. If you are over 21, you can get a wristband at Hughes Stadium and purchase liquor during the game. Some individuals like to drink and watch the football game, so Hughes Stadium will let you do both. If you are going to drink during the game, remember to drink lots of water, though; the sun is much closer to us than we think.
Some of the home games even come with a theme. For example, every year we have the pink out game where everyone in the audience wears pink CSU shirts to show their support of Breast Cancer.
If you are interested in going to the home football games, remember to wear sunscreen, drink plenty of water, be respectful of the people around you and wear your CSU gear.
The football games are not the only games that have free student tickets. Any home sporting event is free to CSU students. Take advantage of this opportunity before it is too late. You have nothing to lose by going to a free sporting event at CSU.
Collegian writer Tamra Smalewitz can be reached at blogs@collegian.com or on Twitter at @tamrasmalewitz. Leave a comment!!