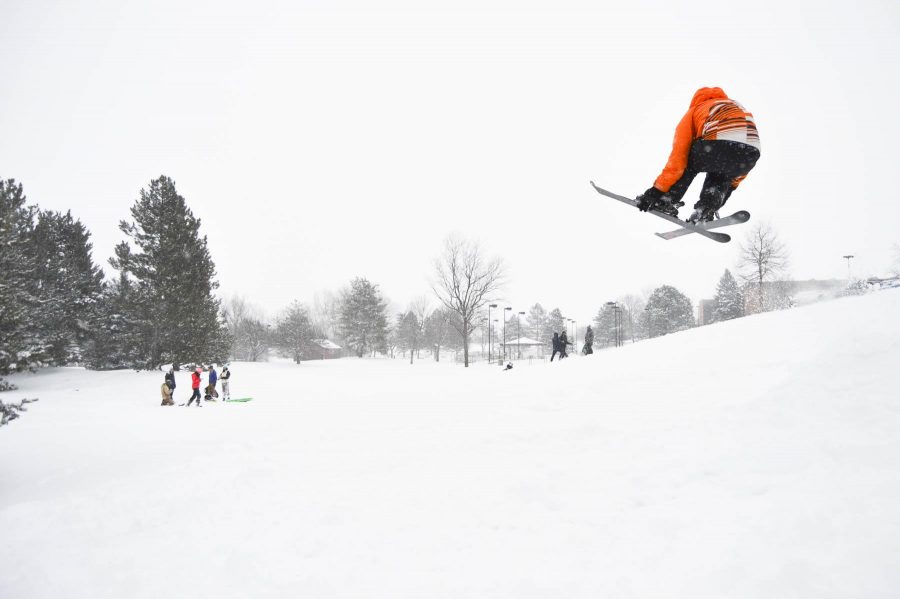 While Fort Collins students were wrapped in their beds, Mother Nature dumped snow on their heads. To all you ladies and gents, Happy Snow Day!! As our second snow day of the year, you may be thinking, what do I do? You put all of your heart into the last snow day, no way of knowing that fate had another snow day in your future, and now you are out of ideas. What else is there other than snow angels and igloo building? 
Worry no more! There are always alternative options. So, without further ado, a list of all the things to do in the snow that you probably haven't tried. 
Snow-Shoeing – This one is fun and easy because you can make your own shoes in a pinch. The IM fields are also a great place to practice if you've never shoe'd before .Ice Board Sailing – It's like wind surfing but over a frozen lake. Horsetooth may not be frozen over, but there are sure to be ponds and lakes around that are small enough that they still have ice on it. It requires more tools to start, but with a little can do attitude and a knack for DIY's, you can probably do it with a snowboard and some things around your house. 
Bobsledding – Feel like road tripping? Here is a list of all the alpine slides that you can go to to practice your Winter Olympic spiritTobogganing – Basically high class sledding, it is the weirdest thing that you have ever seen. It's like skiing and sledding had the coolest baby you've ever seen. Snow Sculpting – Anyone can build a snowman, but can you build a mermaid? How about a swan? Challenge your friends and have a contest sure to bring out the best, or the child, in everyone. Ice fishing – Like Ice Board Sailing, you made need a frozen lake, but once you have it, all you need is a fishing pole, a beer, some friends, and something to break the ice. (Psssst, if you do it shirtless it's called Redneck Ice Fishing, if that floats your boat more [If you take off your pants, it's called Extreme Ice Fishing, or hypothermia, so be careful])
Apres Ski – This is more for after your snow romping, and it's basically a pub crawl in the snow. So crack one open with a friend and let it snow!!Snow-scooting – This is using a cool scooter. In the snow. 'Nough said. Speed-curling – If curling isn't your game, try it at high speeds. It's a fun alternative. Skelton Racing – Bobsledding face first. See number #3 for detailsTry local food – It's Fort Collins. Any day is a good day for good foodSled Racing – Get your dog, your friend's dog, your neighbors dog, some leashes, and a sled. Pretend you're in Alaska. Relax in a spa – Cold not your thing? Go get steamed and rubbed at your nearest spa. It probably won't be too busy. Watch a movie – Grab you bae, grab your boo, grab your bff, pop some popcorn, order a pizza, boom. Human connection
What do you do on your snow days? Let us know in the comments!
Collegian Blogger Sarah Ross can be reached online at blogs@collegian.com or on Twitter at @HowSarahTweets. Read more of her content on AltLife or at collegian.com under Music. Leave a comment!