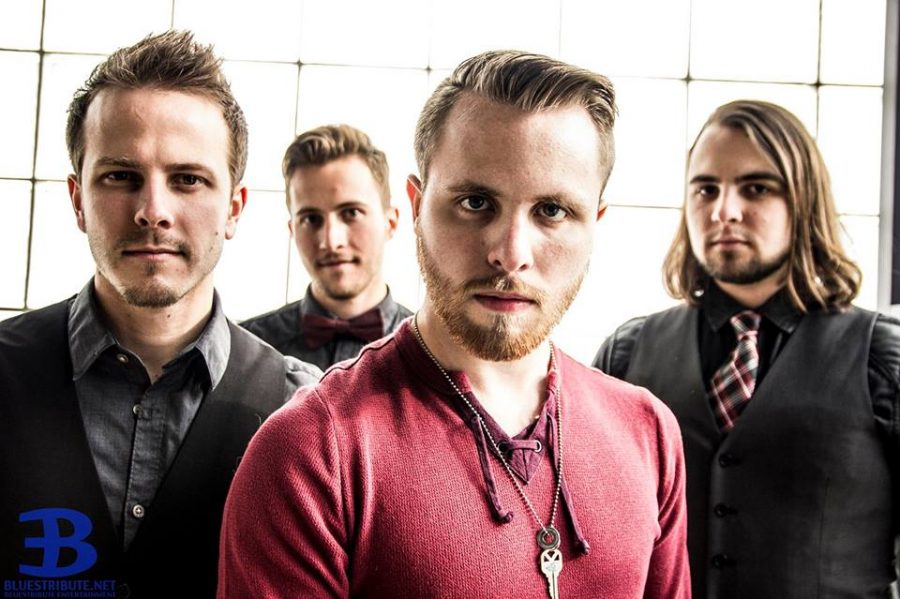 The Denver area has definitely had its fair share of rising stars. From John Denver to 3Oh!3, we've been a launching pad for many musicians who skyrocketed into commercial musical success. However, Fort Collins has been lacking a superstar of their own, with few big name bands in the last few years that can be easily linked back to our pretty little city.
Enter Vermillion Road. A band aimed at saving rock music, Vermillion Road has been shaking up the Denver and Fort Collins music scene over the past year. They return to the roots of rock that have since been abandoned by the "fluff" rock that is the alternative genre, and they give their audiences a show that they will never forget.
Their new album, Palaces, was released in 2015 to a good amount of local acclaim. The songs were written, recorded, and performed by the band themselves, and it truly brings their raw energy in a way that honors it in a convenient, on the go medium. The band also released their biggest hit, Tread on Me, in music video format, which can be viewed on YouTube or on the band's website.
I caught up with the band to talk about their new album and growing commercial success. They are not only proud of the album, but all the work behind it that made it the way it is.
"(Making the album) was really nice because we had a lot of creative control producing it," said Will, the lead singer of Vermillion Road.  "We didn't have to answer to anyone trying to shape our sound, we could just do what we felt was right. It really allowed us to explore songwriting on our own terms."
The album has done a lot for their local commercial success and promotion, but their loyal fan base has truly come from the shows that they play.
"It's funny, we were originally planning to just record a single in our basement," Mark, the bassist, joked. "But, we got in touch with a mentor of ours, Jonathan Lee, just to evaluate some of our songs, and before the end of the meet we were discussing when to record the album!"
The local musical scene has truly fostered them to their rising point, of which they are grateful for.
"The scene is lively, there's a lot of support from other bands; it's a lot like a family," said Hunter, the lead guitarist. "There's a lot of variety and talent here, but it's kinda tricky to be in Colorado; we're really separated from the rest of the musical world in a way, and our next big goal (as a band) is to branch out into other states and tour circuits."
But, for those trying to make it big and reach out to that larger market, know that you are not alone.
"Everyone we've met here is so supportive of our music, both in terms of genre and style, and we're so grateful for that," Will said. "There are so many musically passionate people in Denver, and they're the reason we do what we do!"
Want to break out in the musical scene and follow in the trail they are blazing? They have a few tips for you.
"Get out in the scene, meet people, go to shows, and network, network, network," emphasized Chad, the band's main drummer. "It's a very welcoming scene, you just have to be a part of it."
"Try to stand out, be the band that YOU would want to go see," Mark stressed. "Think of what you see in other bands that really blows you away, and reflect on why you feel that way. Then, try to bring that influence into your live shows, your music writing, everything."
Being a musical success isn't easy, but Vermillion Road is truly in the fast lane to getting bigger than they ever imagined. They released a new single this week entitled "Run", which can be found on their website or YouTube now. You can also find them at their show at the Bootstrap Brewery in Niwot on February 12. The show is for ages 21+, and there are no advanced ticket sales. To follow up the band on their rise to stardom, check in with them on their website,  or like their Facebook, Instagram, or Twitter pages. You can find more of their music on Spotify, YouTube, and SoundCloud. 
Collegian Blogger Sarah Ross can be reached online at blogs@collegian.com or on Twitter at@HowSarahTweets. Read more of her content on AltLife.collegian.com or at collegian.com under Music. Leave a comment!