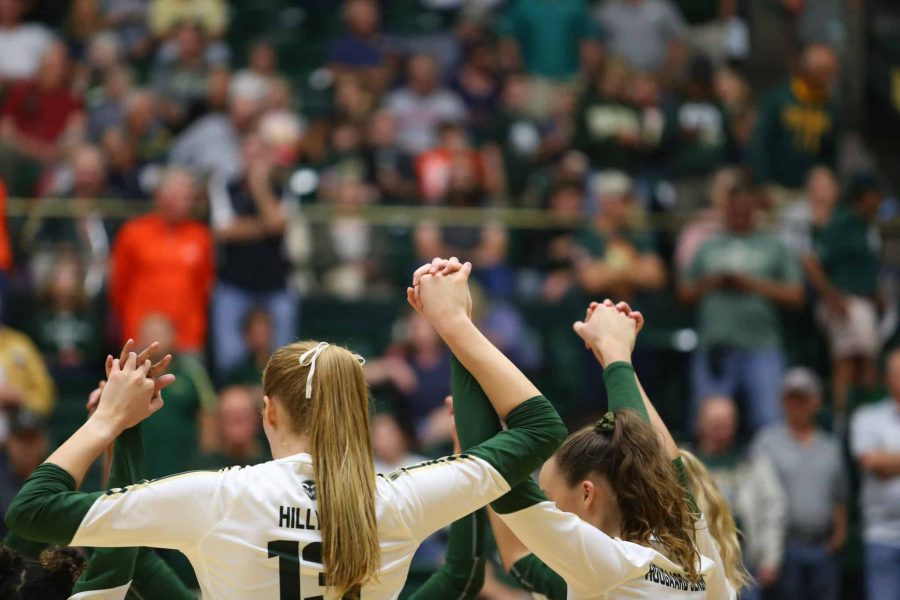 Perfection is achieved through persistence and routine, and for No. 12 Colorado State volleyball, this season has been nearly flawless, as the Rams sit with a 24-1 overall record and are four wins away from a flawless conference record of 18-0.
CSU can clinch part of the Mountain West regular season title this weekend with a win in both games against Utah and Boise State. The Rams can also claim a shared title if they win over Utah State and Wyoming loses against Boise State. CSU can guarantee their third-straight title if they win out the rest of their schedule.
2019 Mountain West Women's Volleyball Standings
SCHOOL
CONF
CPCT.
OVERALL
PCT.
STREAK
Colorado State
14-0
1.000
24-1
0.960
W23
Wyoming
12-2
0.857
17-8
0.680
W3
UNLV
11-3
0.786
15-10
0.600
W2
Boise State
8-6
0.571
16-9
0.640
W1
Nevada
7-7
0.500
17-9
0.654
W1
San Diego State
6-9
0.400
13-13
0.500
W1
San José State
5-9
0.357
10-15
0.400
W3
Air Force
5-9
0.357
8-18
0.308
L4
Fresno State
5-10
0.333
12-15
0.444
L6
New Mexico
3-11
0.214
8-18
0.308
L1
Utah State
2-12
0.143
2-24
0.077
L8
The Rams will host Utah State (2-24, 2-12) tonight, Nov. 14, and Boise State (16-9, 8-6) on Saturday, Nov. 16.
Vs. Utah State 
The Rams have rattled off 29 straight wins over the Aggies and took the prior game on Oct. 19 in Logan, Utah, in the form of a 3-0 sweep.
While the Rams are riding a 23-game win streak, the longest in the nation, Utah State has lost their last eight games, with five of those eight losses coming in the form of a 3-0 sweep. Utah State shouldn't present much of a challenge as the Rams figure out how to overpower the struggling Aggies.
Of the Rams' 24 wins, 17 of those victories have come in straight sets. CSU has dropped just 13 sets in the 2019 season. 
Vs. Boise State 
The Rams' most recent loss to the Broncos came in 2016. Since then, CSU has won the last five matches and will look to continue their dominance as they lead the all-time series 17-1.  
This Boise State team did give CSU a run in their last matchup back on Oct. 17 as the Rams left Bronco Gym with a 3-2 win. The final score indicates that the match was close, but the Rams controlled the match. CSU doubled Boise State's kills, knocking home 68 kills to Boise's 34.
Five Rams finished with double digit kills. Breana Runnels and Kirstie Hillyer both recorded 17 kills, Paulina Hougaard-Jensen recorded 12 and both Sasha Colombo and Jessica Jackson hit 10 kills in the match.
CSU will need to be wary of the Boise defense, as the Broncos lead the conference in total blocks with 278, and they are third in digs per set with 14.34.
CSU will honor their five seniors, Olivia Nicholson, Hougaard-Jensen, Hillyer, Jackson and Katie Oleksak, before their game against the Broncos. This group has helped propel the Rams to a record of 97-22 over the past four years during their time in the green and gold. 
The Rams will be favored in both matches, and the Rams will have some extra motivation in these games with the possibility of clinching the conference on their home court. 
Thursday's game versus the Aggies will get underway at 7 p.m. MST.
Ryan Loberger can be reached at sports@collegian.com or on Twitter @Lobergerryan.