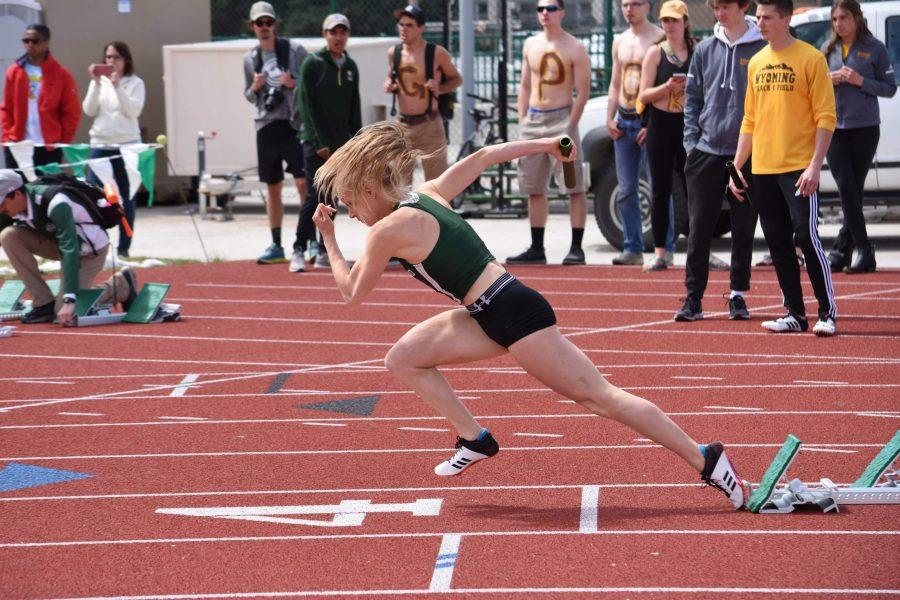 The new Jack Christiansen Track at Colorado State University saw some incredibly fast times recorded over the weekend at the Doug Max Invitational meet.
The meet featured athletes from Air Force, University of Wyoming and University of Colorado, Boulder. It was originally scheduled for April 12 and 13, but was postponed to April 14 due to weather. Once things finally got going, so did the Rams.
"It was a great day to have a meet," Head Coach Brian Bedard said in a press release. "We had beautiful weather to celebrate Doug Max and his influence on our program. It was fun to have him out here and acknowledge him. … I think it was important for the impact he's had on our program and athletic department to acknowledge and lift him up."
The women's 4×100 relay team came out in full force, breaking the CSU all-time record for the second time in as many weeks. The team made up of Marybeth Sant, Lauren Gale, Destinee Rocker and Jessica Ozoude broke the record last week with a time of 44.66 seconds. They topped themselves again on Sunday, clocking in at 44.06 seconds. The previous record before this team began breaking them was 44.79 seconds.
"The 4×100 was definitely a highlight for us," Bedard said in a press release. "It's fun to see that group get together and do some special things. What's exciting is that not all the handoffs were perfect — we had one that could be a lot better, so they're just going to get faster and faster as the season goes on."
The record-breaking relay runners also made waves in individual events at the meet. Sant came in first and set a personal best in the 100 meter, running it in 11.56 seconds. This beat her previous personal record of 11.80 seconds from last season. She is now ranked third on the CSU all-time list in the event.
Ozoude came in first in the 400 meter, running her personal best time of 53.79. This beat her previous personal best time of 53.84 seconds and puts her at third on the Rams all-time list. Gale came in right behind Ozoude with her own personal best of 53.79 seconds. Gale is now fifth all-time at CSU in the event.
Rocker came in first in the 200 meter, recording a time of 24.15 seconds. That beat her previous best of 24.80 from last season and put her at seventh all-time at CSU.
Nathan Gish and Emma Atwell also set personal records at the meet. Gish won the men's 200 meter, beating his previous record of 21.5 seconds from last year's Mountain West championships for a new personal best 21.25 seconds. This puts him at ninth all-time at CSU. Atwell won the 3,000 meter steeplechase event with a time of 1:29.72, now fifteenth overall at CSU.
Many other Rams won their events and set personal records at the meet. 
"There were some good performances across the board," Bedard said in a press release. "And that's always fun to see."
The Rams will be on the road for several meets in California this week. Starting Wednesday they will be at the Bryan Clay Multis meet at Azusa Pacific before continuing on to the Mt. SAC Relays, Bryan Clay Invitational, Pacific Coast Intercollegiate and Long Beach Invitational. 
Ashley Potts can be reached at sports@collegian.com or on Twitter @ashleypotts09.