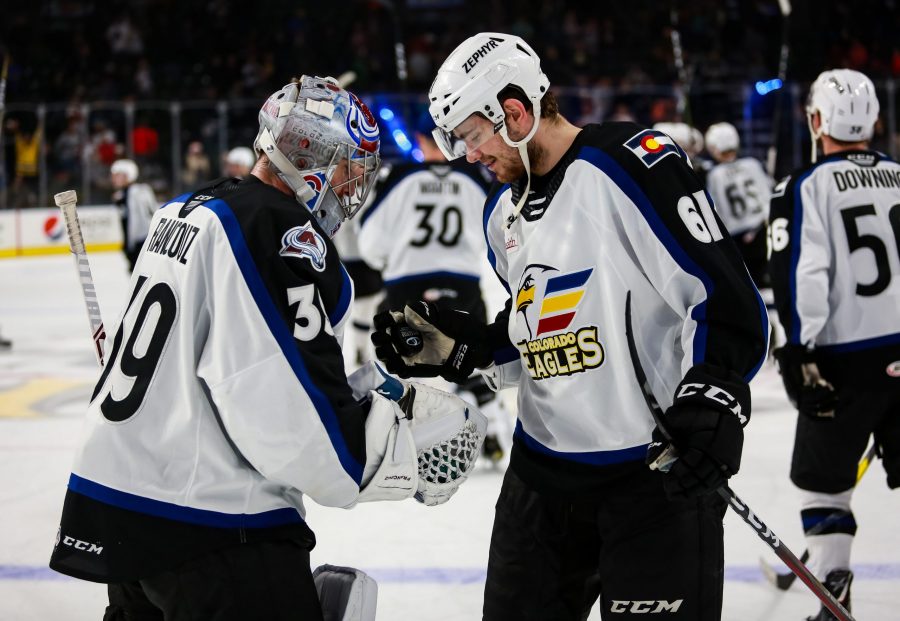 Colorado Eagles goaltender Pavel Francouz and forward Martin Kaut have spent a lot of time together during their first season in the American Hockey League. They drive to the rink together, stretch and warm up together, pose for photos together, sign autographs together, and even drive to Denver to watch their teammates play together. The two are pretty much inseparable now, but it didn't start out that way.
After first meeting at the Czech Republic national camp in 2018, Francouz and Kaut didn't hit it off right away, but their journey to Loveland proved to be a bonding experience for both players.
"We first met with the national team at the end of last year," Francouz said, "Obviously, we didn't know we were going to be playing together next year."
"I knew that," Kaut said jokingly.
"I didn't know that," Francouz said, smiling. "When we first met, I could see that he's a good guy. He scored some goals on me too in practice, and that's when I knew he was a good hockey player too."
While the two have been key to the Eagles' success in their first year playing in the AHL, adjusting to life in a new country can be difficult. It's little things like speaking your native language that you miss the most when you move across the world, and Kaut and Francouz found that their friendship made the adjustment much easier to stomach.
"It's always good for you to know that you're going to have a guy from your (home) country that you can hang out with and use the same language, so that was way easier for both of us," Francouz said.
Francouz — who is in his fifth pro season outside of the Czech Republic, having spent time playing in Russia's premiere professional hockey league the KHL, — has done everything he can to help Kaut adjust to pro life as they both adjust to the North American game.
"There's not much I can help him with on the ice; it's more off the ice (stuff)," Francouz said. "I'm (a) goalie, and I don't really know much about the stuff he's working on ice. Off the ice, I'm trying to help him with the normal life stuff, mostly at the start of the season. He's (adapted) to it, real grown up; if he needs anything, we usually do it together."
https://twitter.com/ColoradoEagles/status/1109246817756016640
Kaut was the Colorado Avalanche's first-round selection in the 2018 NHL Entry Draft and Francouz was signed by Colorado to a one-year deal in May. The pair of Czech hockey players are both playing in North America for the first time in their professional careers.
Part of the interesting dynamic about their relationship is that Kaut is only 19 years old, the youngest on the roster, and Francouz is 28 years old, only a few days off from being the oldest on the roster.
"I would say Francouz is a dad," defenseman Sergei Boikov said. "(Because of) the age difference, and the next is the way they talk (to each other), Martin will always come up to (Francouz) and explain something."
"(Francouz is) basically my father right now," Kaut said. "He helped me (at the) start with my car, with my apartment. He helps me every time I need him, and that's (helpful) for me that he's here."
Kaut and Francouz don't seem to mind their teammates' jokes about their relationship, and it has been a source for keeping the team relaxed throughout the season. Both players are enjoying productive years. Kaut is seventh on the team in scoring, with 23 points (11G, 12 A) in 61 games played. Francouz has emerged as a top goaltender in the American Hockey League, playing in 47 contests with a record of 26-16-3-3, posting a .918 save percentage with a 2.68 goals against average. He is currently second in the AHL with 1460 saves on the season.
"They've meant a lot to us," Boikov said. "Without them, I don't think we'd be (where we are), because they are a big part of the (dynamic) in our group. They really mean a lot to the team."
Francouz and Kaut have developed a special bond while helping each other grow more accustomed to life in Loveland, and they solidified their place in the Eagles' locker room. They have helped create good team chemistry that Colorado will need as they make their final push for the playoffs in the team's final games.
"Everybody feels pretty confident (in our group), and we're just gonna try our best, and we'll see what happens," Boikov said.
Francouz missed the team's most recent games against the Chicago Wolves, but for good reason. Francouz returned to the Czech Republic to attend the birth of his first-born child. He returned to Colorado to finish out the season. He was back practicing with the team on Tuesday.
The duo and the rest of the Eagles will return to the Budweiser Events Center for their final regular season games April 12 and 13. The Eagles are still fighting for a spot in the Calder Cup playoffs. This weekend will play a large part in determining if they continue into the post season.
Ryan Loberger can sports@collegian.com or on Twitter @LobergerRyan.