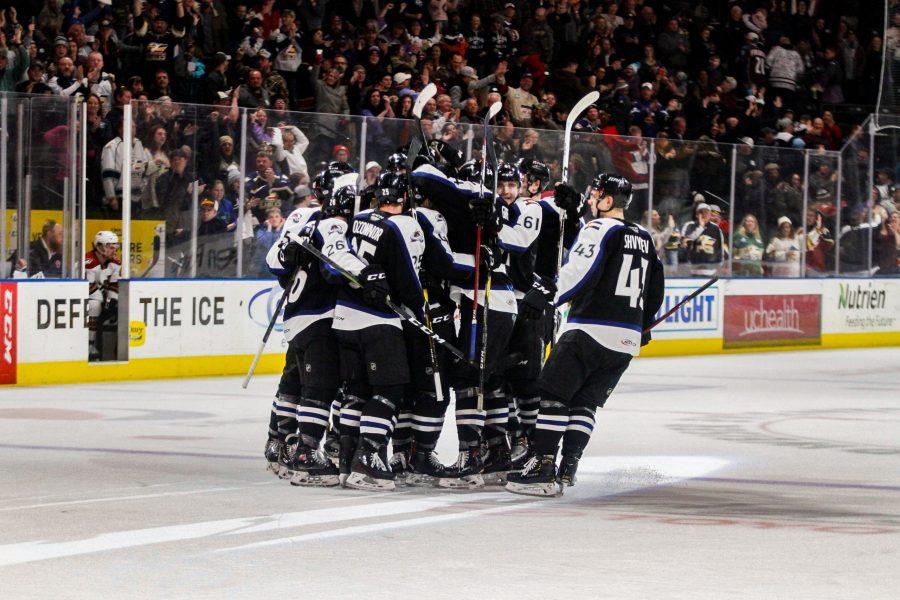 Points were king as the Colorado Eagles faced the Tucson Roadrunners over the weekend. Entering their Saturday contest, the two teams were tied in the standings at 56 points. The team that won the weekend took control of the fourth and last playoff spot in the Pacific Division, regaining hope of continuing their season past early April.
Saturday's matchup started off slow, but picked up about 10 minutes in when Eagles forward Kale Kessy dropped his gloves to fight Tucson forward Jeremy Gregoire. Kessy won the fight and brought some energy into the building.
Tucson controlled much of the play in the first period, outshooting the Eagles 11-6 in the opening frame, but were unable to translate those shots into goals. Colorado broke the stalemate with just 3:35 remaining in the first when defenseman Sergei Boikov blasted home a one-timer off a feed from Mason Geertsen for his first goal of the season.
"It feels great," Boikov said. "I wasn't thinking too hard about it, just trying to get the puck on net and it went in."
However, the lead was short-lived as Tucson answered just 53 seconds later, tying the game 1-1, finally solving Francouz.
Second-period action saw the Eagles start on a power play thanks to a tripping call drawn by AJ Greer in the last second of the first. The Eagles didn't convert on this man advantage but Colorado pulled ahead just over halfway through the second while on another power play.
Max McCormick had his shot deflected by Logan O'Connor which made its way through the wickets of Adin Hill to make it 2-1. Tucson answered with pressure, but Francouz was up to the task. Multiple Tucson shots sat motionless in the crease only to be tapped wide or found by Francouz just in time to keep them out of the net.
The Roadrunners outshot the Eagles 21-10 in the second, but Pavel Francouz only let one by him. Francouz currently ranks second among AHL goalies with 1093 saves this season.
Tucson found the back of the Colorado net as Roadrunners' forward Emil Pettersson scored a power play goal to bring the game back to a tie. Colorado had a string of back-to-back penalties to yield the second-tying goal and set up a winner-takes-all third period.
The third period belonged to the Eagles' goaltender Pavel Francouz, who was peppered in the last two periods of play while the Tucson outshot Colorado by 20.
"It just gives us so much confidence," said Eagles defenseman David Warsofsky. "As a defenseman, I'm not trying to make mistakes out there, but when I do — or any of us do — we know it's gonna be covered up by (Francouz)."
Francouz finished regulation with 43 saves on the night as the Colorado penalty kill was active all night. Colorado gave the Roadrunners six attempts with the man advantage and was able to kill off five. The Eagles are the most penalized team in the AHL, averaging 17 penalty minutes per contest.
"I don't think we had our best tonight, but anytime you can come out with two points you're excited about it." – Eagles' defenseman David Warsofsky
Sixty minutes of play wasn't enough to decide a winner, so it was decided by overtime. Colorado stumbled into OT, catching a break in the form of a power play when Roadrunners defenseman Jordan Gross got called for hooking. The Eagles worked the puck around the Roadrunner zone trying to find a clear lane to the net. Warsofsky, who hit a goal post earlier on the power play, made a shot that found twine and ended the contest with 12 seconds left in OT.
While the Eagles did collect the two points and moved back into the final playoff spot, they knew they had to generate more offense to make a win more likely.
"I don't think we had our best tonight," Warsofsky said. "But anytime you can come out with two points you're excited about it, another big two points tomorrow is what we need."
Sunday's contest was a quick 20-hour turnaround with a 3:05 p.m. puck drop.
If you didn't know these teams played last night, the first period definitely made that clear. Colorado came out hard looking for the first goal but were unable to beat Tucson goaltender Hunter Miska for much of the period. Penalties were plentiful with six minors and a fight to kick off the opening frame.
Tucson got on the board first, capitalizing off a blue-line turnover that produced a breakaway for forward Jens Looke, who beat Francouz with a wrist shot.
Colorado, in need of momentum, got it from forward Scott Kosmachuk who dropped his gloves to fight Kelly Kilma, taking him down quickly with a few left hands and bringing the fans back into the game.
"(Kosmachuk) can bring a lot of energy when he plays like that," said Eagles' defenseman Nicolas Meloche. "I think he played a good game today. Even though he had some penalties, it was all because he was working hard and we need him like that for every game."
From there the Eagles got things rolling and tied the game late in the period. Forward Max McCormick drove the net along the goal line and got a pass from Andrew Agozzino from the corner, McCormick fired a shot past Miska's right arm to find the back of the net, making it 1-1.
The second period was more tight checking than the first, both teams trying to avoid costly mistakes and play good fundamental hockey. The Eagles were penalized twice, both minors on Kosmachuk — one for head contact and another for interference. Nonetheless, the Eagles sixth ranked penalty kill took care of business and kept the game knotted at one.
Colorado took the lead again in the last few minutes of the period with Meloche breaking the tie. Miska was unable to absorb a point shot and had a rebound kick out in front of his crease, the puck pinballed to an open Meloche who was able to power a shot through a sea of bodies to give the Eagles the lead.
"I gave up a two-on-one the shift before, so I wanted to get one back," Meloche said. "I was walking the blue line, I know (Warsofsky) likes to shoot, so I went there and it bounced right to me and I put it in."
From there Francouz had an answer for every Roadrunner chance, at one point thanking his goal post for helping him out when a Tucson shot was able to beat him, but ricocheted out of play.
Francouz did not give up another goal as the Eagles took a 2-1 lead into the third period of play. Solid defense and good puck management helped the Eagles finish off Tucson, beating them 2-1 for their fourth-straight win.
The Eagles came back with a more complete effort on Sunday and are trending up the team's improvements to their neutral zone play were able to finish off the weekend sweep.
"We need to play structured, play with some pace," Meloche said. "Our neutral zone is gonna dictate the game. It wasn't our prettiest game, but we found a way to win and keep it easy for Frankie."
The team will now head out on a road trip to San Diego, where they'll visit the Gulls March 8 and 9. They'll look to add more distance between themselves and Tucson in the playoff race.
Ryan Loberger can be reached at sports@collegian.com or on Twitter @LobergerRyan.