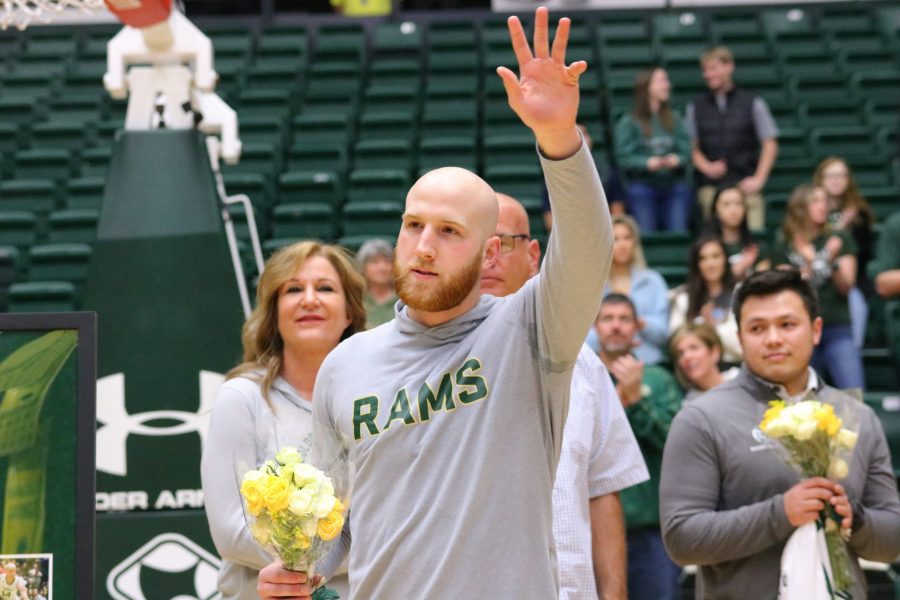 Putting yourself in position to win a game is only half the battle.
Colorado State used an early second-half run to pull within striking distance on senior day at Moby Arena. Following the 8-0 run that trimmed UNLV's once 18-point advantage to single digits, the Rams hung around for quite some time.
They hung and hung, but the green and gold were searching for that final overcoming push to send redshirt senior guards J.D. Paige and Robbie Berwick off on the right note.
It was almost too late, but CSU tried their best anyway. Freshman forward Adam Thistlewood rattled home a three-pointer with 2:20 remaining, giving the Rams a 57-56 lead.
The short-lived advantage was the Rams' only of the afternoon, as the Rebels provided a timely 9-3 run to drain the energy from Moby and earn a regular season sweep over CSU.
"We just couldn't get anything going on offense today," Head Coach Niko Medved said. "I thought our pace was poor. We missed a ton of open shots, shots at the rim… just couldn't get any momentum. But that's college basketball, that's the way it goes sometimes. We fought back and took the lead obviously, by one, and then fell asleep."
While only 125 combined points in the contest indicate a 40-minute defensive battle, Colorado State's struggles on the defensive end are what allowed UNLV to control the tempo. And to the Rebels' credit, they played locked-in from the get-go on offense.
In the first half of play, UNLV fired on all cylinders from the opening tip. The Rebels knocked down 9 of their first 11 shots from the floor, immediately accumulating a decent lead. Although, at that point, UNLV's hot start didn't see all too problematic. CSU was shooting the ball efficiently and had to be happy they trailed only 21-14.
Hot starts from the floor are frequent and often fizzle out, especially with a team like UNLV—who aren't particularly strong offensively. The Rebels never cooled down in the opening 20 minutes. UNLV shot 70 percent or better at every point during the initial 16 minutes of play.
Once CSU started to tighten up offensively the Rebels began to dominate and increase their lead. UNLV led 39-26 at the break and held an advantage of as much as 16 in the frame.
Lack of energy and intensity on the defensive end required CSU to come from behind, yet again.
"I thought we just really dug ourselves a hole," Medved said. "In particular in the first 10 minutes of the game. That was really hard to dig out of really at any time, especially being as thin as we are. I didn't think our energy level was very good early."
As the Rams have become accustomed to doing, Medved's group managed to assemble a run that looked like it may have been enough to earn CSU a senior day victory.
Paige was a driving force in orchestrating the second half comeback in his last ever game at Moby Arena. The guard led the Rams with 16 points and hit some critical shots down the stretch.
Per usual, Nico Carvacho got CSU fans on their feet. The center finished with 13 points and 14 rebounds for his 25th double-double of the season.
"We just picked up our energy honestly," Paige said. "We came out flat in the first 10 minutes, and as the game went on, we started to get going. But we can't do that. We can't play for 30 minutes; we have to play for 40."
As expected, the Rams' veterans were key in the competitive effort. However, CSU's pair of promising freshmen proved to be instrumental against UNLV.
Thistlewood and freshman guard Kendle Moore combined for 20 points in the second segment—most of which were desperately-needed, momentum-shifting buckets.
Aside from the go-ahead jumper, Thistlewood also knocked down a big triple to bring the green and gold within a basket with less than six minutes remaining.
Moore failed to contribute positively in the first half of play. He didn't score any points and went 0-3 from the floor. The speedy guard exhibited exceptional hustle to bounce back and impact the game later on.
Late in the contest, Moore missed a poor corner 3-point attempt before immediately tracking down his rebound and weaving into the paint for a bucket. This made the score 56-54 UNLV and exemplifies the grittiness of Moore's performance.
Thistlewood and Moore's final regular season performances demonstrate the progression from each, and the potential both hold moving forward.
"Those guys aren't freshmen anymore," Medved said. "They have played a ton of minutes now and have been in all these games and are go-to guys for us. I think that is huge and obviously you've seen it their progression throughout this season. To me it just accelerates the learning curve for them moving forward in our program.They are doing what they are supposed to be doing so yeah, those guys have a bright future."
The regular season may be over, but the Rams still have one final shot to right the ship. With the loss, CSU earns the No. 9 seed in the Mountain West Tournament. The Rams play No. 8 Boise State, a team Medved's group recently knocked off on the road.
The MW Tournament at the Thomas & Mack Center in Las Vegas commences with CSU's opening-round matchup on Wednesday.
"Beating them at their place, we had never done that before, and that was a big win there," Thistlewood said. "We are going to have good energy going into that game for sure."
Eddie Herz can be reached at sports@collegian.com or on Twitter @Eddie_Herz.