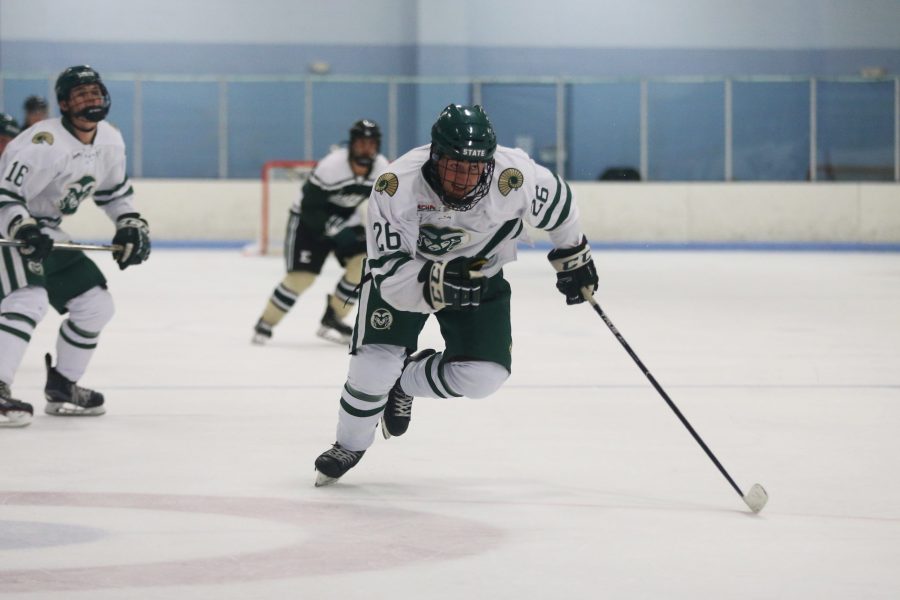 It's funny how time flies when you're having fun, and boy did Corey Taylor have fun as a member of the Colorado State University men's hockey team. The senior is set to graduate in the spring and is now approaching his last game in a Ram's uniform.
After four years on the team, Taylor has been a steady force for the Rams, but the captain didn't have the smoothest start to his career.
"Actually, when I was 4-years-old, the first time I skated I cried," Taylor said. "I hated it, a few years later my brother started playing roller hockey and I started playing with him, then I wanted to play ice (hockey) because I thought it looked fun and it's been my life ever since."
Upon developing a love for the game, Taylor had undeniable skills, playing minor hockey around the Denver metro area then moving to AAA hockey down in Colorado Springs, but had a little difficulty balancing all of it.
"At the time I was missing a lot of school, I failed a P.E. class," Taylor said. "So I knew had some stuff to figure out."
Taylor would forgo high school in Colorado and opted to attend Culver Academy, a military academy located in Indiana—one of the most prestigious in the country.
"I moved out when I was 14 to go to Culver Academy," Taylor said. "I enjoyed it. Everyone gives me a hard time because it's a military school, but I wasn't a bad kid, I promise."
Upon graduating from Culver, Taylor took a gap year to play junior hockey in St. Paul, Minnesota for the Granite City Lumberjacks. After playing a season of juniors, Taylor was ready to take the next step in his life.
"I could've played one more (year)," Taylor said. "With hockey, as much as I love it, I wasn't going too far. I wanted to get my life started and I'm glad I did. I was ready to be home, I was at Culver for four years, then I was in Minnesota for a year, so I was ready to come back."
Homesick and ready for something new, Taylor found a home in Fort Collins at CSU.
"When I came to visit the people were so friendly," Taylor said. "I love the campus, love the location, this was the right choice for me."
Now, as the team captain and in his last season, Taylor is revered as a leader on the team and will certainly be leaving a hole in the Rams' locker room.
"He's an amazing kid on and off the ice," said men's assistant coach Jameson Wicks. "He leads by example and everyone in the locker room respects him. when everything else is going bad around him he's always positive, he always lightens the mood in different situations and he's just an awesome guy to have around."
With four years in the books, Taylor is set to graduate with a major in criminology and hopes to work to protect and serve the community.
"I'm trying to apply to either a police station or sheriffs office," Taylor said. "I'm really interested in organized crime, I know a lot of police and sheriff's offices have special units for organized crime."
Taylor says he's already had a military career in mind but decided he wanted to work closer to home and serve in the community, rather than across the world.
"When I was younger I had an idea that I wanted to go into the military," Taylor said. "As I got older I kinda realized I wanna make it safer where I live, with everything going on and all the stigma against police officers, I just wanna help the community."
Taylor—along with four other seniors—will don the green and gold for the last time this Thursday at EPIC as the Rams try and upset top-ranked UNLV in their last game of the season.
Ryan Loberger can be reached at sports@collegian.com or on Twitter @LobergerRyan.