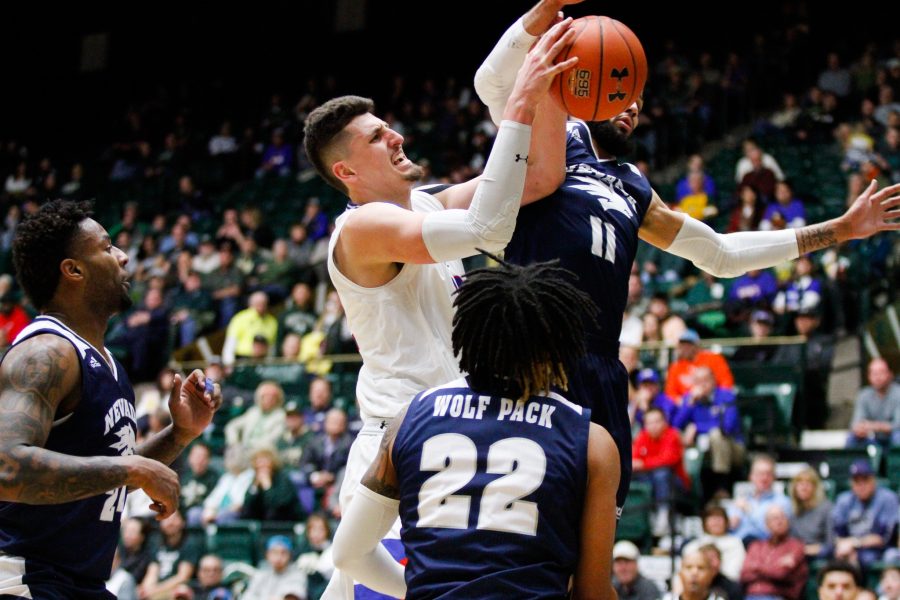 Leading rebounder in the NCAA: check. Most double-doubles in Colorado State history: check. Most rebounds in CSU history: check.
Redshirt junior center Nico Carvacho has crossed quite a few objectives off his list to make the 2018-'19 season a memorable one. Carvacho has improved in every way imaginable since last season and then some.
The center established himself as an unstoppable force in the paint. Carvacho averages 16 points per game along with 13.2 boards and falling just shy of his third 20-20 performance of the season Wednesday night in San Jose.
I set some time aside to sit down and talk with the Rams' big man one-on-one to discuss obtaining the prolific rebounding record, as well as what is next for Carvacho and the Rams as a team.
Eddie Herz: What are your general reactions to breaking the record?
Nico Carvacho: It's just a dream come true, a blessing for all the hard work I've put in. Coming here that wasn't even a goal of mine. Just being able to accomplish that is awesome. Pat Durham actually called me a couple of times. He called me before I broke it and after I broke it, so that was really cool of him to actually call me and congratulate me and everything. He is a great guy. It means a lot to me.
EH: What specifically did you talk to Pat about?
NC: He was amazed that it's only my third year. It takes a different type of person to do that. He gave me a lot of confidence moving forward.
EH: Since you hadn't ever talked to him before, was it surprising that he reached out to you?
NC: I wouldn't say surprising. It was his record. I think it is just really cool of him to do that. He wasn't upset he just told me to leave a couple of his scoring records (laughs).
EH: How cool was it to break that record at Moby? I heard you had family in attendance.
NC: It was really cool. My mom, dad and grandma actually came up for the game spur of the moment. (I was) three rebounds away so I was definitely going to get it with them there. I wish we would have gotten a (win) with it though. But it was really cool hearing the people in the crowd cheering and all of that.
EH: What are the most memorable congratulations you have received?
NC: I hit 1,000 likes on my Instagram picture. That was the first time I've done that ever. That was big-time (laughed). Friends, family and everyone were just hitting me up too, texting me. Everybody in the crowd congratulating me too. It was really cool; it means a lot.
EH: Did any other former CSU players reach out to you?
NC: Yeah, Prentiss (Nixon), Gian (Clavell), Tiel (Daniels) hit me up. Pretty much everyone I've played with hit me up.
EH: Now that breaking the record is in the past, what is your next step?
NC: Getting some more wins.
EH: Individually, what are you focusing on to keep improving?
NC: I think I can get better in all types of ways. I can be more efficient down low. This offseason I'm going to try to work on that outside game and get really confident with it, once I fix my shoulder. And then just expand my game and continue to get better every single day.
EH: As a team, what do you need to do to finish this season on a high note?
NC: Just go out there and have some fun. This is my third year, fourth year here. It goes by so fast. I want to look back on it and feel like I had fun and made the most of it.
EH: Is having fun part of what you preach to the younger players?
NC: I tell Adam and Kendle to just have some fun all the time. I might get on them a little bit, but it is going to help them out a lot.
EH: The overall record doesn't show it, but CSU has played a lot of close games. Could this team make a run in the Mountain West Tournament?
NC: I think these six games are going to be very key for that. (We're) going out there with momentum and just continuing to play hard, have fun, and never give up.
EH: Obviously the pieces are in place like the coaching staff, young players and solid recruits. How do you feel about where this team is headed in the future?
NC: I don't like to talk about the next year when we are in this year. But I think we are in great hands right now.
Eddie Herz can be reached at sports@collegian.com or on Twitter @Eddie_Herz.