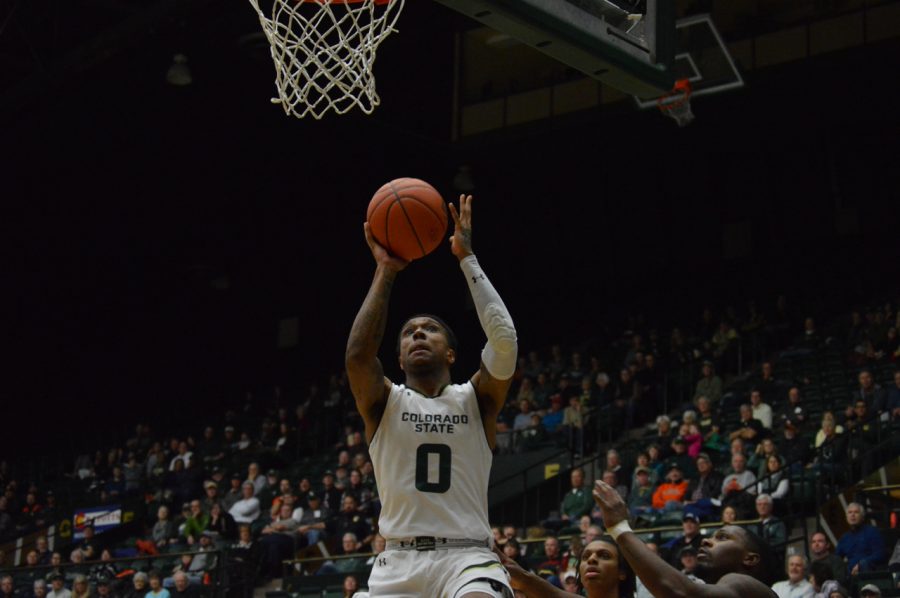 Forrest Czarnecki
Untapped potential does not stay fresh forever. For college athletes, potential expires in only a few years more often than not.
Colorado State redshirt junior guard Hyron Edwards was seen as a player likely to succeed at the collegiate level during his prep years at East Chicago Central High School.
The guard first garnered national attention during his junior year of high school when he was named a member of the Indiana Junior All-Star Team. A dominant senior season in which Edwards led East Chicago to the top rank in the state upon averaging 24 points per game increased the brightness of the national spotlight.
Highly-touted, Edwards was listed as a four-star, top-100 recruit in the 2015 incoming freshmen class. All indicators pointed to an easy path connecting Edwards from high school basketball to contributing for an elite program.
But Edwards' skills and possible college stardom would be delayed for quite some time.
Instead of accepting scholarships to play for major Division 1 programs such as Illinois, Indiana and Purdue, Edwards took the junior college route. After thriving for two seasons at Trinity Valley Community College, the guard landed at Texas Tech University to get his career underway.
Edwards' stay with the Red Raiders didn't last long. He never played a game for Texas Tech in his one semester as a member of the program before transferring to CSU.
Though the Indiana native's ability to contribute for a Division 1 program stayed stagnant for longer than initially anticipated, Edwards didn't miss his window.
Now, as a member of the Rams, the redshirt junior is finally starting to fill his intended role as a difference-maker on both ends of the court.
While Edwards is finally seeing his dreams come to fruition, doing so this season wasn't comfortable from the start. Along with having not played a game for two full seasons, Edwards did not become eligible to compete until CSU's 11th game of the season.
Coupled with an adjustment period, Edwards had to find his identity on a team in which roles for the season had already begun to form.
"Everybody looking from the outside in thought that I was supposed to score like 20 points in the first game back," Edwards said. "But it is a process,—and I am still going through that process—of me getting into a rhythm and getting my wind back. That is the hardest thing, just getting that feeling back on the court."
By no means did Head Coach Niko Medved anticipate Edwards' transition being painless. Even for a speedy guard like Edwards, growing pains from the cardio associated with live-game action are normal. No matter how much a player practices, one must play  games to start improving.
With that idea in mind, Medved had some wise words for his guard before he got back on the court in December.
"I tried to tell him to have confidence, but it isn't just going to happen overnight," Medved said. "You don't miss all that time and then get right into it. And I think you started to see that as a couple more games went by. He's gotten more and more comfortable. So it's having that belief in yourself, but also realizing it is going to take a little time."
As Medved mentioned, Edwards has begun to get back into the swing of things. In his first six games played, the redshirt junior averaged 4.7 points per game on 28 percent shooting from the floor. Over CSU's last five games, Edwards has performed significantly better.
The guard has averaged 10.6 points per game over that span, including a 20-point outing against New Mexico Jan. 12, as well as a career-high seven rebounds against Fresno State last Saturday.
Speaking of Edwards' shooting, the guard is converting shots at a much higher rate as of late. Edwards is shooting 43 percent from the floor over the current stretch.
Edwards' success is a result of progression and adjustment, closer to the point when he will fully-exercise his potential.
"I feel great out there now," Edwards said. "The last couple of conference games I've been playing good. My wind has been good."
Edwards coming into his own and starting to contribute in a multitude of ways has not surprised his teammates. After all, CSU players have been practicing with the guard for months.
The Rams are most likely feeling a sense of relief that, not only is Edwards using his speed to run laps around them at practice, but he is finally doing so against the opposition as well.
"I would say that when he was in practice, he was doing everything right," redshirt senior guard J.D. Paige said. "So, instantly we knew that he was going to be a key part to what we are trying to do … it has been great having him back. He is a guy that can get his own shot off, but also create plays for others. He is very fast so when he gets the ball we just have to keep up with him and run with him because he'll find us."
A hand full of rebounds and assists per game is more than enough for a player to be considered a valuable asset. But it is worth noting Edwards is still trudging along the path of his potential. By no means is the guard content with his current standpoint.
With realistic expectations to keep improving, Edwards' value to the team appreciates. When the day comes in which the guard is a real force, playing to the best of his abilities, the success of CSU basketball will undoubtedly be elevated.
"He is a kid who has talent and is starting to feel more and more comfortable within his role and within our schemes on both ends of the floor," Medved said. "He has been a huge piece to us playing a lot better here as conference has started … I think he is really finding a way to have a big impact for us."
Eddie Herz can be reached at sports@collegian.com or on Twitter @Eddie_Herz.