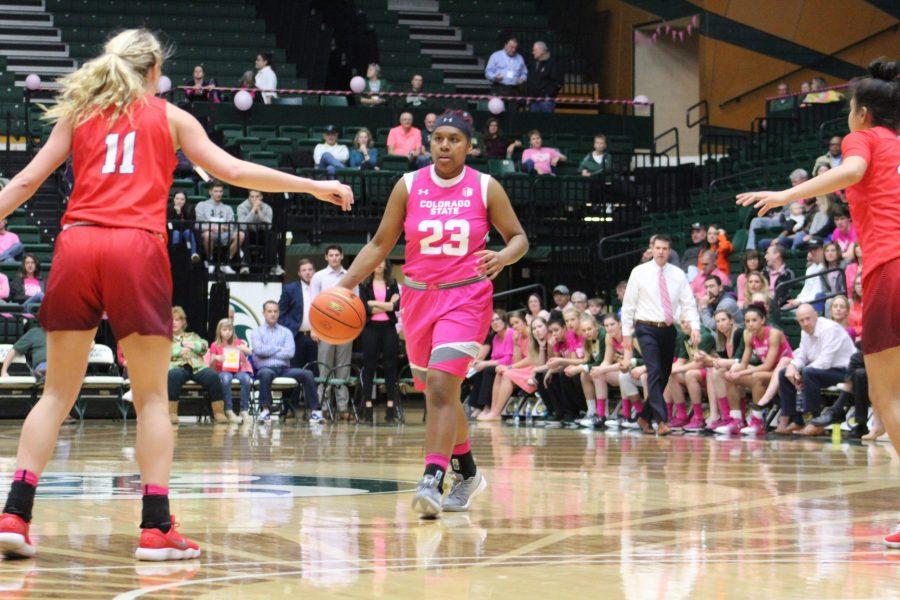 It was a back and forth match-up for Colorado State against the University of North Florida on Sunday, but a number of Rams showed off skills in a manner they hadn't so far this season in a 61-59 win.
Sophomore guard Lore Devos was in the spotlight once again on her way to a composed and aggressive scoring game with 23 points on 16 shots, but the surprising performance of certain Rams was just as big in a close victory.
Lena Svanholm finds her stroke
One thing that was obvious in the preseason was that sophomore Lena Svanholm can shoot, but it really emerged again in the first half against the Ospreys.
Svanholm hit three of four shots in the first half including two mid-rangers and a 3-pointer. The Rams' center ended the game with 10 points in just 17 minutes. It wasn't a huge amount of points but they were all timely.
With a lack of offense through the early portion of the season, the Rams need all they can get from players outside of Devos and transfer Mollie Mounsey. Both of her post-mates are solid scorers underneath, and Svanholm has yet to develop the necessary bulk to be effective on the block. If she can consistently get the jumpers she did on Sunday, Svanholm can open up driving lanes for her guards and quicker forwards as well as take a help defender away from senior forward Tatum Neubert and sophomore center Liah Davis.
Grace Colaivalu flashes her leadership
Colaivalu might have made only one shot, but she showed an ability to manufacture points for the Rams all game. She made an impact by racking up assists, setting effective screens, running set plays and only turning it over three times. Two of those were on hard to swallow offensive fouls.
She did foul out and may have gotten a little trigger happy in the fourth, but the Rams were certainly getting open shots because of her vision and ability to set them up.
Even on the defensive end, Colaivalu excelled as a leader, calling out the offensive movements of her opponents and being the most vocal Ram by far on that end. This team has better offensive weapons, but Colaivalu showed how key she is in getting teammates started on Sunday when she looks to distribute.
"I'm not going to lie," Coach Ryun Williams said. "We have no clue what she's going to do with the ball half the time. We did some good things when she caught the ball from there and facilitated with some aggressiveness. We got the penetration, we got some open threes, Lena got some open shots, but then we went to some bad shots … we'll figure out a different way to play late in the game, but we made some great plays."
Mounsey makes up for her shooting woes on the boards
Coming into the season, everyone expected Mounsey to be a dead-eye shooter. After a hot start from behind the arc to start the season, Mollie "McBuckets" has disappeared, but in her absence, Mollie "McBoards" has come to play.
She's averaged 10 rebounds per game over her last three for a team that desperately needed it.
Sunday was the third time Mounsey has had at least a tie for the lead in rebounds and only the second time the Rams have won the rebounding battle. That was due in large part to her 13 rebounds.
"Mollie had a tough night (shooting)," Williams said. "She's playing a ton of minutes, but I think she had 11 rebounds against Gonzaga so she's definitely getting it done on that end."
Mack Beaulieu can be reached at sports@collegian.com or on Twitter @Mack_Covers.