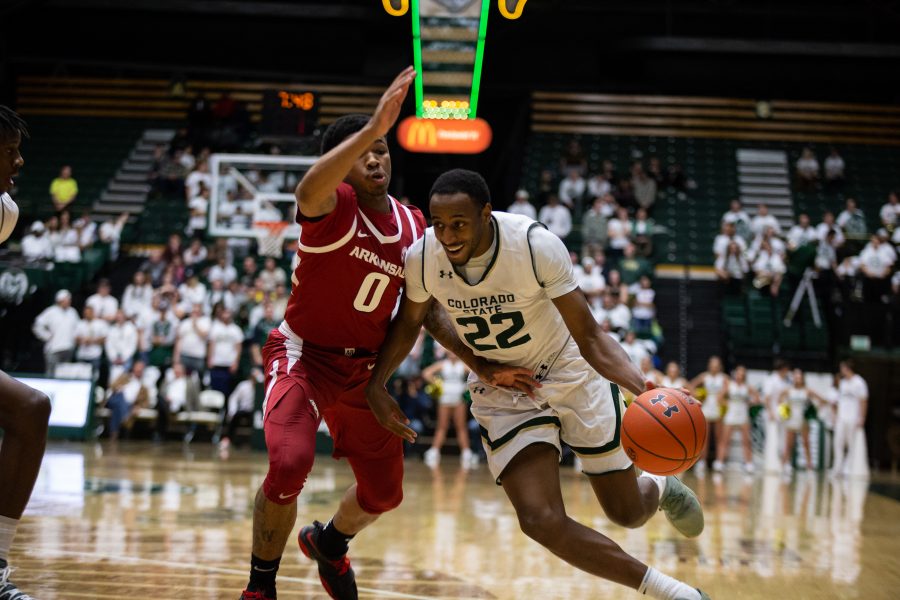 The Arkansas Razorbacks handed the Colorado State Rams their fourth-consecutive loss on Wednesday night at Moby Arena by a score of 98-74.
The loss brought CSU to 4-5 overall, marking the first time in which head coach Niko Medved's team has been under .500 this season.
Arkansas, who improved to 6-1, sucked the life out of Moby Arena early. The Razorbacks knocked down four of their first six 3-point attempts to build a 12-2 lead only about three minutes into the contest.
"There were some periods where it wasn't all bad," Medved said. "But, you have to be able to sustain it. We just weren't able to sustain anything. Any time we tried to get anything going at all, we would make a mistake defensively or we would gamble…To beat a team like that you have to play really well for long periods of time and we were not able to do that."
For the most part, CSU's opposition avoided roadblocks in their sixth win. 
After completely controlling the first half, it appeared as if CSU would be unable to provide any pressure all night. Arkansas converted its first three 3-point attempts of the final half, increasing its lead to 54-34 with under 18 minutes remaining.
However, CSU assembled a rally of its own a few minutes later. The Rams went on a 17-2 run to suddenly pull within seven.
Simultaneous to CSU grabbing momentum for the first time, the home crowd exhibited life for the first time on Wednesday. At that point, the score was 67-60 with over 12 minutes remaining.
"These guys have shown that this year, that they can do that," Medved said. "They respond a lot of times in the right way…We can score sometimes in bunches. We can do that and we have done that…We just have to be able to sustain it." 
Similar to most of the game for Medved's squad, the Razorbacks responded and once again put the score out of reach. Following a timeout with 12:04 remaining, Arkansas began to exploit mismatches in the paint. A number of easy buckets down low aided a 13-0 run for Arkansas, lengthening its lead to 20 again.
Though a size advantage was evident for Arkansas, CSU was somewhat able to control the damage in the paint until the Razorbacks' late run. The lack of success was due to Arkansas opting toward outside shooting most of the game.
In the end, Arkansas still managed to double up CSU in the paint, by a tally of 40-20. The Razorbacks also converted 14-28 of their 3-point attempts on the night.
Normally, CSU would be just fine with a duel of outside shooting. After all, the Rams were shooting 49 percent as a team entering the matchup. But, CSU struggled from the floor early on. As a result, the Rams weren't able to facilitate a competitive atmosphere.
CSU shot 35 percent from the floor in the first half, compared to a 50-percent mark for the Razorbacks. In total, the Rams shot just 39 percent from the floor.
The Rams didn't earn many second-chance opportunities either. CSU was out-rebounded 46-32, marking the third straight game in which it has been beaten on the glass.
"We didn't do a very good job of keeping the ball out of there," Medved said. "They have an NBA player down there (Daniel Gafford). He's a load. They are able to throw the ball up to the rim. If there is a 50-50 ball in the paint, he comes up with it. And when he catches it in there, good luck."
Arkansas achieved nearly everything it desired offensively against CSU. An ideal defensive effort from the Rams was absent with a lack of defensive communication playing a role.
"We don't talk, we don't communicate," Medved said. "It is something we work on. But, it isn't in their nature. That is a lot of if with young people too…it's something that is really important to being good…we might do it at times. But, man, it's just not in our DNA." 
Freshman guard Kendle Moore, as well as redshirt junior guard J.D. Paige, led CSU with 16 points apiece on Wednesday night. Moore was the Rams' most efficient shooter against Arkansas as the newcomer converted 5-7 field goals.
Redshirt junior guard Anthony Masinton-Bonner and redshirt junior forward Nico Carvacho rounded out the double-digit scorers for CSU.
Bonner provided 13 points and went 3-6 from distance. Carvacho notched a 12-point, 11-rebound double-double, the forward's second double-double in a row and fifth of the season.
The Rams will look to get back to .500 this coming Saturday against Sam Houston State at Moby Arena. CSU and the 3-6 Bearkats are set to tip off at 2 p.m.
Eddie Herz can be reached at sports@collegian.com or on Twitter @Eddie_Herz.