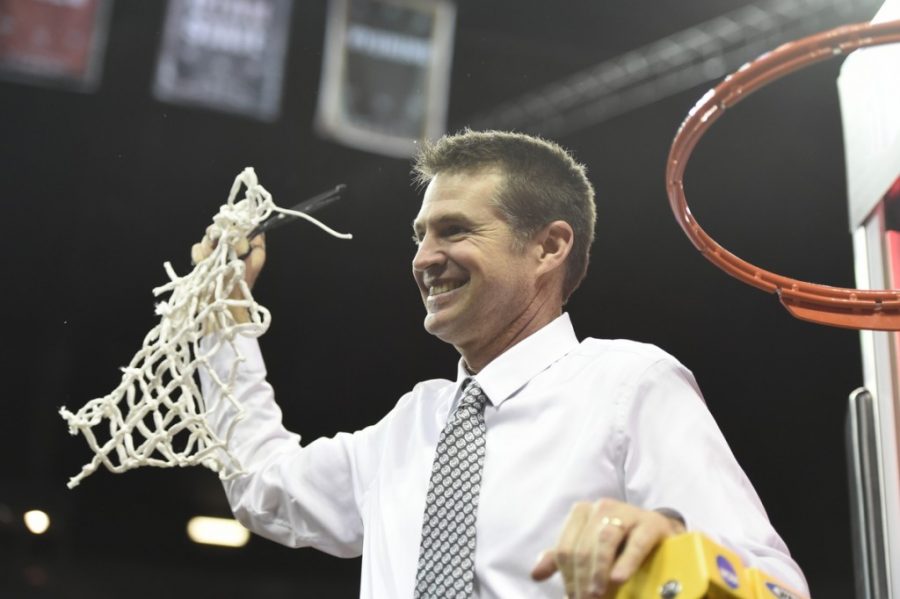 Hired in 2012, Colorado State women's basketball coach Ryun Williams is already the winningest leader in program history. On Saturday, in front of 1,187 fans, Williams' captured the 400th win of his NCAA career over Chadron State, adding to his milestones, 91-38.
"I did not know where I was at (in total wins)," Williams said. "This (win) doesn't feel any different than the win the other night. You don't get to (400 wins) without really good assistants and really good basketball players that do a lot of good work."
Despite the win being commonplace for Williams, several firsts happened for this iteration of the Rams on Saturday.
The 53-point margin was the largest since 2014 for the Rams and the team's largest differential this year since Eastern New Mexico to begin the season (26).
"You just always wonder how your team is gonna come out and respond after a little bit of a layoff. I thought our kids came out with nice energy and had a really good first quarter."Ryun Williams
As a team, the Rams put up their first 90-point game of the year and largest scoring output since scoring 84 against Denver in their last game. The team also had their first game with five players in double-digit scoring and their first game shooting above 60 percent from the field as a team (62.3).
"It was really important that we played well last time out against (Denver)," Williams said. "It was important that we continued this solid play because going into league play… you better be playing good basketball and you better be playing with hair on fire."
Located in Chadron, Nebraska, CSC has an enrollment of just over 3,000 students. Leading the attack on Saturday for the Rams was Mollie Mounsey, no stranger to small schools after garnering her collegiate start at Seward County Community College in Liberal, Kansas.
In the first half alone, Mounsey racked up a game-high 13 points on 4-5 from the field. The efficiency continued a trend that started against Brigham Young for the guard. After a tough start following exhibition season, Mounsey has bounced back, scoring 20.3 points per game in her last three. 
"We played as a team," Mounsey said. "I think that shows that we're growing as a team and we're getting to know each other. I think that going into conference (play), we'll compete really well."
Alongside Mounsey, the Rams shot 65.4 percent in the opening half, a mark that included 50 percent from outside. On their 17-made baskets in the first half, 14 came by way of an assist.
Further aiding their efforts in the first 20 minutes was a 20.7-percent mark from the field for the visitors. The gridlock for the Eagles' offense came courtesy of the zone defense and size differential put forth by Williams' squad.
The Rams' 26-point lead entering the intermission only expanded following the break.
"You just always wonder how your team is gonna come out and respond after a little bit of a layoff," Williams said. "I thought our kids came out with nice energy and had a really good first quarter." 
In the early moments of the second half, the Rams went on a 13-3 run in which they made five-straight field goals at one point. Once again, Mounsey made an impact sinking a pair of outside attempts in the spree.
The run put the game out of reach for the Eagles as the Rams entered the fourth with a lead of 40, their largest lead in a regular season game this year to that point.
In the end, Mounsey and Lore Devos led the team once again in scoring. The former finished with 19 points while adding five rebounds and a pair of assists to her final tally. Devos finished with 18, bringing her season average to a team-high 17.4.
Every other active Ram on the roster was able to not only garner playing time but score in the lopsided win.
With CSC being their final out-of-conference matchup of the year, the Rams will now enter the heart of their schedule, starting with the University of Nevada-Las Vegas. Williams' squad will host the Lady Rebels at Moby Arena on Wednesday with tip-off shortly after 7 p.m.
"We're gonna need to get into a nice rhythm," Williams said. "Our league has had a really good non-conference season and we're going to have to be ready to go every night." 
Collegian Sports Director Luke Zahlmann can be reached at sports@collegian.com or on Twitter @lukezahlmann.