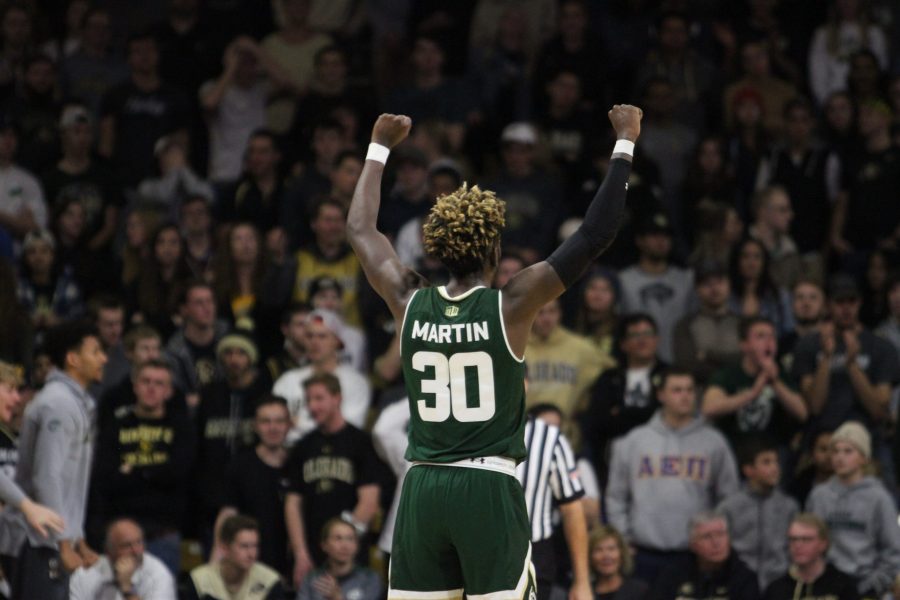 Once Colorado State guard Kris Martin finally got back on the basketball court after a year of sitting out due to transfer rules, it took little time for the Rams' leading scorer to display his value to the team. 
Martin arose from his spot on CSU's bench for action in a regular season game for the first time in nearly two years against South Dakota Nov. 21.
The junior transferred from Oral Roberts University at the conclusion of his sophomore campaign after playing two seasons for the Golden Eagles. After sitting out last year, Martin was suspended for the Rams' first five games of the season for violating team rules.
But, the Texas native has hit the ground running for CSU thus far. Martin has scored at least 11 points in all three games he has played in. In the teams' largest matchup yet, Martin poured in 21 points against CU last Saturday.
Though the guard may just be warming up after not playing for so long, Martin is shooting over 50 percent from the floor. Early success aside, Martin had to conquer many obstacles in order to get to where he is today.
As previously mentioned, Martin was forced to miss a full season upon transferring to Fort Collins in 2017. At the time, the guard was coming off of a successful sophomore campaign. Martin averaged 13.2 points per game for ORU during the 2016-17 season. He also ranked 39th in the nation with 79 converted 3-point attempts two seasons ago.
For a player seemingly in his groove, it was extremely difficult to watch 32 consecutive games from the bench last season for Martin.
"I wanted to be out there playing," Martin said. "And wanting to be in that environment and wanting to help your team. Not just supporting, (but) getting out there and making some plays. That was the biggest thing for me, just watching."
Though the adjustment to a new program and finding a rhythm can be a hardship, that hasn't been the case for Martin. As frustrating as missing last season was, Martin believes it has made him a better player overall.
"It was the best thing for me," Martin said. "It made me a better player. I learned more, just from taking a step back from the game and looking at it from a different perspective."
With constant support from other players, as well as having plenty of time to improve his game, things got less complicated for the guard as last season progressed.
Martin's basketball life reached an impasse when former head coach Larry Eustachy was dismissed from the program. Following the leaders' dismissal, Martin was faced with the decision of whether or not he would maintain his status as a Ram.
After all, Eustachy was CSU's head coach when Martin chose the program over schools such as Iowa State, Texas and Creighton.
"It was definitely different," Martin said. "But, we took the time to settle our differences. We brought some ideas together. (Niko) is my coach now and I'm happy that I stayed. I think that is the best thing for me."
With a clear vision and attainable objectives finally within reach, Martin could once again work on mastering his craft at ease. But, a murky future didn't remain in the junior's rearview mirror for long.
Following his suspension, Martin's maturity was tested. 
"He loves the game, it is very important to him," Coach Niko Medved said. "That is what I love about him. So I think he did learn from it. It makes you appreciate what you have even more. One thing about Kris is he competes everyday. I've never questioned Kris' effort or his work ethic."
After being dubbed a shooter and high energy player at Oral Roberts, Martin is also beginning to flash a knack for distribution in a new system.
"He has always been a versatile scorer," guard Anthony Masinton-Bonner said. "But, he's even more versatile now. He can score at all three levels. He can put it on the floor a lot better than he did when he first got here…he's strong, he's long, he's athletic."
Bonner said Martin's defensive presence is unique because of the "different level of energy" he brings to the table. Medved had elaborated once more on Martin's impact on that end of the floor.
"Everybody talks about his shooting," Medved said. "But, the thing that has impressed me the most about Kris Martin is his defense, hands down… He looks to me like a kid who could really develop into an elite defender at this level."
Martin's keen defending, paired with his scoring capabilities, make the guard one of Medved's most prized assets when he is at his best.
Martin is still only three games into his CSU career. Despite overcoming a lot in order to get to where he is today, the Rams still have 23 regular season games to be played. All of which Martin will be relied on to contribute.
Similar to when Martin was ineligible, the guard will use each coming day to improve both physically and mentally.
"I'm working on just being a leader for my team," Martin said. "Being there for them and doing the little things. The small things are going to win us games from this point. We have everything else figured out, so we need to pay attention to detail and just lead by example."
Eddie Herz can be reached at sports@collegian.com or on Twitter @Eddie_Herz.