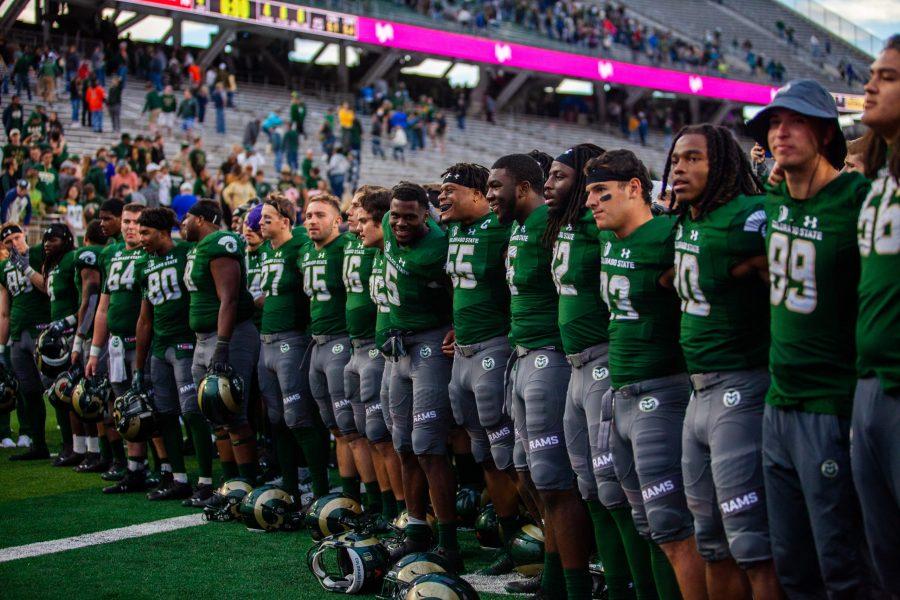 Colorado State Athletic Director Joe Parker announced Monday morning that Mike Bobo will be returning for his fifth season as the Rams' head coach.
Following Bobo's previous three seasons with the Rams, no such announcement was necessary. Bobo led the green and gold to three-consecutive 7-6 seasons, all of which ended in a bowl appearance.
However, this time around, a statement was necessary considering the monumental struggles of the University's football program. The Rams finished the season 3-9, their worst winning percentage since 2011. CSU also missed a bowl game for the first time since 2012.
Besides consistent victories, lack of passion and structure themed the forgettable 2018 season. Here's how the team stacked up: 
Coaching Staff
Outside of stellar coaching from wide receivers' coach Alvis Whitted, the Rams were a poorly coached team in 2018.
The coaches aren't at fault for everything. Players always have to perform on the field, no matter how good the coaching may be. But, the previously mentioned lack of organization frequently seen from the Rams reflects the lack of proper coaching.
Missed assignments, sloppy penalties and coverage lapses normally only seen from a team in the early weeks of the season occurred through the final game of CSU's season.
The injury that forced Bobo off the sidelines early in the season plagued the Rams with immediate bad luck. Assistant coach Ronnie Letson's play-calling ability during that time was below average. But, even when Bobo returned, CSU's in-game coaching was subpar. 
A major reason Bobo was hired as head coach in 2015 was his seemingly brilliant offensive mind. Though he didn't coach horribly in 2018, his gut decisions weren't at their best in 2018.
Two major coaching additions were made before the season in an effort to get over the 7-6 hump and finally win a bowl game.
John Jancek was brought in from Kentucky to be the defensive coordinator and Dave Johnson left Ohio to be CSU's "offensive coordinator". In reality, Johnson's job was to coach the offensive line and guide the rushing attack.
Neither of the coaches helped the Rams improve. In fact, CSU noticeably regressed on both sides of the ball.
Though neither gave reason to retain their job status, Bobo confirmed there will be little turnover next year following the team's loss to Air Force.
Grade: D-
Offense
The offense was not as inept as the defense. 
Under Johnson, the rushing production significantly retracted. Though he can't be assigned the full blame, he was a cog in the failure. 
The Rams lost 1,400-yard rusher Dalyn Dawkins before the season. Two All-Mountain West offensive linemen in Jake Bennett and Zack Golditch also graduated before the season.
This year, the Rams ranked 124th out of 130 FBS teams in rushing yards, averaging a total of just 105.6 rushing yards per game. Izzy Matthews, though a stalwart of the Rams' past teams, lacked the explosiveness that Dawkins offered.
Matthews averaged only 4.3 yards per carry in 2018 and accumulated 717 yards. This year was the first season since 2012 in which a CSU tailback didn't record over 850 rushing yards.
No matter who was under center, it was easy for both K.J. Carta-Samuels and Collin Hill to find the FBS' fourth-leading receiver, Preston Williams. Wideout Olabisi Johnson combined for nearly 800 receiving yards to Williams' 1,345. The two made a lethal 1-2 punch through the air.
No matter who was under center, it was easy for both K.J. Carta-Samuels and Collin Hill to find the FBS' fourth-leading receiver, Preston Williams. Wideout Olabisi Johnson combined for nearly 800 receiving yards to Williams' 1,345. The two made a lethal 1-2 punch through the air.
Sophomore wide receiver Warren Jackson rounded out an effective receiving core for the Rams.
Regardless of how great CSU's receivers were, the Rams averaged only 22.8 points per game in 2018. CSU finished 110th in the FBS in scoring after ranking within the top 35 the past two seasons.
Grade: C
Defense
The Rams found a way to regress on defense after a 2017 season highlighted by defensive issues.
Jancek was firey and motivated, but it seemed he failed to fully engage his team. Frequent coverage miscommunications resulted in plenty of big plays for opposing teams. Numerous missed tackles each game tacked on big chunks of extra yardage as well.    
CSU allowed over 40 points in three of its first four games. The hope then was that the Rams simply needed to correct mistakes that arose early in the season.
The defense minimally improved the rest of the year as the unit allowed 538 total yards and 25 points to FCS opponent Illinois State in its fifth game of the season. Down the stretch, the Rams surrendered at least 30 points in four of their final seven games.
While there were many problems in 2018, defensive effectiveness was the most significant.
Grade: D-
Special Teams
With how well sophomore punter Ryan Stonehouse performed, one would think special teams would be something CSU could boast about. Other than Stonehouse though, there weren't any bright spots for the Rams on special teams.
Stonehouse got plenty of work in his second collegiate season and improved from an effective freshman season. The punter finished second in the FBS with an average of 48.3 gross yards per punt.
Though Stonehouse's ability to pin the ball inside the 20-yard line needs some tweaking, the second-year punter receives a passing grade for his contributions.
After missing both of his field goal attempts in CSU's season-opening game against Hawaii, senior kicker Wyatt Bryan bounced back to convert his next six field goals.
Bryan missed five of his final 10 collegiate field goal attempts and finished the season with his worst single-season conversion percentage by a long shot. Bryan made only 61 percent of his field goals in 2018, compared to over 80 percent a season prior.
The Rams were underwhelming elsewhere in special teams as well. CSU didn't return a kickoff for a touchdown all season and ranked near the bottom of the country in punt return offense.
CSU's ability to contain opposing punt returners was also the worst in the FBS. On average, the Rams surrendered over 18 yards per punt return.
For a team that prides itself on special teams and attempts to get everyone involved, the overall special teams' effectiveness in 2018 was disappointing.
Grade: C- 
Eddie Herz can be reached at sports@collegian.com or on Twitter @Eddie_Herz.