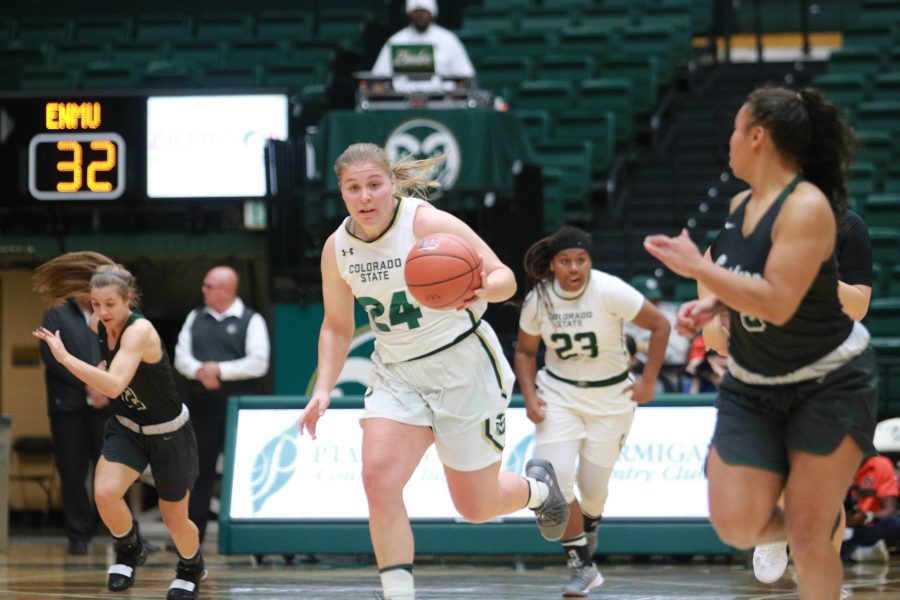 DEVIN CORNELIUS
Despite having a career laden with awards, Mollie Mounsey has flown under the radar for most of it. This year, the Rams will get to see if those accolades continue to roll in at the D-1 level.
Mounsey wasn't highly recruited coming out of high school, she only had two offers to play, both from junior colleges. At least part of that was because of where she's from. It may very well turn out to be to Colorado State's benefit that Mollie was so well tied to her hometown.
"She's from (Follett, Texas), this small town in the Texas panhandle where my Dad's from," Coach Toby Wynn said. "That's an under-recruited area you could say, and there are still some diamonds in the rough you can find there. A lot of people didn't see her because she didn't play big summer basketball on a high-level AAU team or travel around the country, so it's still possible to find a player like her there."
Now head coach at Emporia State University, and Mounsey's former head coach at Seward County Community College, Wynn has known about Mounsey and her playing ability since she was just a girl, having grown up in the same small town as her Dad, Greg Mounsey.
While other teams speculated, had no interest in Mounsey or had never even heard of Mounsey, Wynn was relatively sure of what he was getting after having watched her win four straight district MVP awards and close her career with averages of 19 points-per-game and 7.6 rebounds in her senior season.
"I've always kind of tracked her career and she's always been a scorer," Wynn said. "Anywhere she's ever been from junior high all the way through high school, so we fully expected her to come in from day one and be somebody who could shoot the basketball and score for us."
While Wynn seems supremely confident in Mounsey, it's unlikely that even he saw the true extent of how great things would go with Mounsey's recruitment. She didn't.
"I didn't know what to expect, because coming out of high school I didn't have very many offers," Mounsey said. "But I just went in with an open mind and I did what I did."
Mounsey lit up almost immediately and earned the respect of her teammates, coaches and the student body. With an uncommonly strong junior college fanbase, Mounsey earned the nickname "Mollie McBuckets" after knocking down four threes in her first game against rival Hutchinson Community College and started seeing t-shirts in her honor around campus.
"As a coach, you never really know until you get them on the floor," Wynn said. "But it didn't take long in practice for us to realize she could be pretty special as far as scoring the basketball. At the end of the day, she was everything we hoped and we thought she could be. She'll easily go down as one of the greatest players to ever play (at Seward)."
Mounsey credits Wynn with a lot of responsibility for who she is as a basketball player and credited him with helping instill her drive, but as far as tangible basketball skills go it seems Wynn just gave her the tools to make use of her abilities.
"We just pushed her every day to be as good as we thought she was capable of being," Wynn said. "The first year she kind of caught people off guard, people didn't really know what to expect. But her sophomore year people knew what to expect, so having the confidence to make plays against the other team's best defender every night is a credit to her and her work ethic."
That confidence is going to be key if Mounsey is going to uphold the reputation she built on her way to two straight first-team All-American seasons and two straight seasons of leading all of women's college basketball in three-point shooting. She's going to see better defenders every night, and coaches Wynn and Ryun Williams believe there's more to her game than the shooter's reputation she carries.
"She's becoming one of our better perimeter defenders," Williams said. "She's a pretty good playmaker. People close out on her. She shot fakes, drives, she's got a good vision, she finds the open person and she plays as hard as anyone we've got and as tough as anyone we've got. Bottom line, Mollie Mounsey is just a good basketball player."
Mounsey will get ample opportunities to prove that's the case this season and see if she can continue to translate her remarkably consistent skills at the next level. Mounsey's averaged 18 points or more for the last five years.
If she continues to be one of the best on the court, it will be in spite of and because of her hometown roots. Even with all her accolades in those two years only two other D-1 schools, Wichita State and Texas Tech, offered Mounsey scholarships after her Seward tenure.
In the end, the environment and role CSU offered won out.
"With CSU, I just loved the coaches and it's a beautiful campus," Mounsey said. "When I came to visit I was like, 'I'm going here,' just because nothing beats the CSU campus. I think I'm going to have to be more of a leader here because I'm an upperclassman and this team needs a leader and I hope I can be that leader."
If she can play half as well as she has through the rest of her spectacularly, low key career than she'll be one of those leaders and CSU will have reaped the rewards of her "diamond in the rough" status.
Mack Beaulieu can be reached at sports@collegian.com or on Twitter @Mack_Covers.