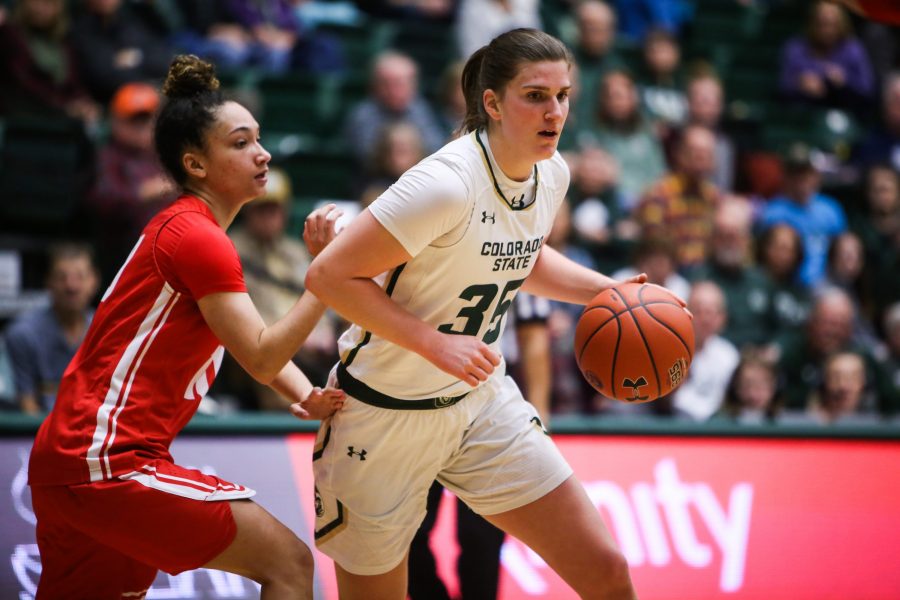 In a game that went down to the wire on Sunday, the Colorado State women's basketball team found plenty to be thankful for at the end of Thanksgiving break.
For the first time this season, the Rams won the battle on the boards and had a positive assist to turnover ratio. The Rams showed physicality inside and continued to play great defense while slowing down their decision making to get a comeback victory over the Cornell University Big Red, 56-53.
"Defensively our kids are buying into what they need to do to beat an opponent and the offense will only get better." Ryun Williams, coach
Liah Davis can bring the physicality CSU needs
Rebounding has been one of the Ram's biggest concerns so far this season and the rim protection hasn't been great either, an answer to both of those questions may lie in redshirt sophomore center Liah Davis. The center came in and provided a spark at the beginning of the second quarter with two quick blocks. She also grabbed a rebound in that time when senior forward Tatum Neubert put up zeros in both categories for the entire first half.
It was Davis' first action of the season, as she's working to come back from an injury, and it made a big difference against Cornell. She was limited to only ten minutes but managed to post eight points, five rebounds and three blocks.
"I'm just so excited to be back and be in a game setting," Davis said.
When she got the ball on offense, she went to quick work with backdowns and post moves while effectively limiting junior forward Laura Bagwell-Katalinich, who was dominant with Davis out and finished with 20 points and 11 rebounds.
Neubert has shown spurts of extreme effectiveness from the low block on the offensive end, but Davis could be just what the Rams need to fill the middle of an already effective zone defense. Neubert was outhustled by Bagwell-Katalinich, which has been a problem all season for the Rams. Davis' size and physicality completely negated the hustle. Despite the conflict it might pose for her, Neubert is excited to have the help.
"Since (I) got here, I've been excited to play with Liah," Neubert said. "Being another Colorado girl, I've played with her a little bit and I know how strong she is and she's just such a force down there. Today was awesome and we got a little glimpse of what she's able to do and I'm really excited."
Along with better decision making, Rams need to stay aggressive on offense
With no obvious leader in terms of ball handling, the Rams two most dynamic players have to constantly utilize their abilities in order to open up the offense. The Rams' best stretches came when their defense got them out in transition or when either sophomore forward Lore Devos or junior guard Mollie Mounsey were creating.
Devos and Mounsey are the only two Rams players who have shown the ability to beat their opponent off of the dribble, and the Rams have very little player movement when the ball is not in one of their hands. When they aren't in control, the Rams tend to swing it around the arc with little effectiveness.
Those two have to know their ability and expose opponents as much as possible. The Rams protected the ball better than they have on Sunday, but the offense still went stagnant for long stretches.
"For the majority of the game (our ball handling) was really good," Coach Ryun Williams said. "We had eight turnovers. That's outstanding. Late game, they brought some traps and we got a little hesitant, but for the most part I was pleased with how we moved the ball tonight and our decision making was a little better. Tonight against a physical team that traps large, that was pretty good execution by our kids."
The 2-3 zone is effective but needs to be quicker
Cornell stayed in the game on Friday with 3-point shooting, but that is the trade-off of the 2-3 zone. Cornell kept getting timely three-pointers, despite a bad percentage, with the Rams forcing plenty of low percentage shots.
One of the other trade-offs is obstructing the passing lines enough to create turnovers, and while the Rams did plenty of obstructing on Sunday, they failed to turn many of their deflections into turnovers. If the offense continues to struggle for the Rams, they'll need to make sure more of those deflections turn into fast break points.
"Our defense has been great all year," Williams said. "Our defense is doing it. It's keeping us right in striking distance. Defensively our kids are buying into what they need to do to beat an opponent and the offense will only get better."
Mack Beaulieu can be reached at sports@collegian.com or on Twitter @Mack_Covers.