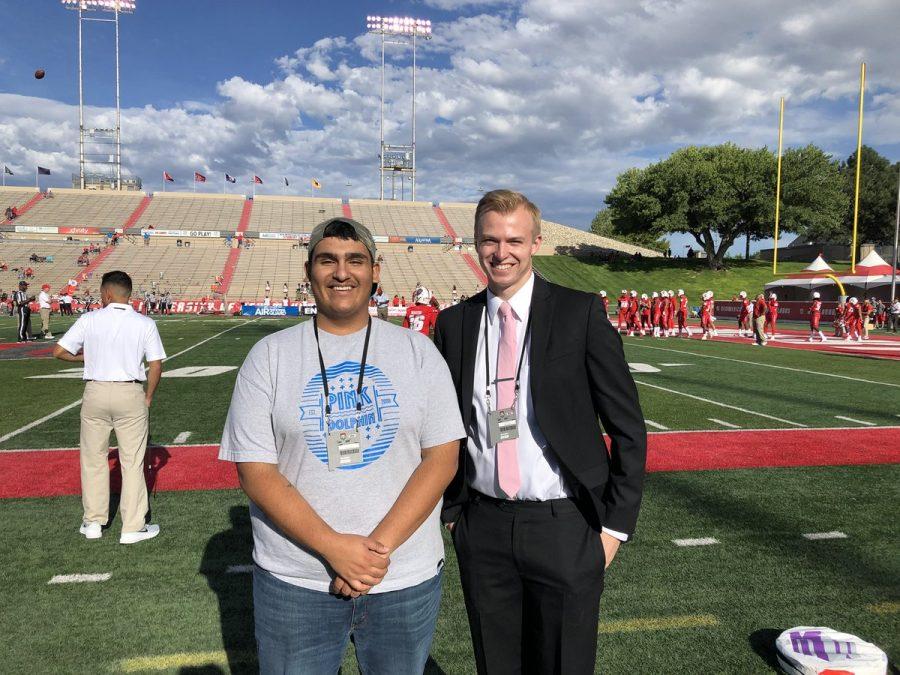 Prior to the homecoming matchup against the University of New Mexico for Colorado State football, I discussed some key factors with a pair of writers for UNM's The Daily Lobo. Both Cameron Goeldner, beat reporter, and Matthew Narvaiz, Senior Sports Reporter cover a variety of Lobo athletics including football. 
Q: With CSU having two top-flight wide receivers this year in Olabisi Johnson and Preston Williams, what do the Lobos have to counter the wideouts? 
CG: The Lobos match up a lot better with Johnson than they do with Williams. Big, physical wideouts have given the Lobos secondary fits this year, just look at what Liberty's Antonio Gandy-Golden did in Albuquerque two weeks ago setting a career high with 245 yards on 11 catches. Despite him being the guy that you need to stop in the passing attack, there wasn't much the Lobos could do. The Lobos number one corner is Jalin Burrell who comes in at 6'0″ and 195 pounds and will be the guy primarily matched on Williams. Burrell will be ready, it'll just be a question of whether he can overcome the size difference. Another guy in the secondary to watch out for is safety Marcus Hayes, who leads the team in interceptions. 
MN: UNM has had a few problems this season when it comes to defending the pass, especially against pass-heavy teams. Head Coach Bob Davie, after his team's loss to Liberty on homecoming, admitted as much after his secondary was lit up for 417 yards. UNM was also lit up for 328 yards when they faced the University of the Incarnate Word's Quarterback in the team's season opener. But their secondary is able to create turnovers, too, as they had a program-high five interceptions against New Mexico State. It really depends which secondary shows up for UNM on Saturday. Jalin Burrell will be the best CB lining up on Saturday, but Marcus Hayes, a safety, is UNM's most successful defensive back against the pass; he leads his team with two interceptions this season, one of which was run back for a touchdown that sealed the Lobos' win over New Mexico State. 
Q: The Rams graduated multiple linemen and are very young along their front this year, which pass rushers are set to give them the most trouble?
CG: 2. The biggest threat to the Rams offensive line is linebacker Rhashaun Epting. Epting leads the team with five-and-a-half sacks and has recorded one against every opponent except Wisconsin. 
MN: The Lobos aren't especially known for their extreme pass rush, but last weekend against UNLV they were able to garner five sacks. Cody Baker, a senior defensive lineman, is someone who has the ability to create chaos in the backfield, especially facing a young CSU line. He had two sacks against the Rebels. Rhashaun Epting, a linebacker, leads UNM with five sacks this season, so watch out for him too.
Q: The Rams have allowed over 200 yards per game on the ground, how does redshirt senior Tyrone Owens take advantage of that?
CG: The Lobos use a three-headed rushing attack, but Tyrone Owens will see the field the most, and will likely lead the team in rushing yards. Even though the Lobos have gone away from the triple option this season, they still rush about three times as much they pass. Look for Zahneer Shuler and Ahmari Davis to carry the ball in third down and goal line situations. All three backs are capable of putting down a big run if they are able to get to the second level. 
MN: Tyrone Owens is interesting for a couple reasons. He doesn't necessarily have break-away speed, but his ability to read holes and find openings—as well as just generally running the ball hard—are all things he has going for him. Keep in mind, UNM's offensive line—although they've had up-and-down play all year—features a key lineman in senior Aaron Jenkins, who's a force off the snap. It's linemen like him that inevitably set those big runs up for Owens.
Q: The Lobos have won two of their last three games after their matchup against Wisconsin, what did they learn against the Badgers that has helped them as the season has progressed?
CG: That game with Wisconsin, especially the first drive where they drove down the field and were able to score pretty easily, gave the Lobos a lot of confidence that they could go toe to toe with anyone on their schedule. They kept the game close until halftime in a hostile environment, and head coach Bob Davie talked repeatedly after about how pleased he was with the way the team played and the players seemed to get a boost from the entire experience. It's amazing what a little boost does, especially with the transition to the third string quarterback that followed the game. 
MN: Since its loss to Wisconsin, UNM has tried to rediscover itself offensively. The fact that then-starting quarterback Tevaka Tuioti was declared out for the remainder of the season with a fractured clavicle he endured a couple weeks ago only shifted the Lobos' play calling even more. UNM dabbled with the run against NMSU, but head coach Bob Davie recently said that his team will shy away from the triple option his team is known for to more of a conservative spread option offense that passes the ball much more frequently…It goes to show how much safer UNM is playing it now that it has lost two quarterbacks this season, the other being Colton Gerhart.
Q: What allowed the Lobos to be so successful in their first conference matchup last week against UNLV?
CG: The Lobos really took advantage of big plays against the Rebels, especially in the 29-point second quarter. Sheriron Jones, who began the season as the third-string quarterback, made a pair of them, one with his feet on a 25-yard scramble and one with his arm for 74-yards. That, combined with the Lobos defense playing its best game of the year, allowed the Lobos to get the big win. It didn't hurt that UNLV was without starting quarterback Armani Rodgers, either. 
MN: UNM was successful against the Rebels due to a brilliant performance from Jones, who will be at the helm of the Lobo offense when they head to Fort Collins. Jones threw four touchdowns, which is highly unusual under Davie. It also helped that the Lobo defense held UNLV to under 100 yards until midway through the fourth quarter, forced eight three-and-outs and had a season-high five sacks.
Q: New Mexico hasn't beaten CSU since 2009, what makes this year's team able to end the losing streak? Do they have a chip on their shoulder?
CG: The biggest advantage that the Lobos have this year is something we've already talked about, the Rams inability to stop the run. If the Lobos can exploit that, they have a good opportunity to get a victory. The team has had a chip on its shoulder all year after the way they finished last season, and that should be amplified by the recent struggles against CSU. 
MN: Picking against CSU at home, especially when UNM plays them, is very tough. However, if UNM hopes to win, it has to get another big performance from Jones. In fact, he has to be near-perfect like he was against UNLV last week.
Q: What's your prediction, do the Lobos ruin the Rams' homecoming celebration this year? 
CG: I think the Lobos will give CSU a scare, but ultimately the Rams will prevail in a high scoring affair, 42-35. 
MN: I hate to do it, but I'm going with CSU on Saturday. CSU plays the Lobos tough at home—and I don't expect things to change much this year, especially with an injury-plagued Lobos team.
Collegian Sports Director Luke Zahlmann can be reached at sports@collegian.com or on Twitter @lukezahlmann. Cameron Goeldner can be reached @goeldfinger and Matthew Narvaiz @matt_narvaiz on Twitter.