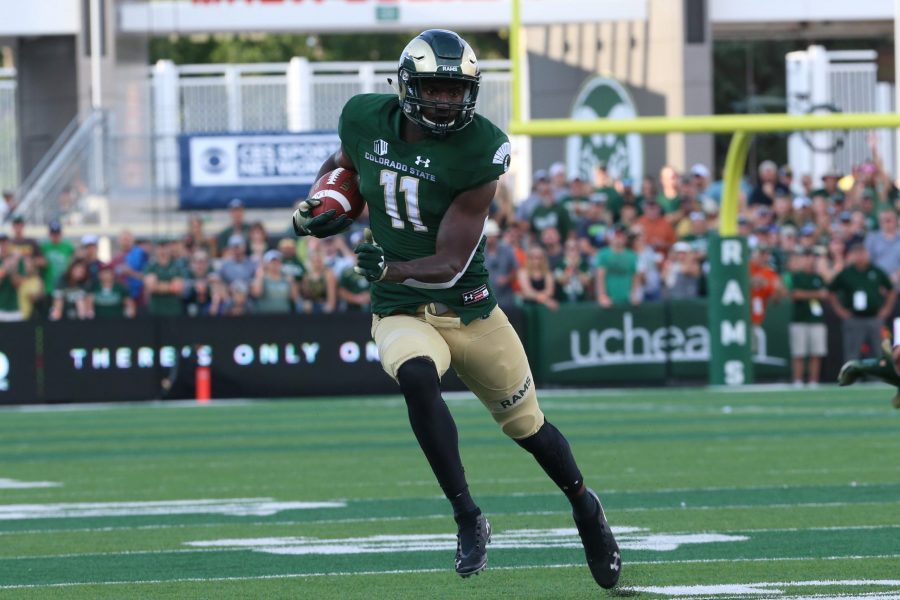 Colorado State junior wide receiver Preston Williams brought along a versatile skill set upon transferring to CSU from the University of Tennessee in 2016.
The 6-foot-4-inch wideout currently ranks ninth in the FBS with 671 receiving yards and sixth with seven receiving touchdowns.
Besides Williams' play-making ability, the wideout provides the Rams' locker room with a unique sense of individuality, accompanied by a long list of ambitions.
Q. How would you describe your personality to me? You've been described by teammates as a pretty goofy, easy-going guy.
A. I always like to have fun and crack a lot of jokes.
Q. Olabisi Johnson also mentioned how you love to crack jokes. Your comedic role seems to be known by the rest of the team. What would you say that brings to the locker room? Are you the guy who keeps everything relaxed?
A. Definitely. It's the Boise week so a lot of people are uptight. I just have to keep the fun in football.
Q. Is that tough to do when you are also dealing with the stress of football? 
A. Yeah because some people take it the wrong way. But, some people just know that's me and we are going to have fun. Even when I'm on the field sometimes I'm cracking jokes. We could be down or something, and I'll crack a joke to keep everybody loose. When you are loose you play the best.
Q. What are some of your biggest hobbies? 
A. I'm a fashion guru. I like video games, I'm a big gamer. I like to have fun, I was a theatre major, so.
Q. Are you no longer a theatre major?
A. Not anymore. I had to switch over because it conflicted with football a lot.
Q. What did you specifically focus on in theatre?
A. I did some Broadway at Tennessee. When I got here I did more behind the scenes, like cameras and stuff.
Q. Have you done anything actually on stage?
A. At Tennessee I did. I was doing more film in high school, so not really then.
Q. You described yourself as a fashion guru. What are some of your favorite designers and brands?
A. I like Zara, Topman, and Urban Outfitters.
Q. Have you always been into fashion. What got you interested in clothes and fashion in the first place?
A. When I was younger I modeled. I have been modeling for a minute. Then I got to college and I started doing a little more designing, so making clothes.
Q. Have you designed any products?
A. I've made some prototypes. I haven't really gotten into it like I've wanted to because I've been busy with football. So, I made some teaser stuff and threw it out there so people can see it.
Q. Is your Instagram handle, @thresort, the name of your clothing brand?
A. No that is kind of just my personal domain. The clothing brand is Keychain Express.
Q. If you could compare your fashion sense and style to another athlete who would it be?
A. If I had to pick somebody it would probably be David Beckham. He's stylish, he modeled. He had a whole line on H&M.
Q. So you modeled before you starting designed clothes, how long did you model for?
A. I modeled since I was about 13 up until college. My mom put me in it. I started out with this guy who had a TV show in Georgia, and then I branched out. I went to fashion shows. I modeled last for Smart Model Management LA.
Q. You mentioned how you had to put theatre and modeling on hold for football. Do you see yourself getting back into those at some point?
A. After football, I'm going to be designing clothes. That is just my passion, making clothes, urban clothes and stuff you can where anywhere. It depends on what my audience is craving though. Then I want to open up a modeling agency eventually.
Q. If you had a career in the NFL, would you still try to pursue your other passions, such as designing?
A. Definitely. I thought about taking a trip to Japan just to see different textiles, styles, and to get an idea for my next blue print. 
Q. You also said you are a big gamer, which video games are you playing right now?
A. Right now I'm not playing anything but Black Ops. The new Black Ops that just came out, Black Ops 4. And in NBA 2k, I'm about to win the championship too. I play that every now and then.
Q. Music wise what do you listen to?
A. Playboi Carti, Lil Uzi, Kaio if I want to slow it down. PartyNextDoor, Future. I listen to everybody.
Q. Tell me a little about your movie and TV preferences?
A. I like comedies. Any like Mike Epps, Kevin Hart films. Stuff like that. My favorite TV show for a while was Real Husbands of Hollywood. I watch a lot of cartoons, like parodies. I'm big on Family Guy, just how they throw it out there and use sarcasm and satire.
Q. How do you like Fort Collins compared to Tennessee?
A. It's more flat. When I first got here the first thing I thought about was riding a dirt bike. I like that. Everybody is nice out here too.
Q. How does your girlfriend feel about your interests outside of the game?
A. My girl is a model actually. She put that on hold too for school and stuff. She's big into fashion too. She's helped me with a lot of designs and stuff. So she's a big piece of that.
Q. Receiving wise, which pro receiver do you mold your game off of?
A. Antonio Brown, he's clean.
Q. You were wearing one croc after the New Mexico game, was that a fashion statement?
A. So I came back into the locker room after the game. I was getting dressed and I couldn't find one of my crocs. It wasn't too cold yet so I just said alright, cool, and walked out in one croc.
Eddie Herz is a reporter for the Collegian and can be reached at sports@collegian.com or on Twitter @Eddie_Herz.