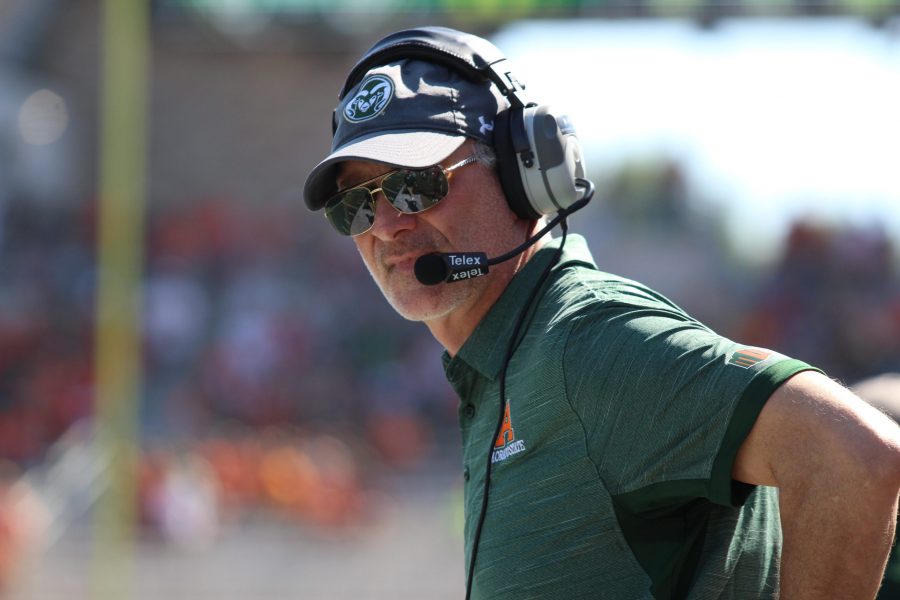 Not every sports rumor is true, not even if Twitter would have you believe so. 
Video footage of Colorado State football's sideline during its third consecutive Border War loss to the University of Wyoming surfaced on Twitter via an upset fan in the aftermath of the game, showing redshirt senior linebacker Tre Thomas and first-year Defensive Coordinator John Jancek engaging in a heated debate. Junior safety Jamal Hicks also appeared to be holding Thomas back from making potential physical contact with Jancek.
Another example of Jancek and the players not seeing eye to eye. pic.twitter.com/smuUDLen6y

— David S (@DSahimi) October 28, 2018
The stage of the game from which this video was recorded is unknown. But given that the Cowboys only led 3-0 at halftime, and did not pull away until the third quarter, it can be assumed that the recording took place at some point during the second half.
That is when tempers began to flare for both CSU players, coaches and fans.
The video brought the concerns of many fans to attention. The Rams are 3-6 and have struggled defensively this season. So, the question then arose of whether or not CSU's defensive coordinator has lost the locker room. In other words, has Jancek lost control and the respect of his defense?  
Thomas emphasized that Jancek has maintained "complete control of the defense," despite how the season has played out for the Rams. The linebacker also stressed that the video was taken completely out of context and interpreted inaccurately.
"It definitely was distorted," Thomas said. "It looked way worse than it was. It kind of seemed like I was held back when really I was falling. And I was just (conversing) with Jamal. It blew up to what it wasn't supposed to be."
Even though the video may have misinterpreted the situation, there was still a widespread concern of the potential physical altercation. 
The situation was not viewed as more than a minor disturbance by anyone within CSU's program. Rather, the situation was seen as a natural product of emotion generated from two competitors in the midst of a game that was not going their way. 
"Football is an emotional game," Coach Mike Bobo said. "You put a lot of time into things and sometimes you don't get the return on investment. Things get heated … It wasn't anything that I feel has threatened the culture of this program. It was two very emotional men in the heat of the moment."
Thomas described the situation similarly, using the idea that the circumstance was a result of two passionate people butting heads simultaneous to frustrations beginning to mount.
Interactions similar to this one have occurred multiple times this season between Jancek and his players. A prior history of disputes only furthered the awareness of fans to the latest incident.
Jancek has established himself as an emotional coach. Though Jancek has made a name off of raising his voice, many of CSU's players like the raw emotion that their coordinator demonstrates.
"A lot of players like his emotion and like that he cares," Thomas said. "Even if he yells. I know different players come from different backgrounds, so it can be harder for some to deal with and adjust. But, he makes sure that the players know that he cares about them and is here to help them at the end of the day."
In regards to the incident during the Wyoming game, it is important to note that no one took anything to heart. Neither Jancek nor Thomas felt the need to apologize after.
It is also crucial to recognize that, though there have been many instigators of frustration defensively for CSU this season, the defense still stands behind its new coordinator.
Additionally, Thomas actually believed that the episode will benefit his relationship with Jancek moving forward. Especially from a respect standpoint. The two will now be able to see eye to eye more frequently. 
"I think it made us respect each other more," Thomas said. "Now we could never tell each other that you aren't into it, you don't care if we win or lose. We both know that we care about the game and are here to win. At the end of the day, we were just trying to get the team back on board so we could finish strong. It's all love at the end of the day."
The moral of the story reverts back to how social media has a tendency of inappropriately displaying things out of context.
After all, the linebacker has been a part of the program for five seasons. As long as everything is okay within the CSU locker room, Thomas does not let Twitter spawn a sensitive reaction from him.
Instead, the redshirt senior focuses only on what he has the ability to impact: football and preserving positive relationships in the locker room.
"I look at Twitter and I see it, but at the end of the day, nobody knows what goes on in our program except the people in our program," Thomas said. "I let Twitter just do its thing. Control what you can control. You have to react after what they do, but try to react positively to whatever Twitter says."
Eddie Herz can be reached at sports@collegian.com or on Twitter @Eddie_Herz.