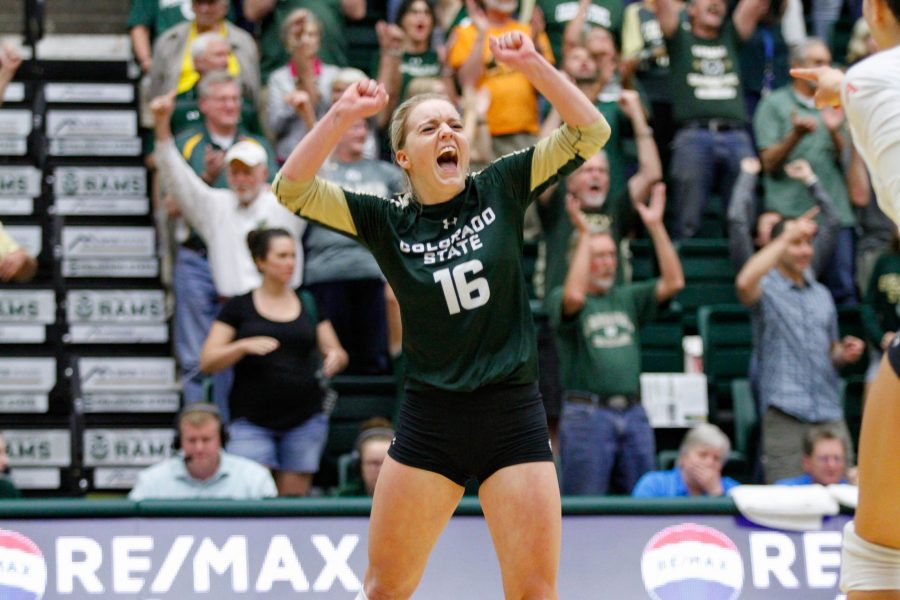 Measuring at only 5-foot-5 inches, Maddi Foutz stacks up against the Colorado States' largest opponents on the court.
Foutz hails from Bayfield, Colorado where she was a four-year letter winner in volleyball at Bayfield High School.
During her high school career, Foutz was featured on the American Volleyball Coaches' Association Under Armour All-American watch list and was awarded the 2015 CHSAA 3A Intermountain League Player of the Year.
Foutz has even had the opportunity to play overseas where she won gold in the 2016 Gold Championship at the EU Global Challenge in Croatia.
It was only fitting that once her high school career wrapped up, Foutz started a new one at the same place she's been attending volleyball camps since sixth grade. Colorado State University is where fellow Bayfield High School teammate Kirstie Hillyer was attends. 
As a true freshman, Foutz saw playing time from the start.
CSU opened their 2017 campaign against Duke where Foutz recorded 13 digs, which ended up being her season-high. Throughout the season, she started 12 games, mainly as a defensive specialist and tallied four other double-digit dig matches, finishing with 1.59 digs per set. Foutz received Mountain West Academic All-Conference honors as well.
Heading into her sophomore season, Foutz was still expected to have a limited  role coming off of CSU's bench as a defensive specialist with Amanda Young serving as the team's libero.
"(Maddie) was actually recruited to be a libero," Coach Tom Hilbert said. "Amanda's a very, very solid serve receiver and that's why she plays (over Foutz)."
But, Young went down with an injury at the beginning of the season. As a result, the Bayfield native was inserted into the starting lineup, where she has started for the Rams as the libero.
"I try and be consistent no matter what my role on the team is," Foutz said. "Whether I'm going in for three rotations, six rotations or zero rotations, I like to be that positive person on the team."
Foutz showed her ability to step up for Young during a four-game span where she averaged 19.25 digs per game, including 25 digs versus the University of Northern Colorado. The career-high total also stands as one of the highest totals in a game in Rams' history. 
On Sept. 7, Young returned to the Rams' starting lineup at the Michigan Challenge. As expected, Foutz's playing time decreased, but she was still able to provide quality minutes when called upon.
"It just goes to show how deep our bench is," junior Katie Oleksak said. "So when injuries do hit us, we can rely on girls on the bench to come in or Maddie who is already in to take the libero spot."
Foutz might get her chance to step into the starting lineup again this weekend as Young has been unable to practice most of the week due to illness.
Foutz is not shocked she has been relied upon this season to been relied upon this season to step up, but gives credit to her teammates' competitiveness for helping her prepare for this moment.
"I think that in practice me, Amanda and Jenna Heinemyer are all very competitive and we like to push each other every single day," Foutz said. "We like to try to be consistent in practice and in games."
Hilbert feels confident that if Foutz plays how she practices, the Rams will be in good shape and acknowledges the depth he has on the defensive positions.
"Sometimes you have less depth in that area (defense)," Hilbert said. "I think we are one-deep in those defensive spots."
Whether or not Foutz starts again this season, the defensive specialist has proven to be ready whenever her number is called.
Collegian sports reporter Sergio Santistevan can be reached at sports@collegian.com or on Twitter @TheRealsSergio.