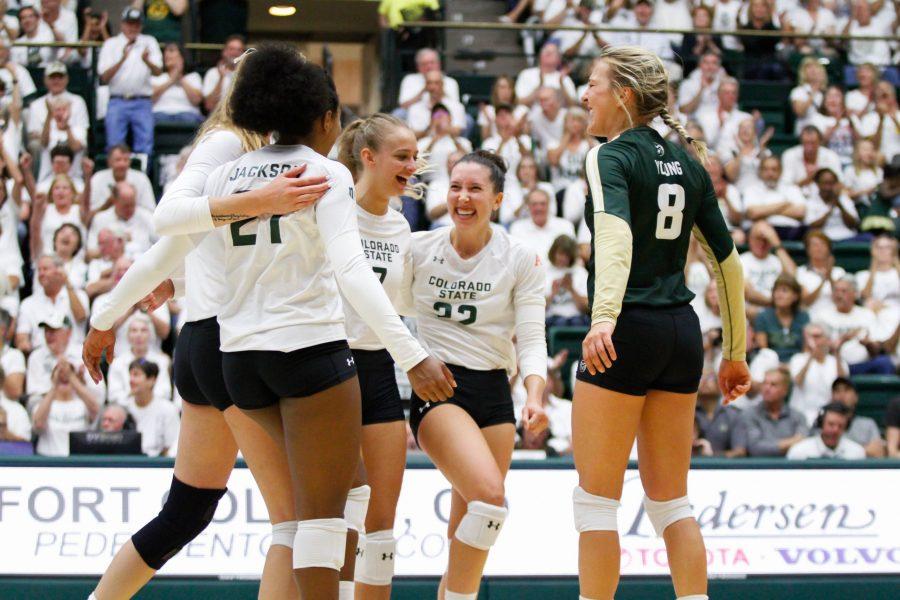 After a successful opening to their Mountain West schedule, the Colorado State University volleyball team will hit the road this weekend to take on two more conference opponents. 
The Rams defeated the University of Nevada and San Jose State University last week, putting them at 2-0 in conference play early on.
"Last weekend was crucial," junior Katie Oleksak said. "Especially our game against San Jose (helped) to kind of get a flow with this team and get a little bit of our confidence back. Getting that sweep (will) help us going into this weekend."
The team will face San Diego State University (1-13) in their opening west coast matchup Sept. 27. The Aztecs lost their opening two matches of Mountain West play, losing to Fresno State and Air Force in consecutive sweeps.
"We haven't scouted them, but in the past San Diego State has had really strong middles," Oleksak said.
The Rams also boast strong middles in redshirt junior Kirstie Hillyer and junior Paulina Hougaard-Jensen. The duo combined for 17 blocks with only two errors in their first two Mountain West games. 
The Rams will also face Fresno State University (9-5) Sept. 29. This will likely be the tougher of the two games. 
"I think Fresno is looking a lot better this year than when we've faced them in the past," Hillyer said. "So we need to be prepared to face (a) tougher team than what we've typically expected." 
Overall, the Rams are focused on traveling well and playing with their typical game plan when they arrive.
"We always play really well in Moby and then on the road we have our faults at the beginning of games," redshirt sophomore Breana Runnels said. "It's just about starting strong in a different gym and finishing it as well."
Runnels leads the Rams this year in kills once again (198) after leading the way for the Rams' attack last year as well alongside former Rams Jasmine Hanna and Sanja Cizmic. 
The challenge on the road for the Rams is the limited time to get used to a new gym. With only an hour to warm up prior to each game away from Moby Arena, the team is forced to adapt quickly.
"(It's about) just getting acclimated to those different gyms and how the ball feels in them," Oleksak said.
While the team has some confidence under their belt from the last few wins, they are focusing on each game as it comes.
"I definitely think we can't be too confident," Hillyer said. "We have to prepare well for every game and start strong no matter who we play. I think we have a good level of confidence, but we definitely can't have too much headed into this weekend."
The Sept. 27 game starts at 7 p.m. while the Sept. 29 game starts at 2 p.m. Both games will air on the Mountain West Network. 
Ashley Potts can be reached at sports@collegian.com or on Twitter @ashleypotts09