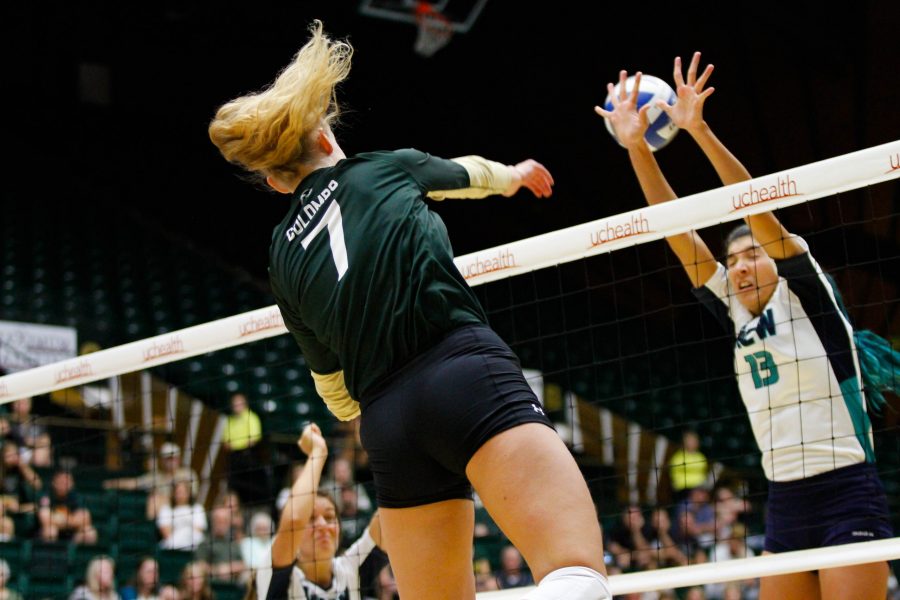 After falling to No. 12 Illinois the night before, Colorado State volleyball was out to right the wrong, sweeping the University of North Carolina at Wilmington (25-18, 25-18, 25-18). 
The 25th-ranked Rams dominated much of the opening set despite a hitting percentage of .258. Sasha Colombo and Paulina Hougaard-Jensen led the Rams with 5 kills apiece. After a slow start to the set, UNCW battled back and finished with a positive (.103) hitting percentage, but the experienced Rams proved to be too much in the early going.
CSU coach Tom Hilbert said he wanted to get Colombo and Hougaard-Jensen more involved versus UNCW.
"Going through our game plan we felt like making their left side hitters move inside-out, we were going to have some success," Hilbert said. "We only set (Colombo) twice last night and I felt like we needed to set her more."
With the left side occupied by last year's Mountain West Newcomer of the Year, Breana Runnels, the Rams are in search of consistency on the opposite end, with Olivia Nicholson out due to injury. 
"I felt like I had to do my job on the right side … I needed to get my job done," Colombo said. "I feel like I got my kills, so it was good."
In the second set, UNCW and the Rams went back and forth. After four quick attacking errors, Hilbert called a timeout leading 13-11. Following the timeout, CSU jumped out to a 15-12 lead.
UNCW's successful challenge directly after the small run call saw the Rams' lead shrink to two. Fortunately for the Rams, they limited their attacking errors after Hilbert's timeout and held UNCW to a hitting percentage of .081. A kill by the redshirt sophomore, Runnels, propelled the Rams to cruise the remainder of the set.
CSU's defense paid dividends in set two with a total of four blocks and a total of 11 in the game.
In the third and most competitive set, UNCW came out fighting. UNCW tied the game up at 8-8; however, two-straight kills by redshirt junior Kirstie Hillyer gave CSU some breathing room and the lead for good.  
"When it comes down to the end, when it comes down to finishing, you gotta do what you gotta do to get your team out of that," Hillyer said. "I wanted to be able to go in and help our team finish."
The Rams' size advantage over UNCW was shown in the final points with a kill by Jessica Jackson to award the Rams the set and the clean sweep. 
"I thought they were a pretty good team," Hilbert said. "They were very well-distributed offensively."
Hougaard-Jensen led the Rams with 10 kills while Hillyer produced an all-around game with nine kills, seven block assists and only three attacking errors. Katie Oleksak showed her experience throughout the game with a perfect hitting percentage to go along with her customary load of assists (37). 
Despite the win, Hilbert and Hillyer know there is work to be done on both sides before the Aug. 28th matchup against the University of Northern Colorado.
"These are our first games, we've got to work out what we need to work out," Hillyer said. "That's just focusing in practice, repping it out and figuring out what we need to get done."
Collegian sports reporter Sergio Santistevan can be reached at sports@collegian.com or on Twitter @TheRealsSergio.