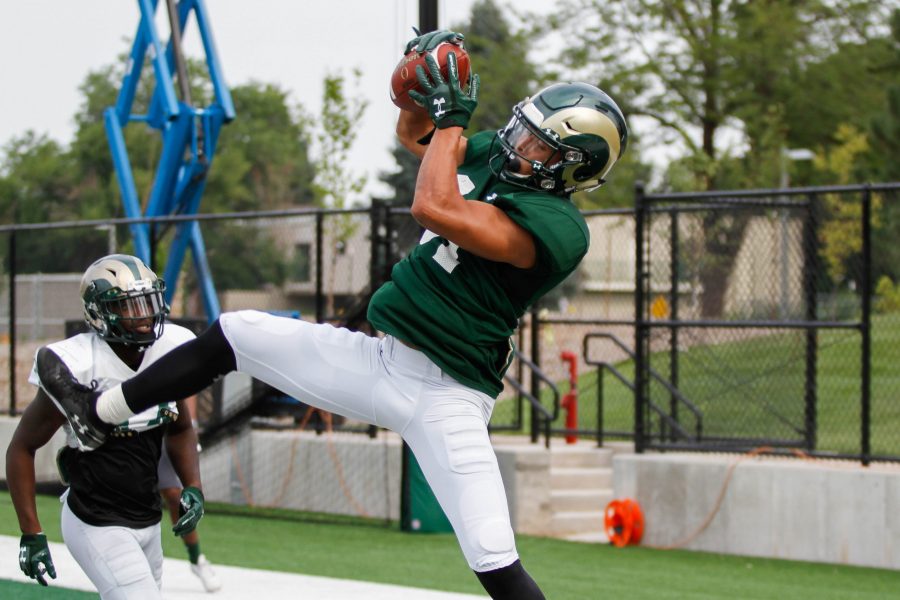 Changes are evident for the Colorado State Rams' defense heading into the 2018 season. Adjusting to a revamped coaching staff and settling in with new roles are major tasks at hand.
Besides achieving those objectives, CSU's linebackers are intensely focused on improving and carrying their defense.
Despite losing fifth-leading tackler Evan Colorito and eight-game starter Kiel Robinson, the linebacker unit still emerges as one of the most experienced for the Rams.
Redshirt senior Josh Watson, who led CSU with 109 tackles in 2017, returns for his final collegiate season and is the most crucial piece for the Rams' success at the linebacker position. Junior Max Watson and redshirt senior Tre Thomas are set to lead the unit as well.
Schematically, new defensive coordinator John Jancek brings a lot of fresh ideas to the table. For one, CSU will be switching from a 3-4 defense to a 4-3 defense under the 27-year coaching veteran.
In a 4-3 defense, linebackers are instrumental when it comes to setting the front and communicating effectively. In other words, the linebackers will be relied on heavily to succeed. Though this adds a level of pressure, CSU's linebackers are excited to operate in the new defense.
"I think we have a better scheme that allows the linebackers to attack more and just make more plays," Thomas said.
In terms of adjusting to a 4-3 defense and having a new coach, Watson has responded effectively. The redshirt senior has already taken it upon himself to fill a leadership role during training camp. Watson has also shown up for fall camp rejuvenated and with a noticeable edge.
"I really like where Josh (Watson) is at, he's in a good place," head coach Mike Bobo said. "He's a senior that's hungry for this team to do well, for this defense to take a step forward. And for him personally to be considered one of the top linebackers in this conference, that's a goal of his. That goes hand-in-hand with how we play on defense. He's taken pride and ownership in that every day."
Though Tre Thomas played in all 13 games last season, he only started once. Giving maximum effort and hustling every down has never been a problem for Thomas. The issue for the linebacker in 2017 was consistent, productive play.
CSU coaches have been eying Thomas' ability to maintain consistency since the spring.
As he needed to, Thomas has made positive strides. The Denver native is proving that he is fit to step into a larger role and can be trusted to help carry the defense when necessary.
"(Thomas is) going to run his tail off and he's going to play but he's got to be more consistent at that linebacker position," Bobo said. "I've noticed throughout spring and these first few days of practice that he's more confident, he's making plays."
Thomas also gained 15 pounds or so in order to improve his game. Bobo and Thomas both assured that his speed wasn't sacrificed in the process.
While Watson, Thomas, and McDonald will undoubtedly be expected to lead the linebacker unit, CSU's options at the position actually run pretty deep. Bobo is pleased with what he has seen from redshirt junior Anthony Giusti. Patrick Moody, who played in eight games as a freshman, is poised to do more damage next season.
There are extremely high hopes for incoming freshman Dequan Jackson as well. The 6'1″ freshman was a three-star recruit coming out of Robert E. Lee High School in Jacksonville, Florida. Jackson held offers from Maryland, Memphis, and Purdue in addition to a number of other FBS programs.
Based on what has been seen from Jackson so far in fall camp, the linebacker has the potential to make an immediate impact.
"We feel good about his football IQ," Bobo said. "He's kind of the alpha dog of that freshmen class and that's good to see. He's a man, he lets you know what he's here for. I feel like the guy has a chance to be a good player for us."
At the end of the day, the chemistry between the linebackers is a major emphasis for both CSU players and coaches. Losing key players, gaining players, and forcing returning players to fill larger roles definitely changed the dynamic of their chemistry.
But CSU's linebackers believe they are in a good place in terms of working together and communicating properly. Watson, for example, has been taking guys like Jackson under his wing. And the fact that many of these key linebackers have played together for quite some time only improves the spark throughout the unit.
"The defensive chemistry is definitely going well," Watson said. "We might have an explosive play on offense. With guys like Preston Williams out there, the offense is going to make plays. But we just have (to) execute the calls that are given and I think we've done that pretty well."
Given that only the early stages of camp have been completed, all of CSU's position groups have a ways to go in order to be fully prepared for the season. Specifically, Jancek is satisfied with what he's seen from the linebackers as a whole so far. Their commitment and desire to improve day-by-day stands out to CSU's defensive coordinator as well.
"I do like the progress of the linebackers," Jancek said. "They've really come a long way. Coach (Chase) Gibson has done an outstanding job with them. They've learned a lot (about) football. They're really into what they're doing. They're dedicated."
Collegian sports reporter Eddie Herz can be reached at sports@collegian.com or on Twitter @Eddie_Herz.