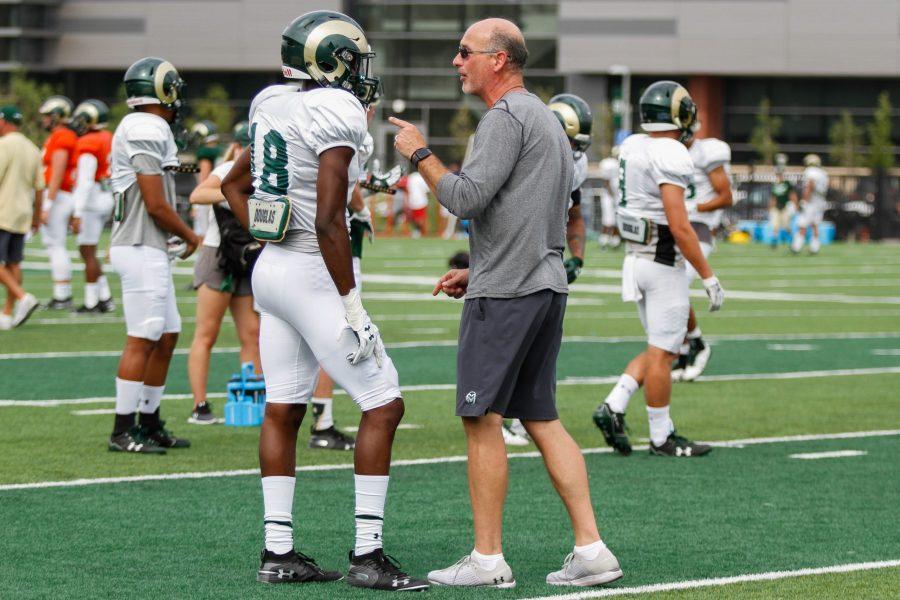 The Colorado State football's defense was broken in 2017, so it needed to be fixed in 2018. Not with glue and duct tape, but with an entire overhaul. 
CSU has brought in John Jancek to be its new defensive coordinator. Jancek and Bobo worked on Georgia's coaching staff together from 2005 to 2009. Other changes in the defensive coaching staff include the addition of linebackers coach Chase Gibson, while Keith Gilmore was brought in to coach the defensive line with Eric Lewis as the Rams' new cornerbacks coach.
After all, the Rams allowed 431.6 yards per game last season, ranking 97th out of 129 FBS programs. CSU's opponents converted on 44.1 percent of third downs last season as well, the 21st worst mark in the country. When split apart, passing wise, CSU allowed 244.5 yards per game through the air in 2017, which ranked 96th. The Rams' rushing defense ranked a lowly 89th in the FBS.
The overhaul did not stop there.
Scheme Change
Jancek is implementing a 4-3 defense, replacing last season's 3-4 scheme.
Linebacker Josh Watson, CSU's leading tackler last season, says that he is "really excited" to operate in the 4-3 Similar to Watson, enthusiasm about the new defensive formation is felt from the rest of the linebacker unit.
"I think we have a better scheme that allows the linebackers to attack more and just go make plays," linebacker Tre Thomas said. "We have a defense to where the linebackers can do more."
It's not just the linebacking unit that should benefit from the switch to the 4-3 either.
"The D-line is going to do what they are going to do which is going to make our job (in the secondary) easier," safety Jordan Fogal said. "We have so much talent and depth down there. Especially with the new 4-3 that kind of lets them do what they need to do. It makes our job easier in that sense."
The Rams recruiting also changed course.
Talent Base
Bobo hit the recruiting trail hard with 14 of the 23 players signed in CSU's 2018 freshman class listed as defenders. Some of these freshmen have already made a splash during fall camp as well. The first name that comes to mind is three-star cornerback Rashad Ajayi.
"He's got great mechanics," cornerback Anthony Hawkins said. "I feel like he can help us early this year. He has developed really fast. He plays the game really smart and is locked in at all times."
Based on Ajayi's perfromance throughout fall camp, he should be able to immediately revitalize the secondary. Ajayi has seen plenty of snaps and has been an impact player in each of CSU's two preseason scrimmages.
Bobo has also voiced enthusiasm for freshman safety Quinn Brinnon. Brinnon's teammates have praised his high football IQ as a player who can instantly help the secondary.
"Quinn (Brinnon) is one of those guys that came in confident and as soon as he got in the system his confidence just grew," Fogal said. "He's a really good player and uses his instincts really well."
For the defense to be successful, the returning players needed to be incorporated with the previous talent as well. The key, though, is for these returning defenders to have a new outlook. These players might find it difficult to be confident in their defense, given its problematic history at CSU. The coaching staff did not sugarcoat last season's results. Instead, they challenged them and constantly reminded the returning defenders of how they performed in 2017 throughout the offseason.
"They posted the stuff (defensive stats) all over the locker room, all over our lockers, the meeting room, saying we haven't been a top 80 defense in over 10 years," Fogal said. "That kind of struck us hard. We know we are a lot better than that."
The reminder has gone far in the psyches of the players. 
Mindset Change
So far, the returning players support the updated mindset.
"The defensive guys on this football team … want to be the difference in this season," Bobo said. "They want to be the side of the ball that helps us win football games. Ultimately, it's a team ball game. But, it's good that they are taking ownership. You want the defense to want the other team to have the ball."
The new mindset includes a renewed attention to detail. The defenders have fed off of Jancek's passion and fiery coaching. The little things are important, and now the Rams are tapped in on those. 
"Lining up correctly, disguising well, things that you really don't think about," safety Jamal Hicks said. "The little technique things are really what are going to help us later."
The ideal endpoint for the Rams from these renovations is a vastly improved, successful defense. Veteran defenders have no doubt.
"We have the talent, we've always known that, but having those new voices and a different type of energy has really rejuvenated our defense," Fogal said. "I think it's going to be a good year."
CSU's final preseason scrimmage displayed how much the defense has grown. The defense manhandled CSU's offense in the game. Ajayi broke up a pass to Warren Jackson to win the game and Fogal stopped the offensive momentum dead in its tracks by picking K.J. Carta-Samuels off during a productive drive.
"They had the mindset," Bobo said. "Just listening to them over there, it was constant energy, constant positivity."
It seems every veteran that was forced to step into a larger role has embraced the situation from opening day. They want to change the tradition and expectation of Colorado State's defense.  
"We are trying to build the culture here," Fogal said." So everything that was in the past is more in the past. We are trying to just build a new attitude about our defense. With the new coaching staff, it's a different type of energy."
Change is in the air for a defense that is making its presence felt in practices, flexing its muscles and growing with confidence. Now there is just one more change to be made: the final score.
Collegian sports reporter Eddie Herz can be reached at sports@collegian.com or on Twitter @Eddie_Herz.