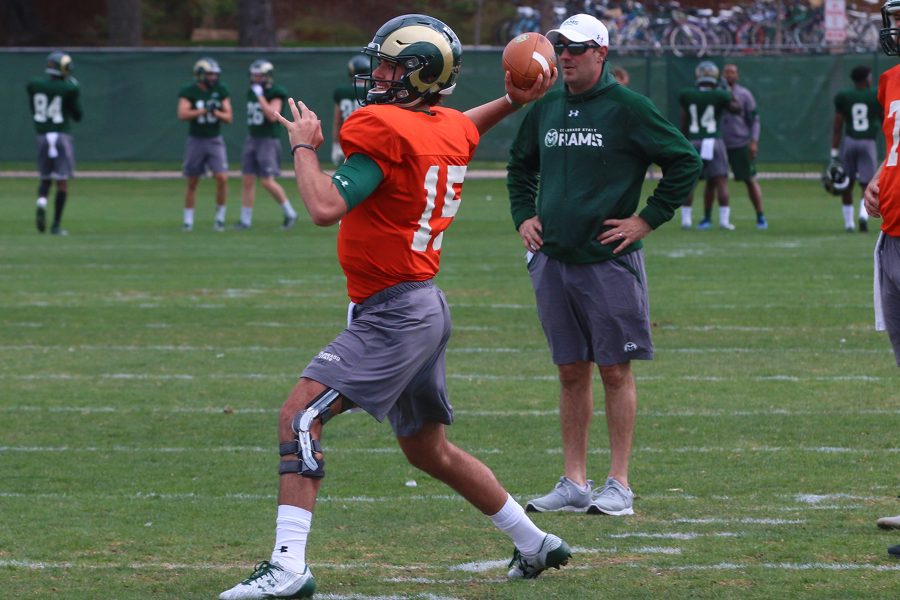 Spring practice has just begun for the Colorado State football team, but the 2018 season may already be derailed by an ACL injury to expected starting quarterback Collin Hill.
Whether it's on the practice field or in games, injuries like Hill's are an inherent part of football. However, Hill's injury earlier this month did not happen on the football field or in the weight room. The redshirt sophomore tore his ACL during a game of pickup basketball.
Head coach Mike Bobo said that Hill's injury was an unfortunate matter and that he doesn't want to restrict his players' activity away from the field. The head coach's policy likely pleases players and potential recruits, but also means another serious injury away from the field is waiting to happen.
The odds of tearing an ACL during a game of pickup basketball are not great, but it's not the first time basketball and other off-the-field activities have produced serious injuries. Even at the highest levels, athletes have an unfortunate history of sustaining detrimental injuries while taking on trivial activities.
Most notably, in 2004, New York Yankees' postseason hero Aaron Boone suffered ligament damage during a game of pickup basketball. The injury forced the Yankees to cut Boone and his brand new $5.75 million dollar contract before the 2004 season. Likewise, 2011 NFL Defensive Player of the Year Terrell Suggs of the Baltimore Ravens tore his Achilles during a charity basketball tournament ahead of the 2012 season.
Hill isn't playing for million-dollar contracts at this point in his career, but with the standard 6-12 month recovery time for ACL injuries, he could be passed on the depth chart and may never get another start for CSU. It's not fair for Hill and it's not fair for the program that invested in the young quarterback. With the looming risk of season-ending injuries, no one benefits in the long run from unrestrained off-field activity.  
A more restrictive policy against off-field activity could have prevented Hill and countless other athletes from missing significant time. Players may not be happy with restrictions on their life away from the field, but the idea is certainly not unprecedented.
Theo Epstein of the Chicago Cubs is arguably the most prolific executive in any of the four major American sports. According to CBS.com, a standard Cubs contract restricts players from playing basketball, chopping wood, boating, hot air ballooning and everything in between. Epstein's policy may be the strictest, but even section 5(b) of a uniform MLB contract prohibits athletes from boxing, skiing, ice hockey and "any other sport involving a substantial risk of personal injury." The NBA and NFL have similar language written into their standard player contracts.
If the Rams had adopted a similar policy of restricting strenuous off-field activity, Hill may still be on the field and the Rams' 2018 season would look a whole lot more promising.
Of course, policing hundreds of student-athletes away from the field is impossible. Coaches can't always keep tabs on players and even if one were to get injured by doing something they weren't supposed to, it's hard to prove anything away from the field. Standing by and not doing anything, though, will only usher in more serious injuries.
By adopting a policy that limits players' off-field activity, CSU will also have to adopt a culture of accountability and trust. Athletes will have to hold each other responsible for what they do away from the field and trust that coaches have their best interests in mind with such a strict policy. It may seem drastic at first, but establishing a culture of accountability has the potential to strengthen bonds on and off the field.  
With the amount of money and resources annually dumped into CSU athletics, it's the players' and coaches' job to make sure they are putting the best product out on the field. By restricting strenuous activities away from the field such as basketball, skiing and rock climbing, athletes and coaches can truly represent CSU to the best of their ability on the field.
 Collegian sports reporter Christian Hedrick can be reached by email at sports@collegian.com or on Twitter @ChristianHCSU.