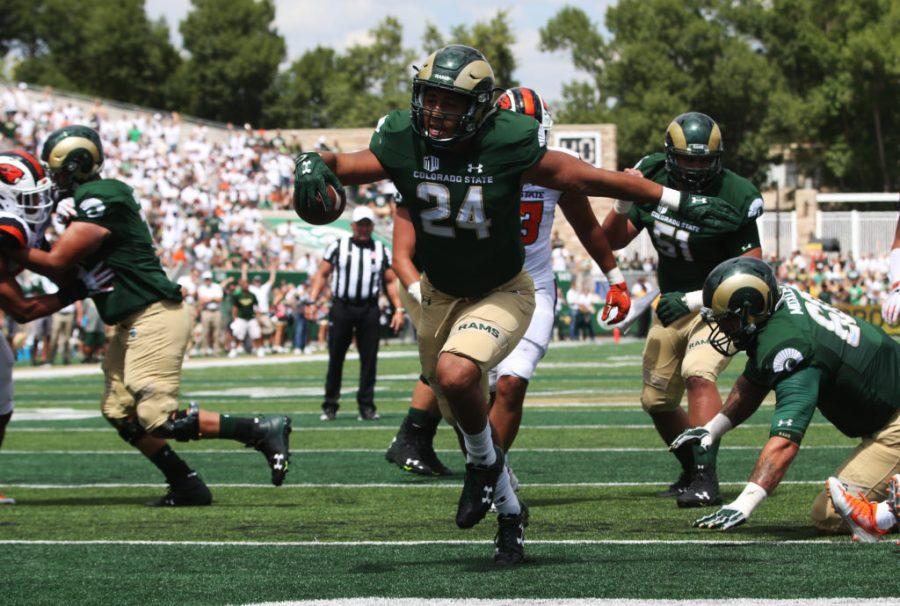 It's rare for a position group to lose its top producer from a season ago and still be one of the most experienced groups on the field. For Colorado State's running backs, though, that's exactly the case.
CSU's rushing attack last season was paced by second-team All-Mountain West selection Dalyn Dawkins. Dawkins ranked 19th in the country in rushing, totaling nearly 1,399 yards, fifth all-time in a season at CSU. He also finished his career third in the program's all-time rushing ranks.
Despite his departure, the Rams return four running backs who all have ample in-game experience, including senior Izzy Matthews. A contributor in each of his first three years, Matthews' experience figures to make the transition smoother.
"We obviously lost one of the best players in the conference in Dalyn Dawkins," head coach Mike Bobo said. "We've got Izzy Matthews coming back that's played in this league for three years going on his fourth year, (Rashaad) Boddie got some valuable experience last year."
"Marvin (Kinsey Jr.) I think looks close to full speed, he had a couple long runs today and looked good. Darius May had a couple runs. All those guys have a little experience playing, so they need to be a strength of our team."
Possibly more important than the loss of his production, Dawkins' leadership will be missed. Throughout last season, Dawkins set the standard for preparation, something running backs coach Bryan Applewhite said fed throughout the entire position.
Led by Dawkins, the group set a goal of being the hardest working unit in every practice. Now, Matthews' seniority makes him the next man in line to lead a talented collection of rushers.
"(Matthews) has done a great job of teaching them," Applewhite said. "Play with emotion, but don't get emotional. The minute you get emotional, you start to lose focus, but I do want them to play with emotion and intensity. Izzy does a really good job of mentoring them, teaching them the finer things of the plays and little intricacies of that position."
One of the biggest wild cards on the team will be Marvin Kinsey Jr. The explosive runner showed his playmaking ability in an impressive freshman season before tearing his ACL in the regular-season finale.
Last year, the mental barrier from an ACL tear proved difficult for Kinsey Jr. to overcome. Though he was cleared to participate for the entire season, Kinsey only received 26 carries for 124 yards, down from 93 carries and 546 his freshman campaign.
Part of the lack of reps came due to Kinsey's lack of ball security and maturity, something Bobo believes is the next step for the back to make a bigger impact.
"It's mental with the ACL, and then it's mental maturity," Bobo said. "His big deal is he's immature. He loves playing ball but sometimes he doesn't take things serious enough to be the best player that he can be."
In addition to Kinsey and Matthews, redshirt sophomores Rashaad Boddie and Darius May return with experience. Sophomore Marcus McElroy also saw limited time last year and offers another cog in the running back competition.
Though Matthews has the most experience and success of the plethora of returning options, he and Applewhite know that nothing is set in stone.
"They don't know who the starter is, I don't know who it is and they're competing for it," Applewhite said. "That depth chart changes every day. It could change by the play, it could change after a drill. There's no seceding to Izzy, none whatsoever, and Izzy knows that and Izzy doesn't want that. He wants to be challenged."
Applewhite said that competition has been strong through the opening four practices of spring. The next step for the running backs will be stringing that effort together on an everyday basis.
"Trying to be dominant every day, that's what we preach is trying to be the best that you can be every day and that biggest hurdle is probably being able to do that every single day," Applewhite said.
Collegian sports director Colin Barnard can be reached at sports@collegian.com or on Twitter @ColinBarnard_.