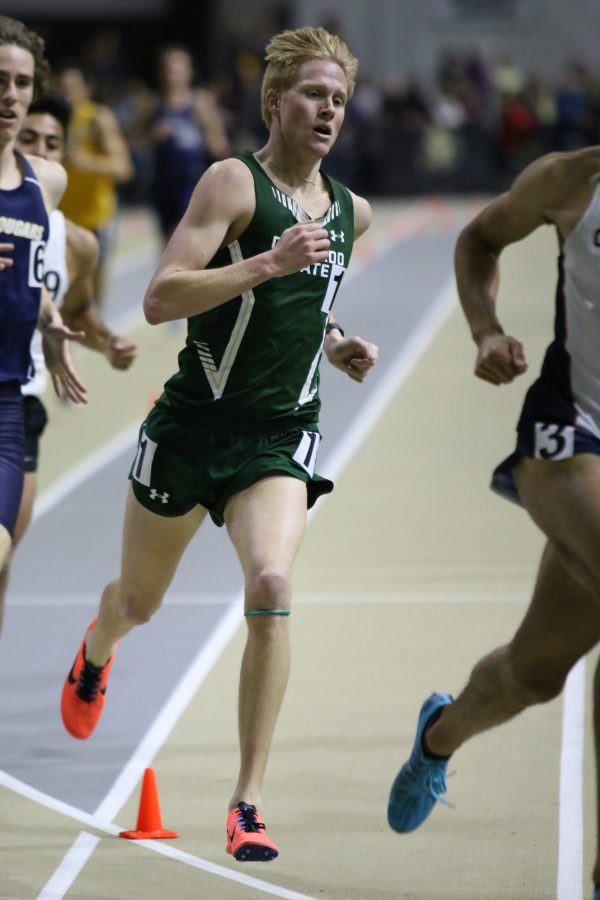 In an action packed three-day weekend, Colorado State track & field continued its storied season at the CU Invitational.
Out of the gates on day one, Cole Rockhold was hot in his indoor season debut. Rockhold placed third in the mile event with a time of 4:04, fourth in the nation. Rockhold's time is projected to be the Mountain West's best time by over two seconds.
"Cole's time, based on past performances, should easily get him to nationals," distance coach Art Siemers said in a statement. "That's what we were looking for in his first race since cross country nationals. Sometimes you get a little stale or a little rusty, but he went up there and ran with two good CU runners and fell just a little short, but based upon what he's done in training he's got a lot more in the tank."
In his weight throw debut, Mostafa Hassan won the event by over three feet with a mark of 18.87 meters. Hassan's mark gives him the lead in both weight throw and shot put in the Mountain West. Alex Blaho placed second behind Hassan with a mark of 17.89 meters.
Setting a new personal best in the women's weight throw was Kelcey Bedard with a mark of 19.84 meters. Bedard's mark was just enough for first place in the event and the best mark in the Mountain West. Bedard's mark is also fifth on Colorado State's all-time indoor list. The Rams won the top three spots in the weight throw with Linnea Jonsson placing second with a mark of 18.40 meters. Aimee Larrabee placed third at 18.23 meters.
"Kelcey had kind of a frustrating meet last weekend at Air Force," head coach Brian Bedard said. "We just had her slow things down a little bit. She was hitting some big throws during the week, so we actually did expect her to get a PR and she did. Expecting is one thing, but having it happen is another, so that was pretty cool."
By the end of the meet, the Rams women scored 134.5 combined points to earn second place just behind Colorado with 148 points. It was the distance runners that paved the way for the Rams' second-place finish, dominating their events and totaling up points for the rams.
In the 800 meters, Roxy Trotter led the Rams with a sixth place finish and time of 2:12. Trotter's time ranks seventh on CSU's all-time list. Trotter was followed by Dominique Ward who placed seventh with a time of 2:13.
In 60 meter hurdles, freshman Destinee Rocker set a personal best with her time of 8.37, giving her first place in the event. Rocker's time is ranked third on CSU's all-time list.
"Her level of focus and intensity in practice, she just doesn't act like a freshman," Bedard said. "She acts like a veteran with her attitude and effort every practice. I just don't ever see her off in any practice, and that's one reason why she's doing so well. I wish I had a whole team of people that were as focused as she is every day in practice. She's just eager to get better and eager to be coached. She's an example for a lot of other athletes on the team."
In the 400 meters, Jessica Ozoude competed in her first collegiate meet. Ozoude placed fourth with a time of 56.68, a time that also ranks 12th on the all-time list. Marybeth Sant continued her work on the track with a second-place finish in the 60 meters. Sant finished with a time of 7.50. Highlighting the women's 200 meters was Jasmine Chesson, who placed seventh with a time of 25:03.
On the men's side, the Rams placed third with a total of 85.33 points. All-American Grant Fischer made his indoor debut and placed second in the 3,000 meters with a time of 8:13. In 60 meter hurdles action, senior Jalen Hunter continued his dominant season, winning the event at 8.02.
"The distance crew really had it rolling," Bedard said. "There were really good competition and really good fields. Grant (Fischer) had a special day, as did a lot of our other athletes. A lot of special performances and a lot of personal records. That middle distance/distance crew was a highlight for us. We definitely had some exciting moments in the meet. There were some areas I thought we could've done better, but overall, I thought we had a pretty good meet."
The Rams also took the top spot in both the men's and women's shot put. Maria Muzzio won the event for the women with a mark of 14.32. Placing second was Tarynn Sieg with a mark of 14.23. Winning the event for the men was Austin Blaho with a mark of 17.42
Next up for the Rams is the Don Kirby Invitational in Albuquerque, N.M. and the Husky Classic in Seattle, Wash. The meets will take place on Feb. 9 and 10.
Collegian sports reporter Mamadou Balde can be reached by email at sports@collegian.com or on Twitter @mamadoubalde62.