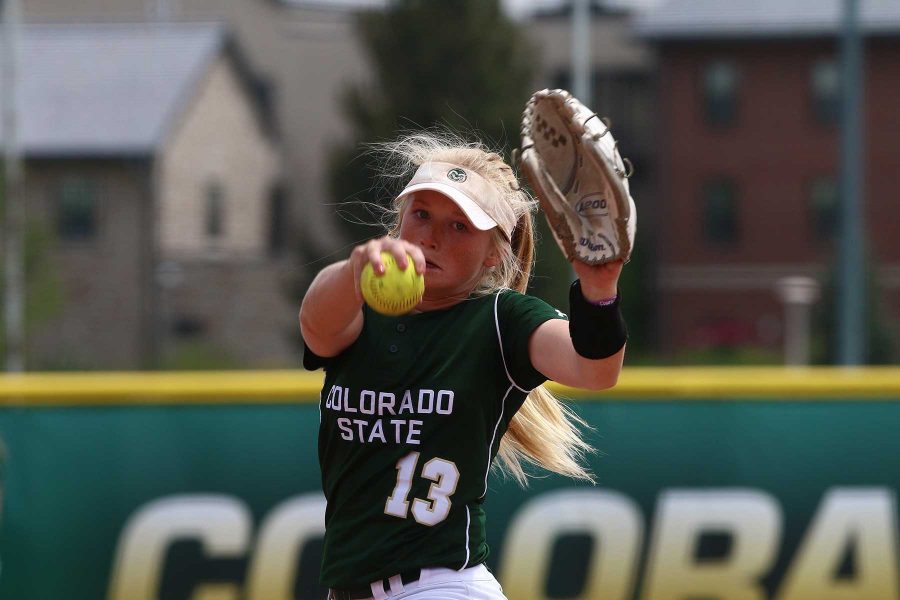 After a promising opening weekend that saw them start 4-0, the Colorado State University softball team had another strong stretch in Tucson, Ariz. last weekend to extend their record to 7-1 despite a loss to the No. 12 University of Arizona.
Originally scheduled for Thursday, Feb. 15, the game against Arizona was postponed until Sunday due to rain. The Rams lost 3-0 in what turned out to be a pitchers duel, but still took three wins and a strong loss from the weekend.
"It was mutual for both teams that we wanted to get that game played," coach Jen Fisher said. "We were definitely happy and enthusiastic to see how we matched up."
CSU started the weekend on Friday against the University of Montana (1-6). Despite having one of their worst offensive games of the young season, the Rams pulled out a 3-1 victory behind strong pitching and a new bat.
Junior Lauren Buchanan started off the scoring in the third, after the Rams bunted to get Sarah Muzik into scoring position, by driving an RBI single up the middle. The winning runs came courtesy of Tara Shadowen, playing her first collegiate game.
Shadowen made good on the words of her teammate, as the freshman provided all the pop CSU would need in their eventual 3-1 win. The outfielder blasted a homer to centerfield to drive in Hannah McCorkhill, who highlighted situational hitting and the younger Rams as an important factor this season. Shadowen made a case for more playing time this weekend.
"She's been really dialed in in practice," Fisher said. " We have some really good young players and she hadn't gotten a chance before…We had to get her out there and get her comfortable with where she's at, but she definitely belongs here."
Bridgette Hutton continued her strong start to the season as she earned her third win of the season with a five-inning, one-run, four-strikeout performance. The save went to Larissa Petakoff, her first of the season.
After having a game against the University of Louisiana-Monroe cancelled on Friday, the Rams faced off with Bryant University (0-2) and the University of Troy (5-3) on Saturday.
The Rams' slow offensive weekend didn't continue on Saturday as they scored in the first inning against Bryant and never looked back, securing two victories on the day.
Bryant pitcher Colby Norris struggled with her control, yielding two runs on bases-loaded hit by pitches. Buchanan hit a sacrifice fly to make it 3-0. CSU's Kaylynn Pierce gave up three runs in the third as Bryant came back to tie it 3-3, but from there it was all CSU bats and pitcher Alison Petty, who advanced to 3-0 on the season. 
Freshmen Cori Gamboa and Shadowen provided the difference as they combined for two home runs and five RBIs to defeat Bryant 9-4. 
In the second game of the day, Hutton got her fourth win of the season as she threw a complete game three-hitter as CSU won 5-0. Gamboa went 3-for-4 with two RBIs to score the first and fifth runs against Troy. Gamboa is now hitting .375 with three home runs and seven RBIs.
The Rams' bats went cold in the final game of the weekend as Arizona's Taylor McQuillen gave the Wildcats a 3-0 victory with a 12-strikeout performance that spoiled back-to-back complete games for Hutton, who allowed three runs over six innings. The Rams couldn't get anything going as McQuillen took a perfect game into the top of the sixth.
"She was really moving the ball well and hitting her spots," Fisher said. " We just had a difficult time squaring it up…The experience of it, though, is going to help us. She was really in command and in the zone all day."
After a three up, three down first inning, Hutton managed her way out of jams in the second and third innings. The bases were loaded in the fourth when Arizona's Tamara Statman doubled down the right field line to bring in the only runs that the Wildcats would end up needing.
"We felt she was handling a very potent lineup very well," Fisher said about leaving Hutton in for her second consecutive complete game.
Hutton showed poise, calmed down and only allowed one run for the rest of the game, but it wasn't enough as the Rams' offense did just enough to avoid the Arizona record books on Sunday. In the sixth, Shadowen broke up the perfect game with a blooping single.
The Rams will get over a week off to rest as they host the University of Northern Colorado in their home opener on Feb. 27.
Collegian sports reporter Mackenzie Beaulieu can be reached at sports@collegian.com or on twitter @Macknz_James.