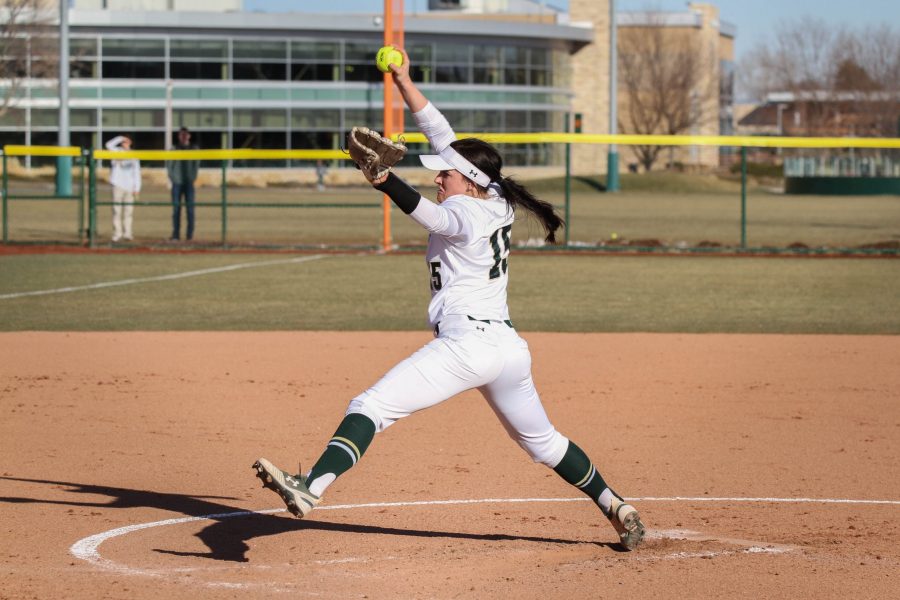 With Colorado State softball having it's best year in recent memory, the Rams (8-1) got a little more competition than fans expected from in-state rival, the University of Northern Colorado (8-8), in a 9-4 victory Tuesday afternoon at Ram Field.
Behind a scorching day by lead-off hitter Sarah Muzik and nerve-tested pitching from Kaylynn Pierce and Lauren Petakoff, the Rams held off a Bears team that jumped out in front early and never stop clawing after the Rams took the lead.
The Bears took their first and only lead of the day in the first inning when Madi Schmidt led off the game with a single to center field. After stealing second, Schmidt advanced on a single by Kaley Garcia and scored on a fielder's choice RBI from clean-up hitter Lauren Paige. Pierce calmed down from there as the next base runner didn't come until the top of the fourth.
"We felt like she was throwing well, they just found a couple holes," coach Jen Fisher said. "But she looked good … I think Kaylynn  did her job."
The Rams couldn't get anything going early on, with only one hit and a walk, until the third inning. Muzik hit a triple to the fence in the bottom of the third to continue her perfect 3-for-3 day against starting pitcher Valerie Vidal.
"Our coaching staff really prepared us for this," Muzik said, "I knew what she was going to be throwing, so I think I really attacked on those pitches that I was looking for. I think that's what everyone else followed suit with. Laying off her rise and really getting that pitch that they wanted to drive."
Haley Donaldson followed Muzik with a sacrifice fly to the same part of the field and the Rams scored their first run of the game. They threatened for more as Corina Gamboa and Amber Nelson singled before Lauren Buchanan grounded out, but the flood gates opened for the Rams in the bottom of the fourth.
CSU showed some of the power that served them so well in their fast starts with back-to-back home runs in the fourth. Hannah McCorkhill hit a no-doubt, line-drive home run to centerfield and Madison Kilcrease followed with a shot just right of dead-centerfield that skipped off the top of the fence on its way out.
After two groundouts, Muzik singled and scored her second run of the day on a dropped fly ball from the Bears' centerfielder to make it a 4-1 Rams' lead.
After two walks and two passed balls put runners on second and third for the Rams in the bottom of the fifth, Pierce provided some of her own run support with a two-RBI single, making it 6-1. Coach Fisher was happy to see Pierce supporting herself.
"If you don't bring your offense with your pitching, then you're not going to get to hit," Fisher said.
The Bears made it interesting in the top of the sixth as they scored three runs and threatened for more. Pierce was knocked out of the game by a Jordyn Wiatrak double that drove in a run, leaving two runners on and one out when Petakoff came in to close the game.
Petakoff quickly loaded the bases by allowing a walk, and a two-RBI single followed. Despite the trouble, Petakoff did conserve the win for Pierce. Being that those were Pierce's runners, Petakoff still hasn't allowed a run yet this season.
"Petakoff is so tough in those relief scenarios that there's just absolutely no reason to leave her on the bench," Fisher said. "She's pretty hard to rattle."
It was all Rams from there as they added three more runs in the bottom of the sixth to bring the lead up to 9-4.
The Rams will be in action next at this weekend's San Diego Classic as they play five games against non-conference and Power Five foes spanning from Friday to Sunday.
Collegian sports reporter Mack Beaulieu can be reached at sports@collegian.com or on Twitter @Macknz_James