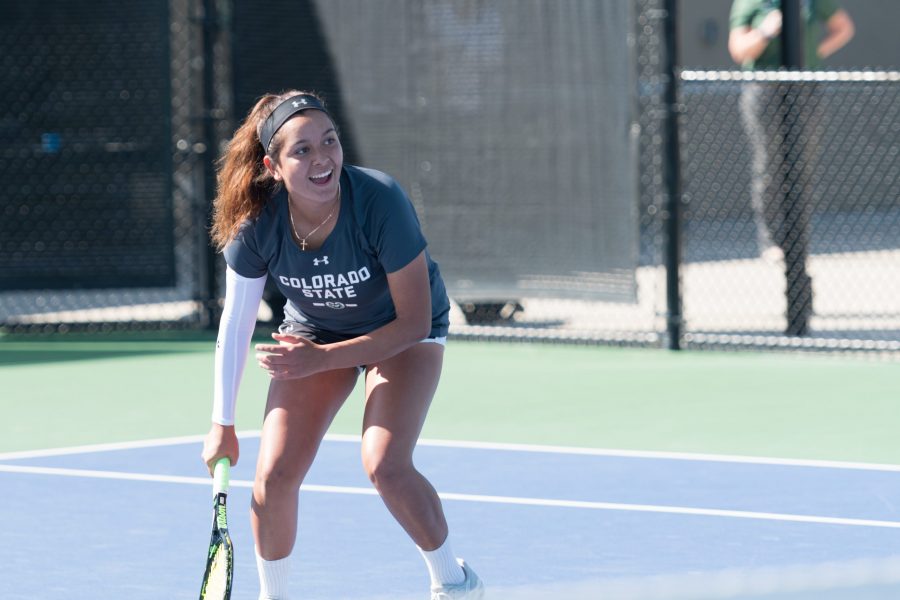 Alyssa Grijalva is far from a prototypical country club tennis player.
Born and raised in Compton, California, a town that is infamous for gang affiliation, high crime rate and drug use, CSU's sophomore sensation took it upon herself to pave a path that surpassed her peers and took her to Division I athletics.
Atypical to her classmates, Grijalva spent her free time in sports in order to stay out of trouble and avoid possible jail time.
The grind started with soccer, a sport familiar to her and one that requires aggression and tenacity. However, with fear of injury, her father sought out more for his daughter.
Grijalva's start to tennis began on a court played on by the best of the best. Sisters Venus and Serena Williams spent their earliest days hitting at Triegnew Park and Grijalva followed in their footsteps.
A Sunday afternoon drive turned into the beginnings of Grijalva's career when her father and mother passed a tennis clinic and insisted Grijalva try the sport out, ultimately sparking a new love. Affirmation of a future in Division I athletics, and even a professional tennis career, from the clinic coach encouraged Grijalva to leave behind the soccer dream.
"They initially put me in tennis to keep me away from all the drugs and gangs in Compton," Grijalva said. "They ended up sacrificing a lot for me to play."
Her father became her personal trainer and coach, testing her limits and pushing boundary lines. They spent most days back on the infamous Tragniew Park courts despite the gang affiliation and cracked surfaces.
The familiarity and proximity of the court came at a cost for the Grijalva family one afternoon. Playing a sport Grijalva had associated as a safe space from the crime in Compton, nearly took her and her family's lives in a drive-by shooting incident.
"We were training at the park and out of nowhere someone started shooting." Grijalva said. "My dad screamed to us to get down so I grabbed my sister and got on top of her and held her close to me."
Grijalva's determination to get out of Compton was only fueled by this event. Her father continued to coach her while working full-time to support a family of seven.
After enrolling their first-born son in the Compton school district, Grijalva's parents decided to pave a different path for their daughter, transferring her to Redondo Union. The school was significantly further from their home, but better suited for her future.
Transferring schools came at yet another cost for Grijalva. The distance forced her mother to work part-time in order to make the trip to transport her to and from practices and school. The family's income suffered as a result.
Traveling to larger stage tournaments was nearly impossible, making it harder for Grijalva to get noticed by college coaches.
"The tournaments were very expensive so we had to choose which tournaments we could go to because we had to take all the kids," Mauricio Grijalva, Alyssa's father said. "We had no one to babysit. It was tough."
Despite the obstacles, Grijalva continued to prosper, taking advantage of what she had and focusing less on what she lacked.
The slim amount of tournaments Grijalva was able to attend were played with heart and one goal in mind – to get to the Division I level.
"Every time I played, I told myself that I was good enough to get a scholarship," Grijalva said. "It didn't matter where I came from, it just matters how hard you have worked your entire life and how much hunger you have for the game."
This mentality eventually yielded results. As a three-star recruit entering her sophomore season, Grijalva realized if she was going to get recognition by next-level coaches she would need to dedicate her life to the sport.
Grijalva won seven straight singles matches that year, boosting her ranking to a four-star, and even received a partial sponsorship from Wilson, her junior year of high school.
"My friends would always question why I was so into tennis," Grijalva said. "But this was my future. This was what's going to get me into college. Their parents could pay for college, mine couldn't."
An opportunity arose senior year for Grijalva to drive to Winter Nationals in Arizona where, for the first time, she would be scouted by college coaches. Colorado State coach Jarod Camerota took notice and quickly set up an official visit for her to tour the campus.
Grijalva took her first plane ride to Colorado, stepped on campus, and instantly noted vast differences from her hometown.
"I was honestly really scared when I got here. It's not like Compton. It isn't really diverse," Grijalva said.
Warm welcomes from future teammates, smiling strangers and doors held open for one another masked those fears. She finally found a home away from the shootings and drug abuse. She found her escape.
Camerota offered Grijalva a full scholarship to play tennis at CSU.
"When my mom heard the news she started crying and looked to me saying, 'You did it. You're gonna get out of Compton and you're gonna succeed." Grijalva said. "I think it was just meant to be for me to come here."
As a sophomore, Grijalva currently holds the roster's best singles record (13-4) and doubles record (11-5) alongside her partner, Priscilla Palermo.
Now, Grijalva is utilizing the opportunity playing at the collegiate level, and looks forward to leaving a legacy as one of CSU's top tennis players.
Collegian sports reporter Michelle Gould can be reached at sports@collegian.com or on Twitter @michellegouldd.