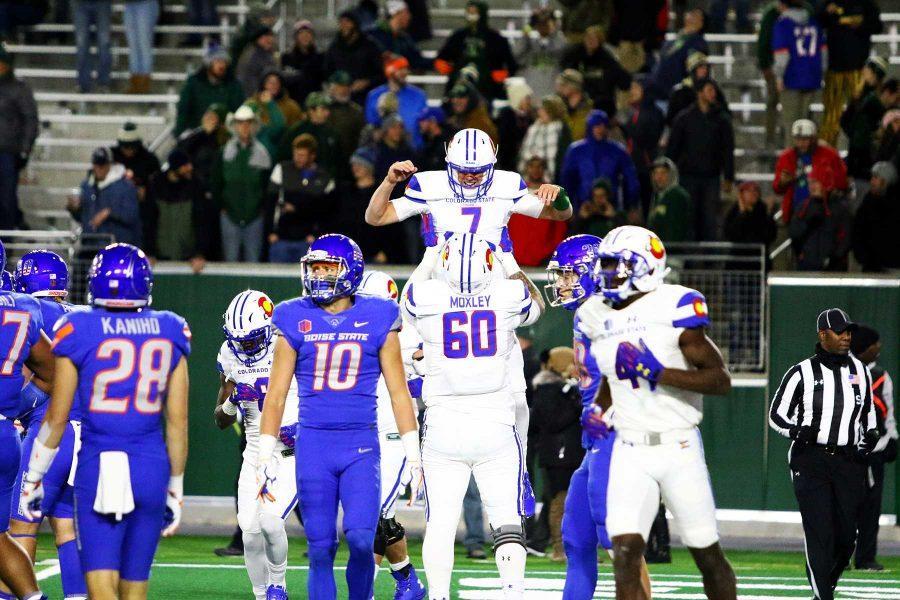 Saturday in Fort Collins represents more than just another conference game.
The Colorado State football team will take on San Jose State in the final regular season game of the season. For the team's seniors, Saturday represents the last time they will play in the place they call home.
Though the game itself is not any different, as senior linebacker Evan Colorito pointed out, the ability to reflect on their careers at CSU is certainly something these seniors are embracing.
"As a person, as a football player, as a student-athlete, just making sure you remember every single moment and appreciate the little things," Colorito said. "We've technically been seniors since the season ended last year, so taking that leadership role as a senior and remembering all of that over the last nine months is really what I've been thinking about."
Considering the role that seniors play on this year's football team, the impact of Saturday is that much more important. 14 seniors started for CSU against Boise State last week. Including special teams, that number is 16.
At the end of this year, the Rams will lose their leading passer, rusher and receiver as well as three starters on the offensive line. On defense, three of their top four leading tacklers and seven total starters will depart from the program.
Their impact is undeniable, and senior safety Jake Schlager realizes the importance of being a part of something so monumental.
"It's just being thankful and grateful, realizing what you've been able to do as a senior class," Schlager said. "Realizing that you've been a part of something bigger than you are. You've been able to pave the way for underclassmen to continue what you started."
What they started is certainly nothing to scoff at. A team full of fifth-year seniors, the Rams are on their way to a fifth consecutive bowl appearance and likely fifth consecutive winning season. Though they were unable to accomplish their ultimate goal of a Mountain West Championship, the growth of the program is something the seniors take pride in.
For quarterback Nick Stevens, it's difficult to believe that five-year journey is coming to an end.
"I've had an amazing five years here. The community is great, the coaches are great, the team's awesome, the media staff is okay," Stevens said with a smile. "I think this is an amazing place to be, and I'm super happy I've had the experience I've had here. It's crazy to look back at when I first got here compared to where I am now, it's two different things completely."
Though many have been here for at least a full four years, others transferred to CSU to finish their collegiate careers. Tight end Dalton Fackrell, a transfer from Snow College, is relishing that opportunity.
"To me it's just my path that I took to get here, that's what I'm gonna reflect on and I know that's what my family is gonna reflect on," Fackrell said. "It all led me to right here so I'm gonna enjoy that day. Hopefully we go out, put on a show and break the scoreboard."
Offensive lineman Trae Moxley is one of seven seniors from Colorado. For him, the ability to play college football in his home state is more than he could have asked for.
"The closer it gets, the more real it gets," Moxley said. "Being a Ram and being able to be a Colorado boy and stay in state is amazing. I love that I stayed here on this beautiful campus and got my education at this great institution."
Regardless of their journeys to CSU, head coach Mike Bobo expects the same thing from all of his seniors in the final two games of the season.
"My message to the seniors, 'It's senior day, you show us how to finish the season. It's on you, it's your leadership.'"
Collegian sports editor Colin Barnard can be reached by email at sports@collegian.com or on Twitter @ColinBarnard_.