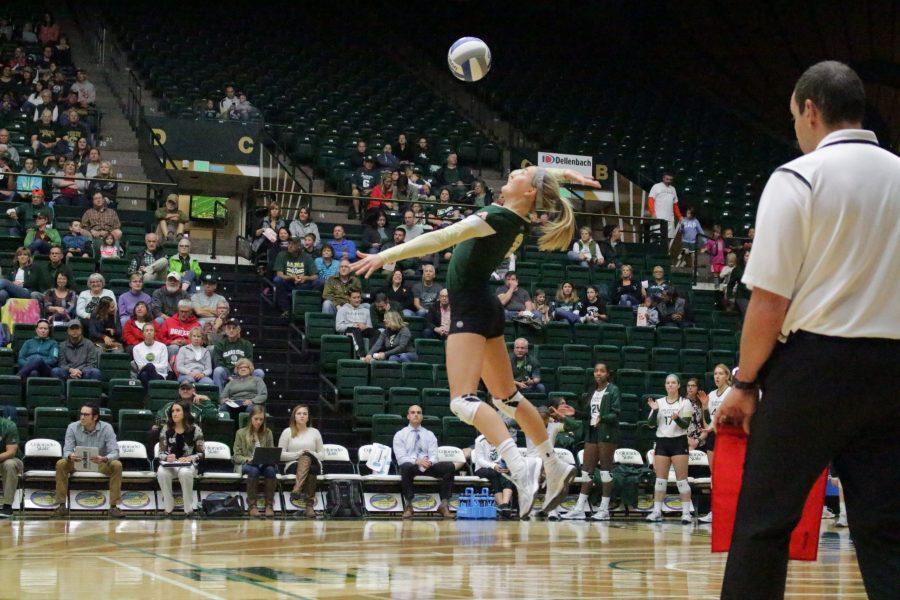 The Mountain West has been easy sledding for No. 20 Colorado State as they begin their second trek through the conference schedule without a loss in conference play. The Rams will travel this weekend to take on the UNLV Rebels and the New Mexico Lobos for the second time this year after beating both teams at home.
CSU (18-2, 8-0 MW) began MW play in convincing fashion in mid-September with sweeps over UNLV and UNM at home. Most of the Rams' matches in conference play have ended with sweeps, as seen by their 24-2 set record in those games.
Last time out, UNLV (7-14, 3-5 MW) struggled to make connections between their attackers and setter, resulting in a -.533 hitting mark in the final frame of that match. Head coach Tom Hilbert described how this allowed the Rams to hone in on blocking UNLV's middle blockers.
"They have (improved their connection), you can tell statistically they have gotten better," Hilbert said. "They are playing better, they've won a couple matches, they are winning in five (sets) which is good, it shows they've got some stamina."
Through the course of the season, UNLV has relied on freshman outside hitter Mariena Hayden for their offense by setting her about 300 more times than the next closest player. She leads the team in kills (231), but only has a .151 hitting percentage.
Defending at the net is senior Ashley Owens for the Rebels who comes in averaging 1.27 blocks per set, good for fifth best in the conference. On the floor, the Rebels' libero Leka Kiner-Falefa is fourth in the Mountain West in digs per set with 4.32.
New Mexico (11-10, 3-5 MW), much like UNLV, relies heavily on one attacker. Sophomore Lauren Twitty has 268 kills off a .174 hitting percentage and had one of her best matches of the year against CSU. Twitty hit .314 with 14 kills in the losing effort.
Blocking is a big issue for the Lobos who have only one player above one block per set and are ninth in the conference in the same stat with 2.07 per frame. The poor attacking of UNLV and lack of blocks from New Mexico presents a week in which Hilbert believes his middle blockers can continue to get better.
"We've been working a lot with middles, but the reason is that UNLV's middles are both good and both of New Mexico's are good," Hilbert said. "They all hit at a very fast tempo so we've been working a lot on blocking and closing blocks to the outside. We've been really trying to improve as a blocking team and I think it's paying off."
CSU currently leads the conference by two games over the Wyoming Cowgirls. The Rams will be heavy favorites in the rest of their matches as all upcoming opponents did not fare well  in the latest RPI standings. Eight of the conferences' 11 teams are ranked outside the top 100, including Fresno State (211) and Nevada (220) outside the top 200.
The rest of the schedule will not be wasted, though, as Hilbert plans to use the remaining matches and practices to focus the team on themselves and prepare for what they might see come tournament time.
"We have a target on our back, everyone will bring their A game against us and we know that," Hilbert said. "We also have got to realize what the deal is here…we need an edge to win this conference."
Intense practices are key for the Rams as Hilbert described how they have the best players on the team going up against each other in order to find that edge. The goal is to create the toughest matchup that each player might face so when the time comes to face competition during a match, they will be ready.
"We have to constantly be on edge ourselves," Hilbert said. "The minute we get complacent we'll start getting worse and that'll also impact us going into the postseason. We can't get complacent."
The fight against complacency begins with the match against UNLV Thursday at 7 p.m. The weekend will conclude against New Mexico Saturday with first serve set for 2 p.m.
Collegian sports reporter Austin White can be reached by email at sports@collegian.com or Twitter @ajwrules44.