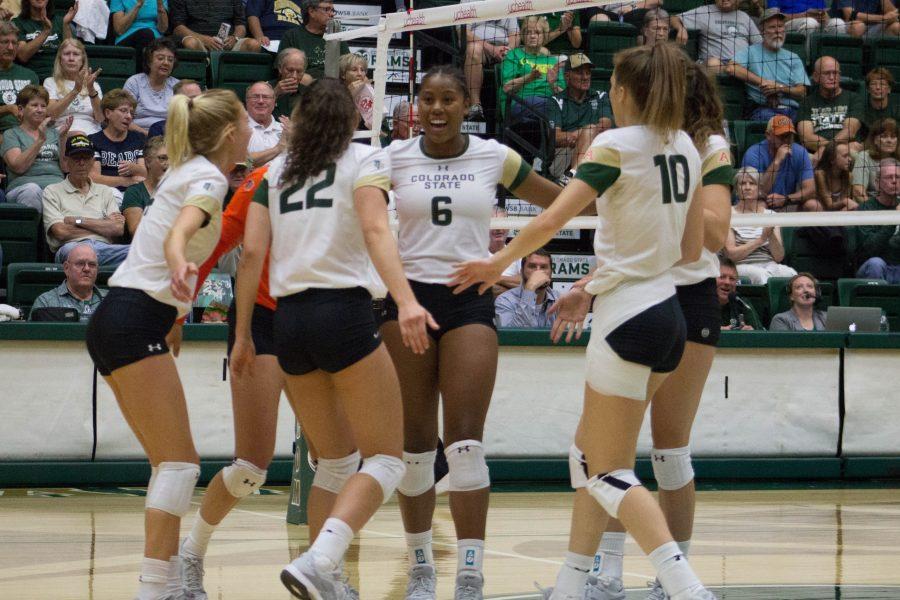 No deficit was too large for the Colorado State volleyball team on Friday as they completed a comeback victory in Tallahassee, Fla. against Texas Christian, 23-25, 27-29, 25-22, 25-17, 15-7.
After dropping the first two sets, CSU was able to cut down on their early season serving mistakes and forced the Horned Frogs to make points for themselves. The Rams had a total of eight service errors to start the match, one of which came with the second set tied at 24.
CSU finally come alive in the third set after a big 5-0 run gave them a 22-18 lead. They had only one service error in the set and closed it out with a block by sophomore Kirstie Hillyer and senior Sanja Cizmic. The Rams had been dominating every other aspect of the match by leading in hitting percentage and blocks. However, it took them until the third set to bring everything together.
TCU struggled to find the holes in the Rams' defense as they hit .000 in the third set. Numerous ball handling errors and tough serves by the Rams helped change the tide of the match in CSU's favor as they took the set 25-22.
The fourth set is when the Rams would blow it open as they hit .407 as a team and put up five blocks on the Horned Frogs. Sophomore Breana Runnels contributed five kills along with senior Jasmine Hanna putting up three of her own.
"Both of our outside hitters I thought were just grinders all day," head coach Tom Hilbert said on Hanna and Runnels. "We were good in every spot except the right side…we kept setting (that side) and it did help loosen their block up but really both of our middles and both of our outside hitters were really productive in the last three sets."
CSU ended the fourth set in a big way by scoring the last five points, capped off by a service ace from sophomore libero Amanda Young.
The Horned Frogs would not go down without a fight as they took an early 4-2 lead in the fifth and decisive set. The set went back and forth and TCU pulled within one of the Rams at 8-7, but that would be the closest they got. CSU closed the match on a 7-0 run that featured three kills from three different players.
"Each experience goes into your little competitive library and you want to look it up every once awhile and I think this is a great experience for the players," Hilbert said. "It's going to help calm them down as a competitive unit because they know they can do stuff like this."
The Rams' serving mistakes disappeared in the final three sets by having only two errors in those three frames as compared to their eight in the first two.
"We weren't giving away points too, so that was big in the match," Hilbert said. "What happens is if you're (serving and defending serves well) now you're forcing them to play you on a physical matchup basis and we won that matchup."
Runnels led the team in kills with 15 and Hillyer was a force at the net as well with 14 kills and a .458 hitting percentage toteam leading 10 total blocks.
Sophomore Paulina Hougaard-Jensen had one of her best matches of her career as well by posting a team high .471 hit percentage with 10 kills and nine total blocks.
Overall, the Rams finished the match hitting at a .282 clip while holding TCU to .101 and blocking the Horned Frogs 19 times, a season high by far in blocks. Those blocks forced TCU into looking for other angles for kills which they could not find as seen by them committing 38 attacking errors.
"I think it was just basically closing blocks and sealing," Hilbert said. "We served them tougher at that point too and when you serve them tougher, every ball is coming from an out of system position that's easier for our blockers to see what is going on and they made plays and that also forced TCU into more unforced errors."
The Rams will continue the Home2 Suites Tallahassee Seminole Invitational later on Friday when they match up with the University of North Carolina-Asheville at 4:30 p.m. MT.
Collegian sports reporter Austin White can be reached at sports@collegian.com or on Twitter @ajwrules44