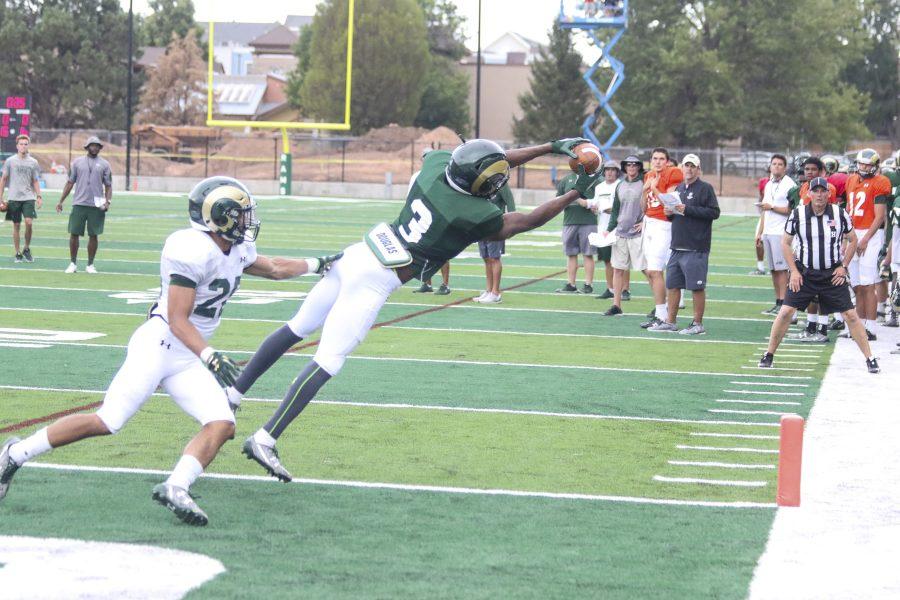 Colorado State football will be down one wide receiver this fall, as true freshman E.J. Scott will miss the entire 2017 season with a torn ACL. According to head coach Mike Bobo, the injury was suffered on a non-contact play in practice when the freshman wide receiver was participating in a scout team drill last Saturday.
"A non-contact injury. Plant and it was before we went into the stadium Saturday, just scout team running a route, stopping," Bobo said after Tuesday's practice. "He tore his ACL, so it's tough for him, it's tough for us. The kid's got a chance to be a really good player."
One of the stars of fall camp, Scott quickly caught the attention of the CSU coaching staff this offseason. Bobo praised the young receiver's ability to quickly learn the system and find ways to make plays on the field.
"We knew he was a good player coming in," Bobo said. "I was really surprised with how well he ran routes and the way he learned. Probably one of the smartest freshmen receivers that I've ever had in my time."
Bobo further explained that Scott's ability to play both the flanker and split end positions was a big reason they anticipated him seeing the field often in 2017. With Scott no longer in the mix, players like Warren Jackson, Marcus Wilson and Detrich Clark will need to step up and consistently contribute at the No. 3 wide receiver position. The third-year head coach also anticipates the tight ends and backs will help account for the production through the air.
"I feel good about (Michael) Gallup and Bisi (Johnson) but we are going to have to find some other guys to help in the passing game," Bobo said. "We have a plan for this week but we will figure it out as we go."
Collegian sports director Justin Michael can be reached by email at jmichael@collegian.com or Twitter @JustinTMichael.