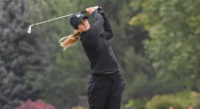 Colorado State sophomore golfer Katrina Prendergast finished in a tie for 32nd place in the Lubbock, Texas NCAA regional over the weekend. It was the second straight year that she received an individual invite for now two time All-Mountain West golfer.
In order to qualify for the NCAA Championships, Prendergast needed to be one of three low individuals. These three golfers would come from the teams that failed to qualify as a team for the championships and the five other individuals invited.
Her 6-over score fell seven strokes behind the final spot taken by Alex White of BYU and Susie Cavanagh of Oregon State, who both finished at 1-under. However, her score was the second best among the six individuals invited to the Lubbock Regional.
Prendergast started off on the right foot on day one when she shot a 74, putting her in a tie for 15th overall and in good position to make a push for an individual invite to the NCAA Championships.
The day did not begin as well for Prendergast, as she bogeyed the par 3 10th hole, her first hole of the day. She would add on two more bogeys during the back nine and made the turn at 3-over. Prendergast rebounded on the front nine with a 1-under to finish the day 2-over.
"(Prendergast) played very well today," head coach Annie Young said in a release following round one. "The wind was blowing 20-30 miles per hour all day, which presented a challenge. I thought she did a great job throughout the day of keeping her emotions in check. It was good to see her finish her last nine holes under par."
The second round would be the opposite for Prendergast as she started strong and struggled towards the end.
She birdied two of her first four holes to move to even par for the tournament, but would have a five hole stretch that included three bogeys and a double bogey that dumped her to 5-over for the day. The sophomore stayed competitive for the rest of the day to finish round two with a 4-over 76.
After being in contention following round one, Prendergast's round two score pushed her into a tie for 36th and made it nearly impossible to make a final round surge to the top of the leaderboard. That did not mean the golfer was going to try any less hard in her final round, something her head coach could feel from the young golfer.
"It was a round that could have gotten away," Young said. "There was a little stretch that was unfortunate, but you learn from it and she bounced back. Knowing Katrina, I'd be surprised if she doesn't have her best round tomorrow."
Young predicted it well as Prendergast did bounce back with her best round of the weekend by shooting an even par 72. That left her at 6-over for the regional in a tie for 32nd, seven strokes behind the last individual spot for the championships.
She finished her weekend off with an exclamation point. Prendergast started on the back nine again and finished with birdies on two of her final three holes.
Her 6-over performance is tied for the best showing by a Ram in a regional in school history. The sophomore will look to carry momentum from her second straight regionals appearance into next season as she continues to make history for the women's golf team.
Collegian sports reporter Austin White can be reached by email at sports@collegian.com or on Twitter @ajwrules44.