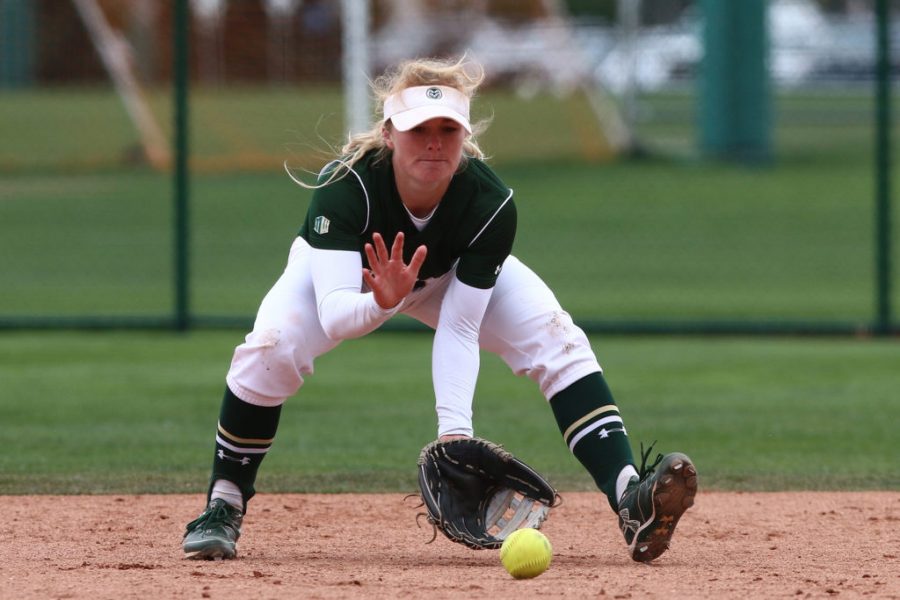 The Colorado State Rams fell to the last place University of Nevada Las Vegas Rebels 7-6 on Friday. UNLV (22-19, 5-8 MW) got out to a quick 6-0 lead that brought on a Rams' (22-16, 7-0 MW) comeback that fell one run short.
It got out of hand quick for sophomore Bridgette Hutton who gave two walks and a hit to start the game. The fourth batted for the Rebels would make her pay as she sent one over the fence to straight center to put them up 4-0 with no outs in the first.
"We were having a hard time figuring out the zone, she was having a hard time dialing in," head coach Jen Fisher. "The grand slam really hurt us."
UNLV would add on two more runs in the second thanks to an error on freshman Corina Gamboa and an RBI single to right field. Gamboa would then come out of the game and be replaced by freshman Francesca Olivas, who would also make an error later in the sixth.
After that it was 6-0 in favor of the Rebels and the Rams comeback attempt would begin.
After a sacrafice fly from sophomore Lauren Buchanan, junior Madison Kilcrease would continue he recent hot streak. She roped a double over the left fielder's head to score two runs to cut the deficit to three.
Junior Larisa Petakoff shut down the Rebels in the top of the third and McCorkhill launched a no-doubt home run to straight center to pull within two.
UNLV would tack on another run in the top of the fourth, but the Rams kept coming, this time a two run shot to left field by Buchanan in the fifth inning to pull within one.
That's where the rally would end though as the Rams could not bring home senior Haley Hutton on first in the sixth inning and went three up and three down in the seventh.
"I thought that was really important for us to prove to ourselves that we could come back from that," Fisher said. "We were definitely pretty happy with the way we swung the bat.
Petakoff pitched well with five and two thirds innings pitched and only two hits given up with one walk and two strikeouts. It would not be enough to overcome the last place Rebels though.
"We are calling her the house keeper because she keeps coming in and cleaning up after everybody," Fisher said. "She is just awesome."
UNLV made three errors on the game that allowed for the Rams to get runners in scoring position but the Rams returned the favor with two of their own. The Rams still had their chances though with six runners left on base, twice leaving all-time runs score leader Hutton on the base paths.
The Rams will look to bounce back on Saturday when they play the Rebels again at 12 p.m.
Collegian sports reporter Austin White can be reached by email at sports@collegian.com or on Twitter @ajwrules44