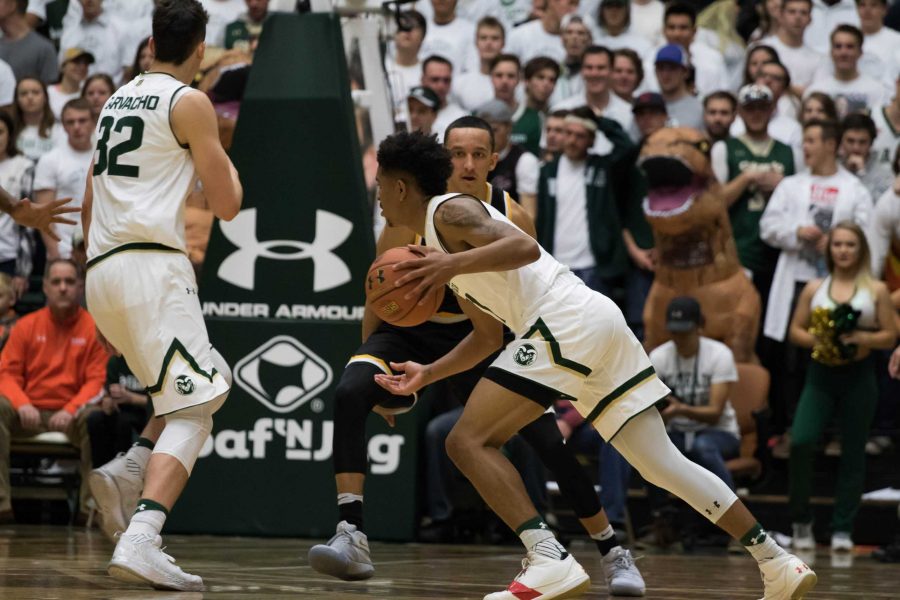 Behind masterful performances from Gian Clavell and Emmanuel Omogbo, the Colorado State men's basketball team picked up their first road win over San Diego State since Feb. 2003, defeating the Aztecs 78-77 in a thrilling back and forth contest Saturday afternoon.
The Rams made it interesting, turning the ball over twice in the final minute of the game but Clavell ultimately silenced the hometown crowd when he took the ball coast to coast and capped off a career-best 37 point performance with a game-winning "circus act" layup with 6 seconds to go.
"That was one of the better performances (from Clavell)," CSU head coach Larry Eustachy said in a statement. "Under the circumstances when you look at everything that's happened to this program from the beginning to the season to where they find ourselves now, it makes an unbelievable storyline."
After Wednesday's victory over SJSU, head coach Larry Eustachy said that the duo of Omogbo and Clavell was as good as any one-two punch in the Mountain West; Saturday afternoon they proved him right.
In total, Omogbo (37) and Clavell (24) combined for 61 points, overcoming double-digit scoring totals from all five SDSU starters and erasing a ten point halftime deficit. The Aztecs have now lost four games in conference-play in which they held at least a ten point lead.
On both ends of the floor, Clavell (8) and Omogbo (9) were a two-man wrecking crew, scoring 61 of the team's 77 points and accounting for 17 of CSU's 33 rebounds.
With only seven players on the active roster it was evident that the starters would have to step up and produce at an elite level. After losing badly to New Mexico and Fresno State, the Rams appear to have adjusted by relying on their most experienced players.
"I love San Diego State," Clavell said after the win in a statement. "Coach Fisher, the players. I have always wanted to win here and I just heard we haven't won (at SDSU) since 2003. I think this was my best win at Colorado State. I'm just grateful that we came here and got the win."
Despite big performances from their two seniors, the Rams didn't get similar production from power forward Nico Carvacho and their guards J.D. Paige and Prentiss Nixon. The trio combined for just 11 points on 4-16 shooting (25 percent) and really were non-factors for the majority of the game.
Colorado State will carry a modest two-game winning streak into their home matchup with Boise State Tuesday Jan. 31, as the Rams will look to avenge their buzzer-beater loss to the Broncos on Dec. 31.
Collegian sports reporter Justin Michael can be reached by email at sports@collegian.com or Twitter @JustinTMichael.